After some well needed vacation I felt that it's time for a little late Race Report from Tierp Arena and Sweden Internationals! And some stuff / the story about the Corvette before the race.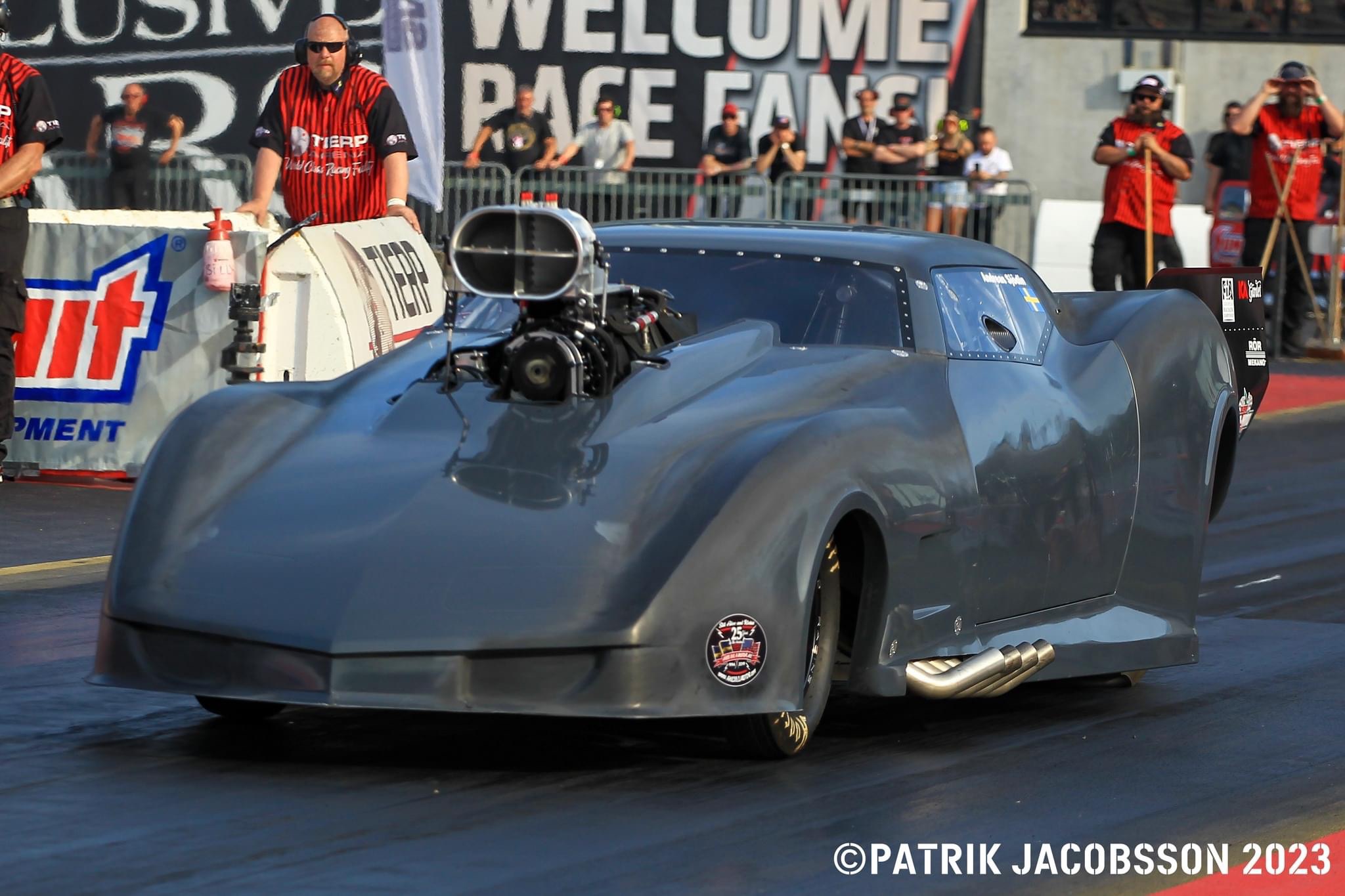 Great photo by our friend Patrik Jacobsson!
As all of you know now, we did have a little secret for the first event in 2023!
A lot of people were curious, many called, sent text messages, asked questions on social medias etc. when I put myself on the entry list in the class Pro Modified with the Chevelle for the first event this year!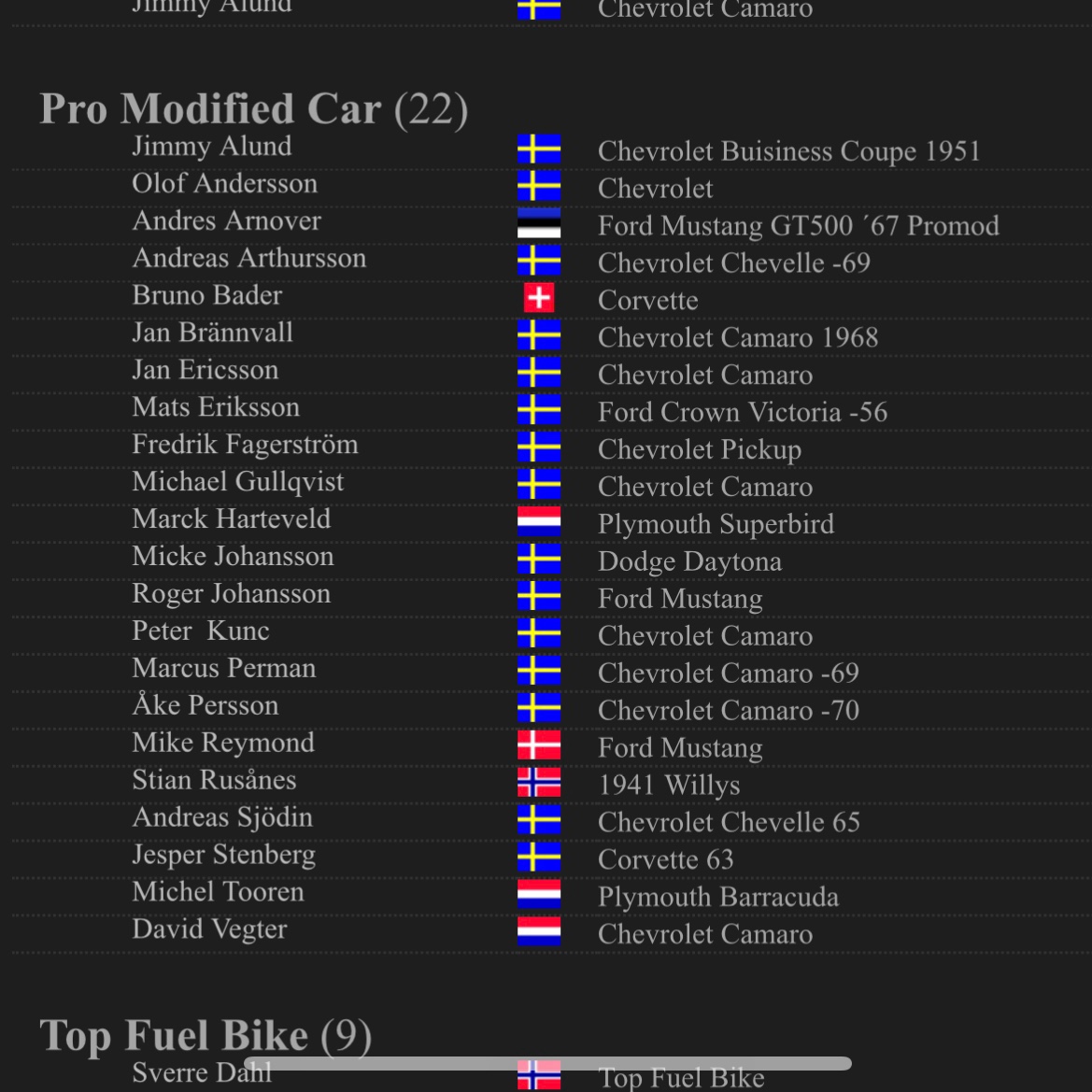 I of course did it with purpose to confuse because I think that dragracing in Europe is pretty lame and boring in social media, no one says anything and pretty much no one shares anything fun….. So, I was looking for some fun reactions! And I succeeded with my mission! 😉 Some of you did guess right, some were close or in the area and I also heard A LOT of talk that was completely wrong and that made me really happy! Because that was my idea! 😊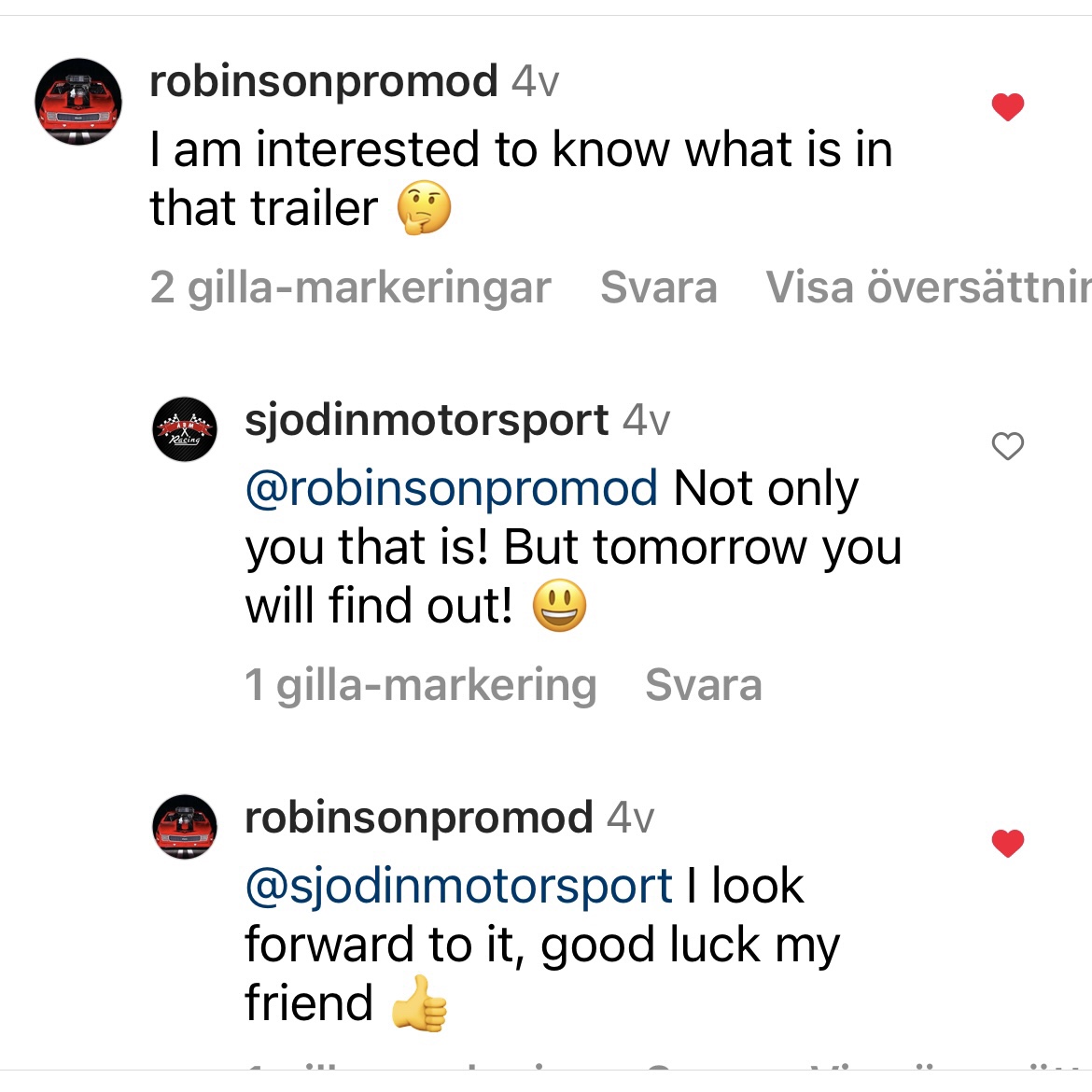 Anyway, this whole thing with Jörgens Vette started in August last year when he and Benkt went with us to Sundsvall Raceway for Top Doorslammer round 4 in 2022!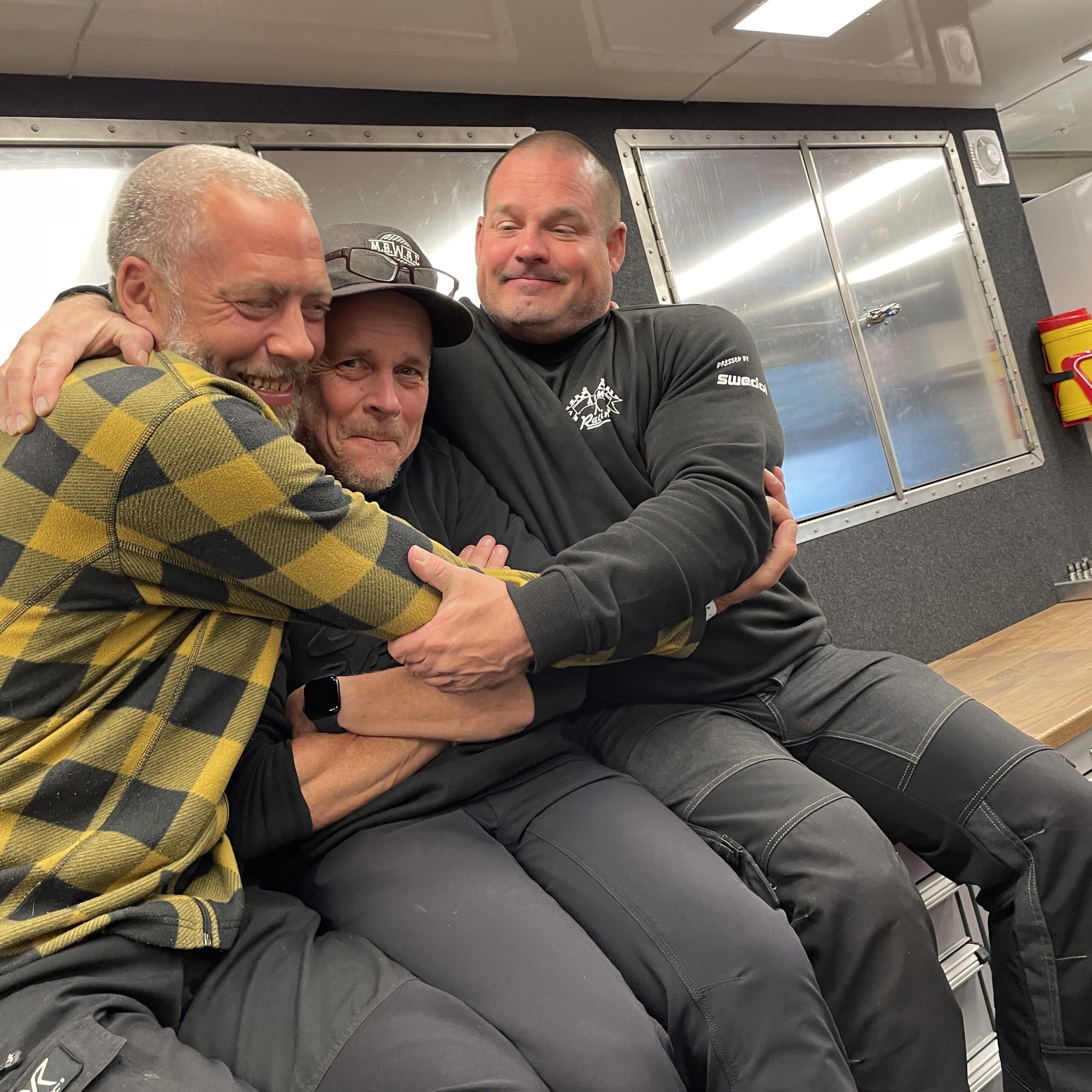 On Saturday when I was in the trailer working on a tune for the Chevelle he went in to me and said "Andreas, do you have time? We need to talk about a thing" When he said that I already knew what was coming! For some reason I did have the feeling that he would ask me to drive his race car.
I have helped Jörgen with some small stuff in the past and we are good friends and when I go from the shop in Stockholm and home to Vansbro I pass by Ludvika where he lives and I stop by to say hi every now and then. And me and Sofi also helped out fire up the motor in the Vette for the first time at his birthday almost 3 years ago!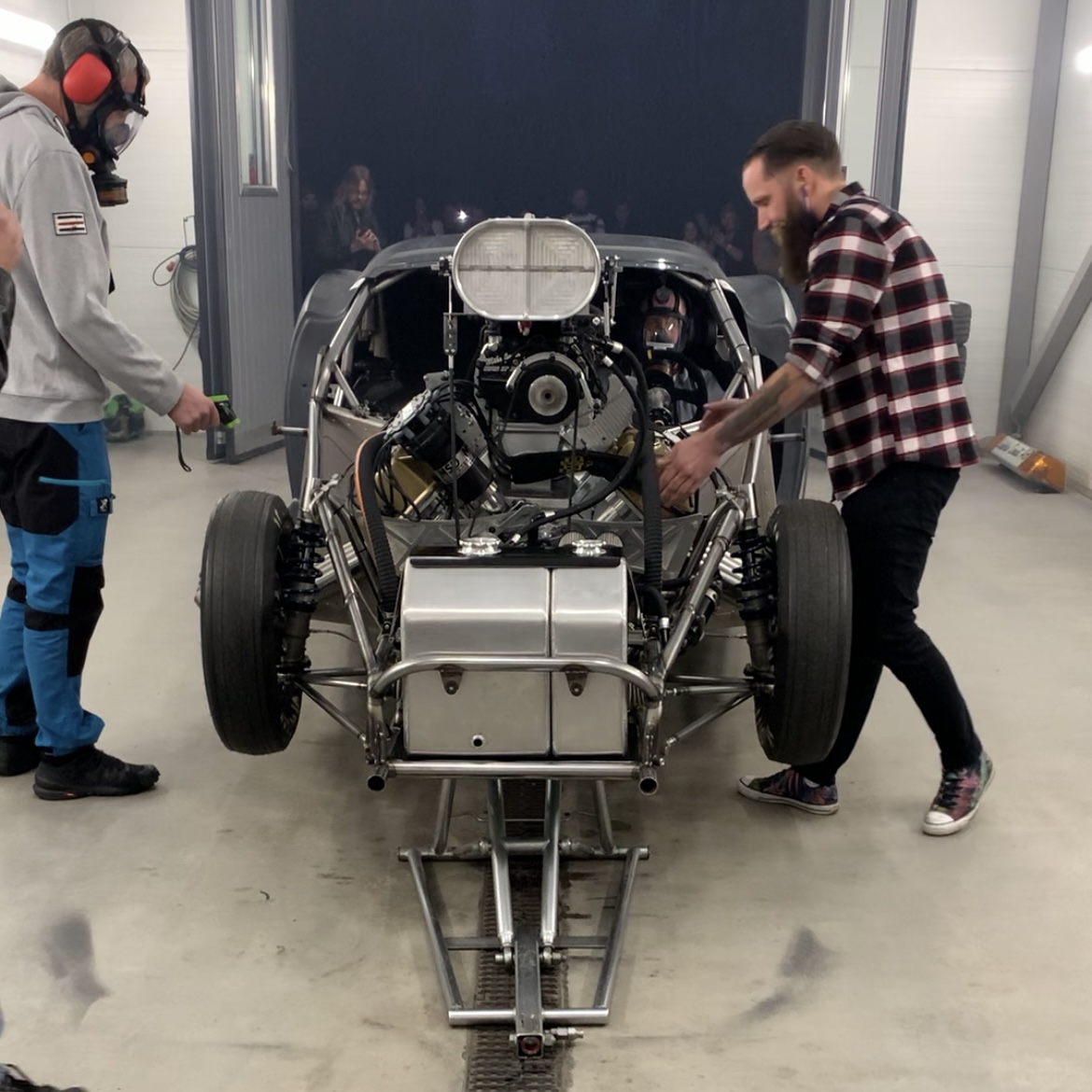 The story behind the Corvette is that Jörgen crashed his old Top Doorslammer Chevrolet Nova at Piteå Dragway in 2017, after that he ordered a new car from Mats Brag and he was going to step up to Pro Modified with it. The car got delayed and during the time Jörgen got sick and he's not able to get out his racing license….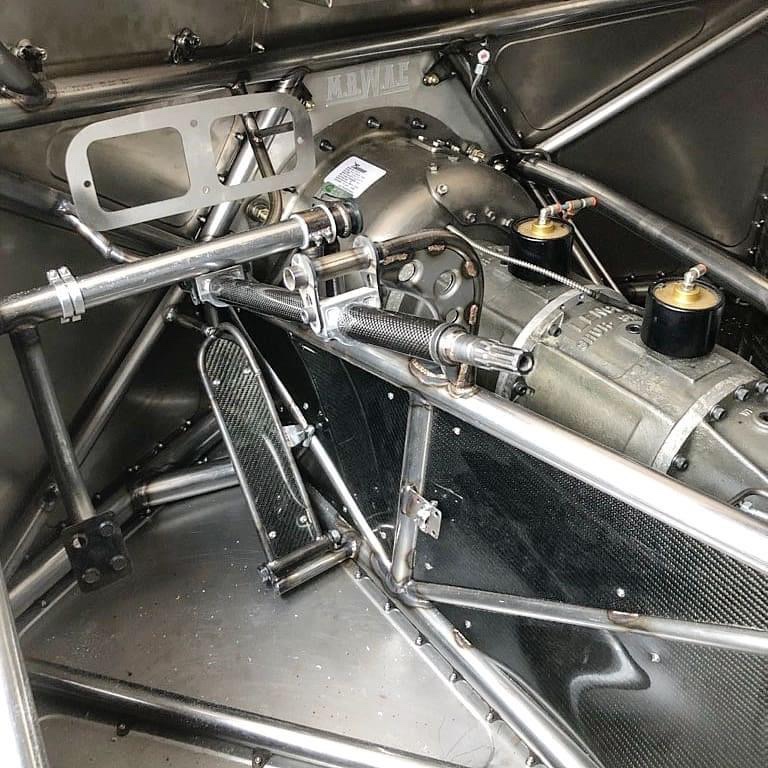 So that's the reason why he asked me to do this is because he won't be able to drive his new race car and he told me that he wants to see it go down the track…..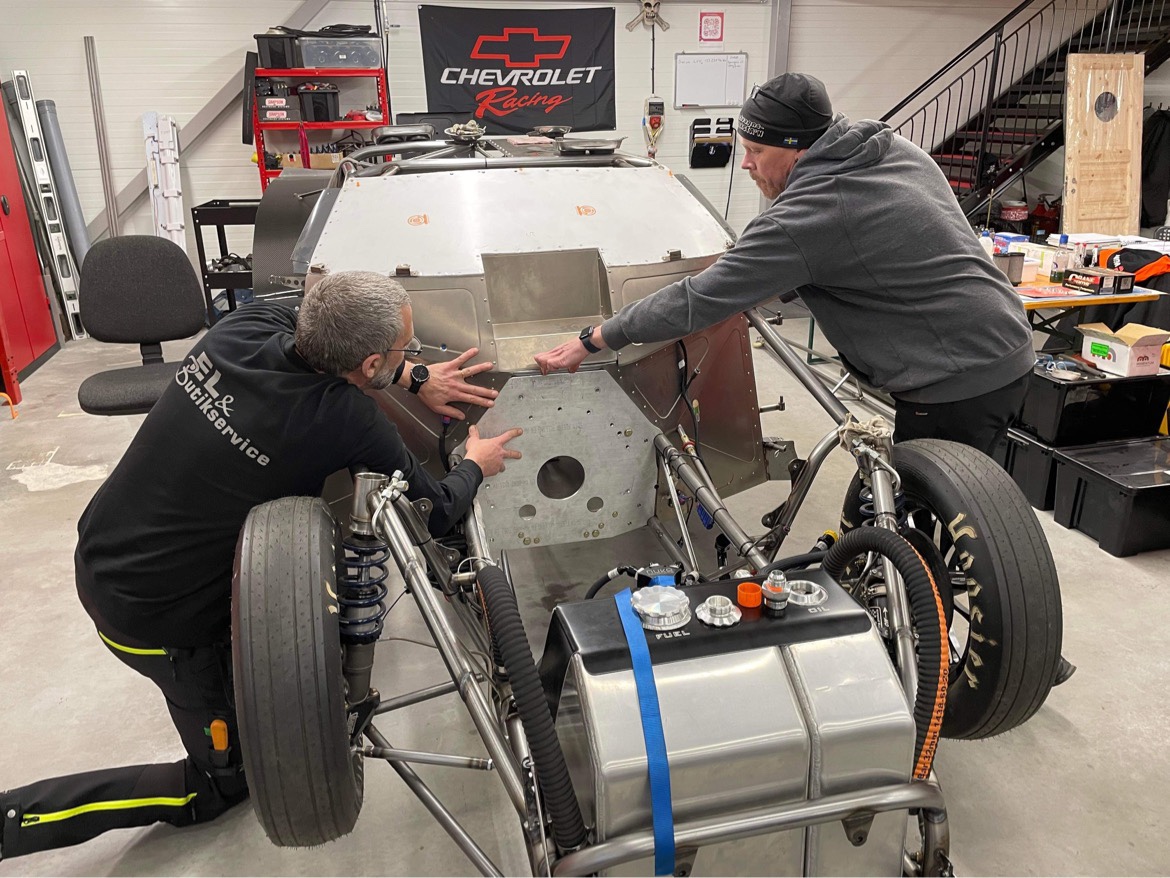 So, he wanted my help to finish up the car, set up the chassis, fuel system, make sure we have all the right stuff in the car and that it all works properly, fix the ignition system, fuel management, Racepak and so on. And then drive and tune the car with my complete team with help from Jörgen and Benkt and then also use my truck and trailer to make everything easier, and I said YES OF COURSE! I'm really honored that he asked me to do this and to drive his brand spanking new Pro Mod Chevrolet Corvette -79! I did see this as an opportunity for me to learn something new, I have never tuned a Pro Mod legal roots blown Hemi before by myself. It's a pretty big change from my own Big Block Chevy with a screw blower and of course it will be fun to drive and set up a new and different car / chassis! I did see it as a challenge for me to make this work and I actually got some racing spirit back again!
I'm an Outlaw Screwblower and Top Doorslammer guy in my heart and I prefer a Big Block Chevy but I really looked forward to make two test races in the Pro Modified class with all the old farts! 😉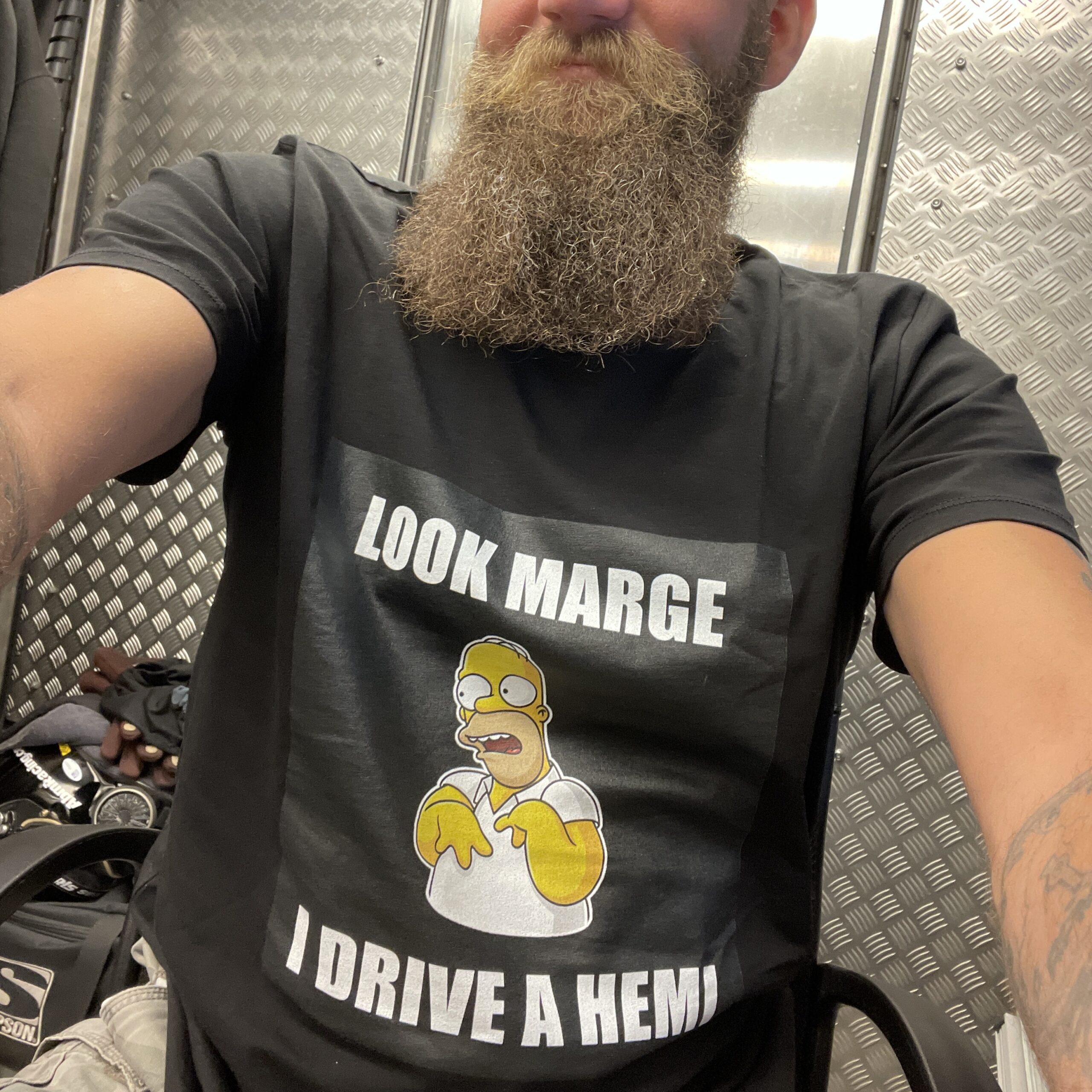 So I made a special shirt to wear during the races this year! 😀 😉
And something else that I really like is that the body style is not something you see everywhere, just like with my own Chevelle 65!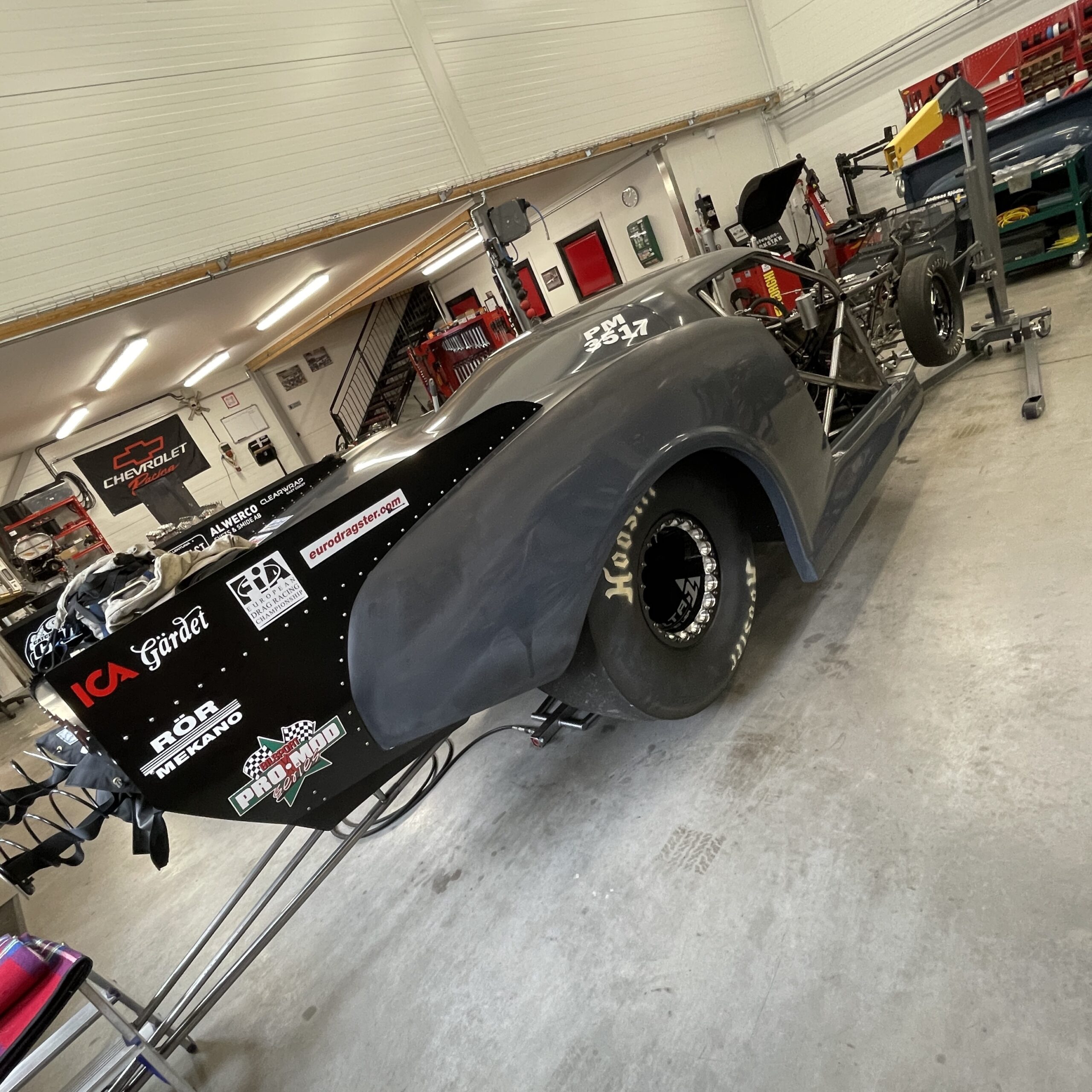 I mean, how about that butt!! 🙂
So during the start of the year I began to work on some tuning stuff and we did look through the car to see what was missing and what we needed to add to it, one thing for me to be able to drive the car was to throw out the dirty clutch and put in my Neal Chance converter, Bruno Drive and Lenco from the Chevelle in to the Vette! Not because I don't want to drive a clutch car because when it comes to the driving its way more fun with a clutch BUT it costs way more, way more work and maintenance with a clutch if you want the same conditions every round with the car!…. And I don't want to work on it, we do not have time to work on it and I have more Lenco ratios and knowledge when it comes to a converter, so a converter is the only option for me!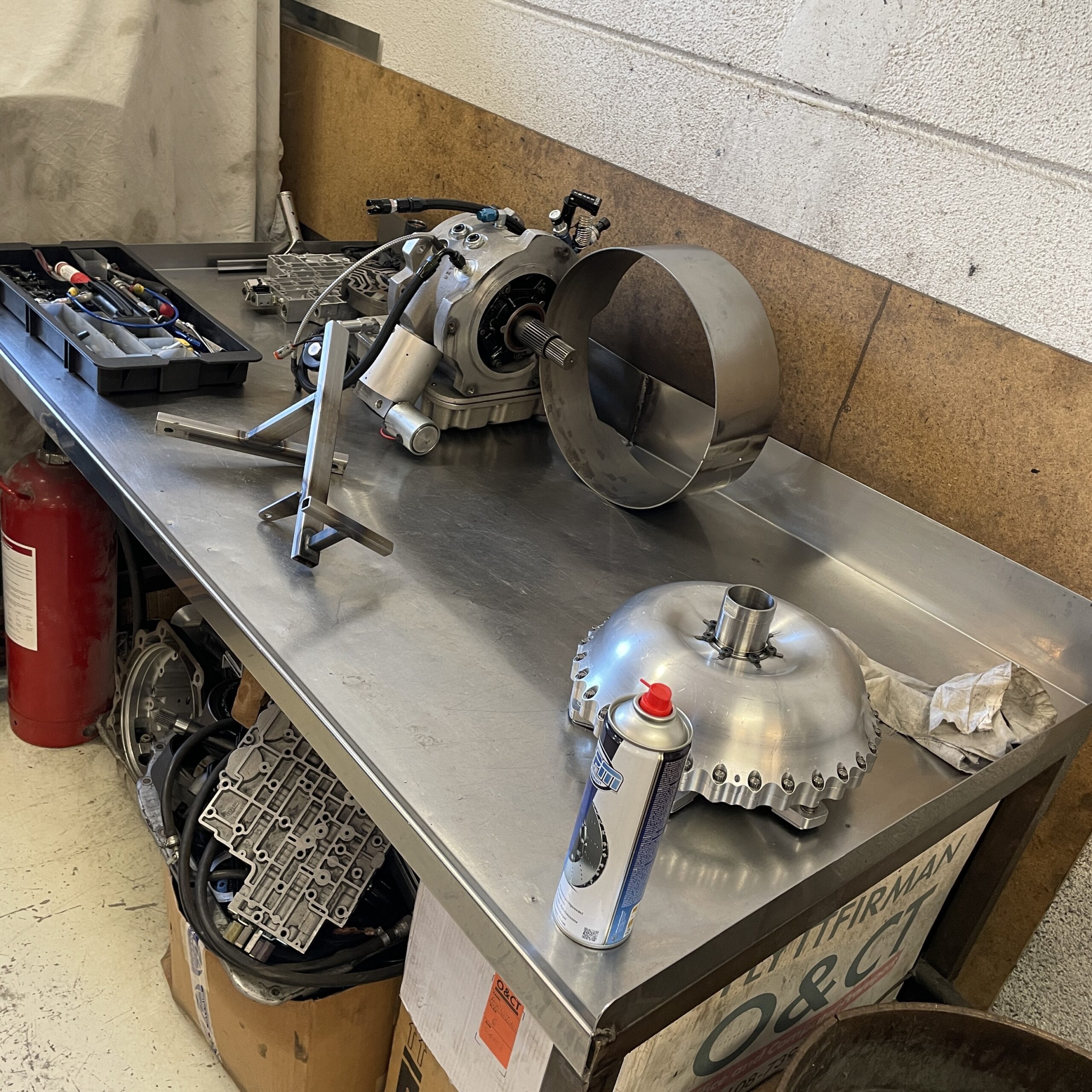 Then I wanted to rearrange some stuff in the driver area to make the car fit me better, so in the mid of April (2 months before the first outing) Me, Jörgen and Benkt started for real to work on the car and make it ready for the Tierp test event in June! The plan from the start was to only make that event a test weekend to start figure out the car.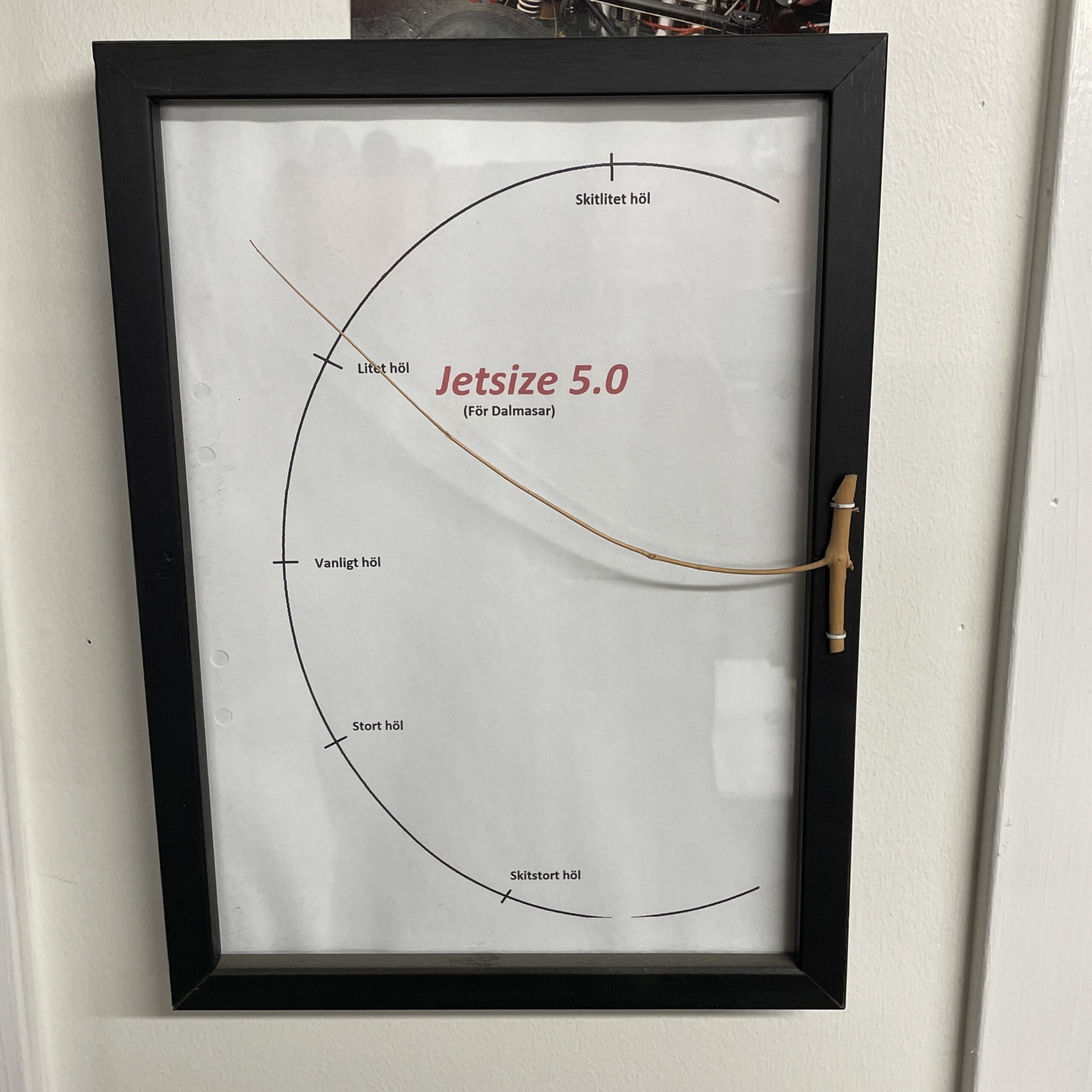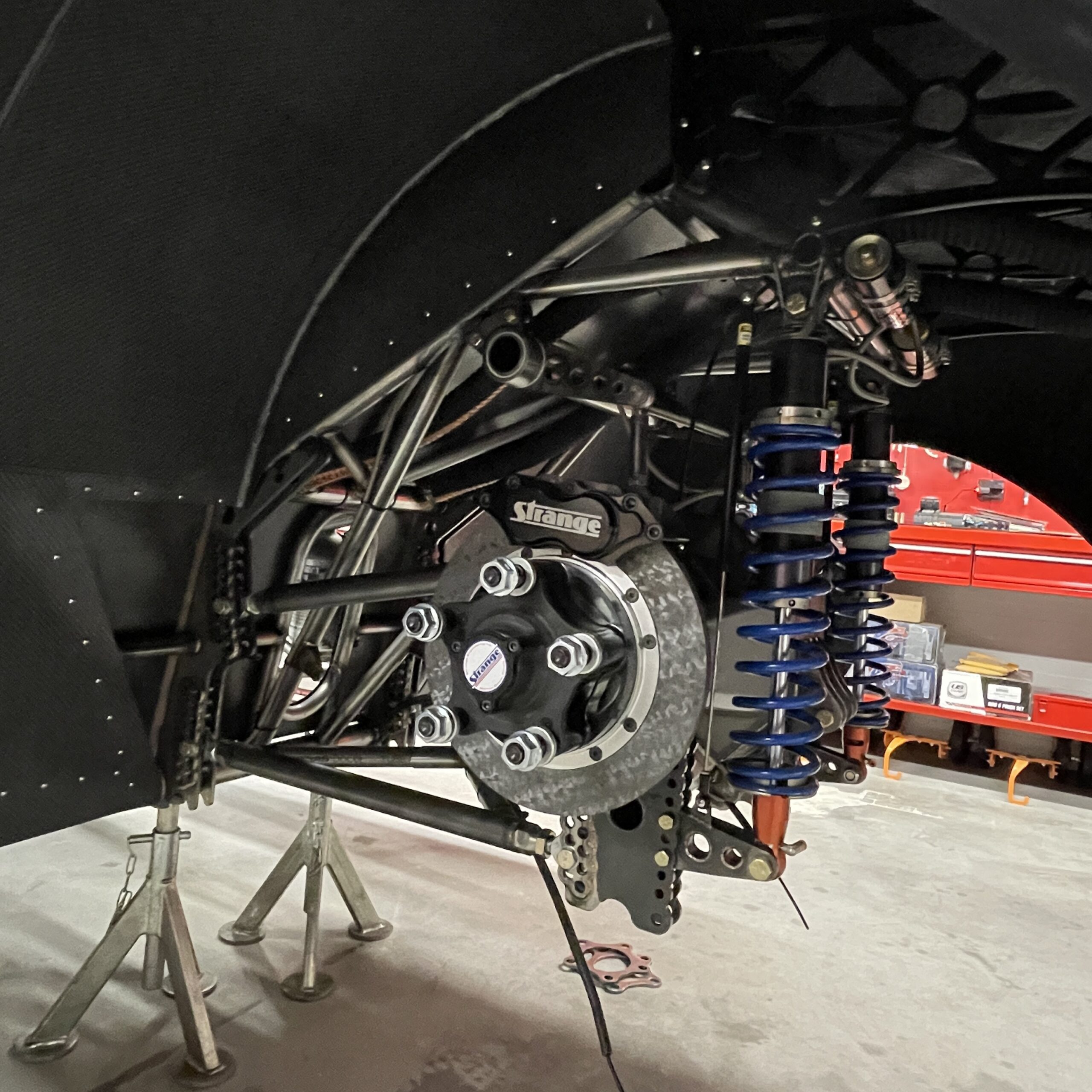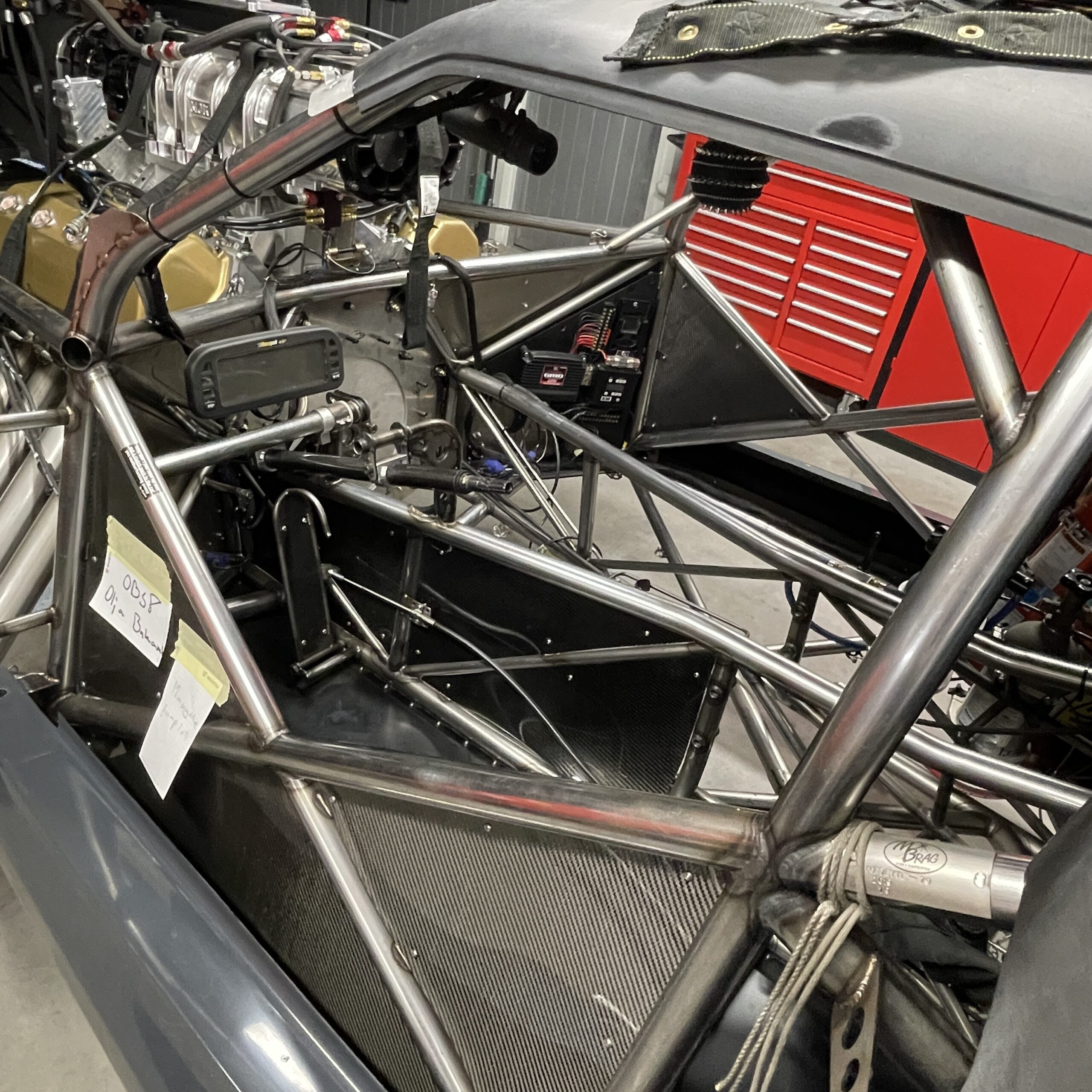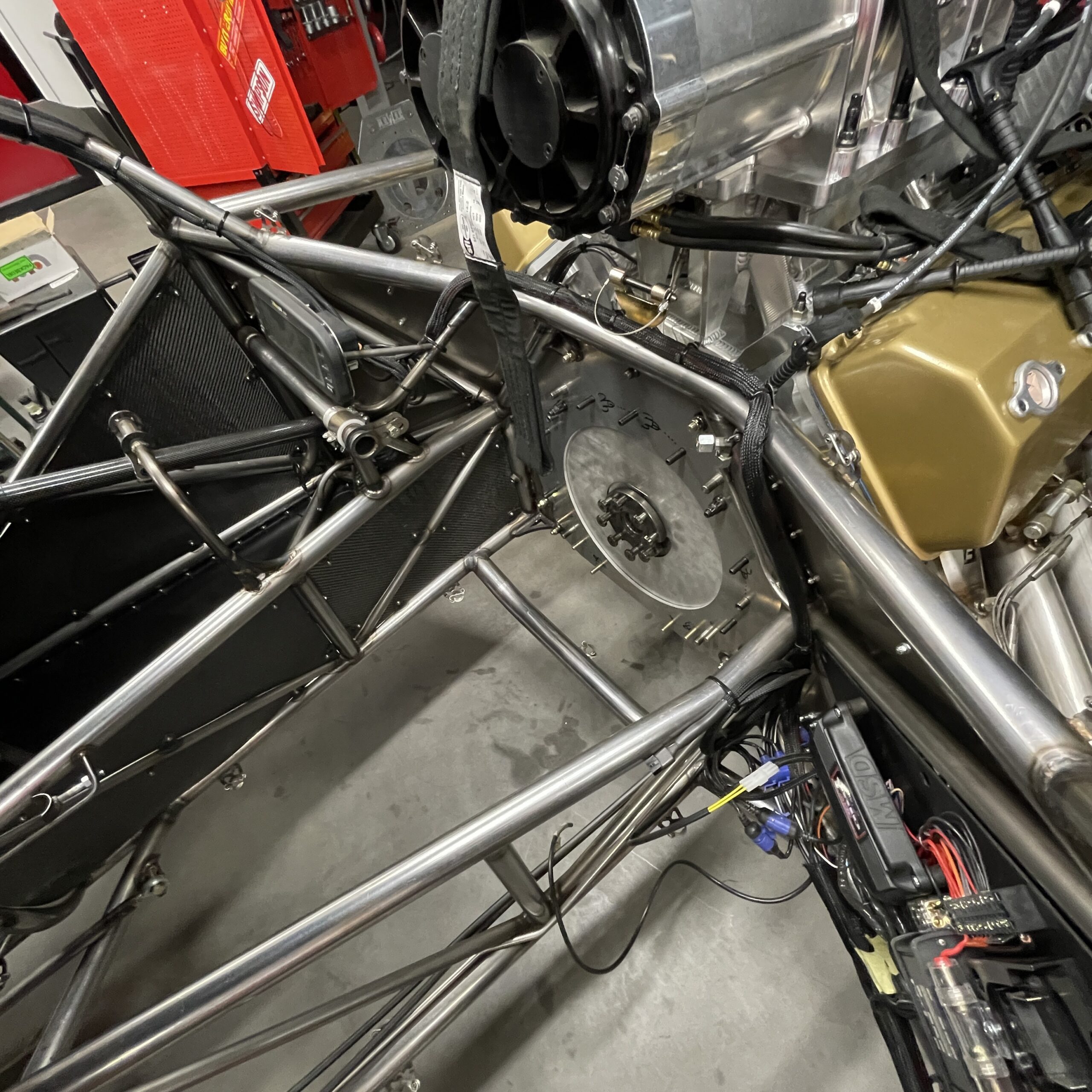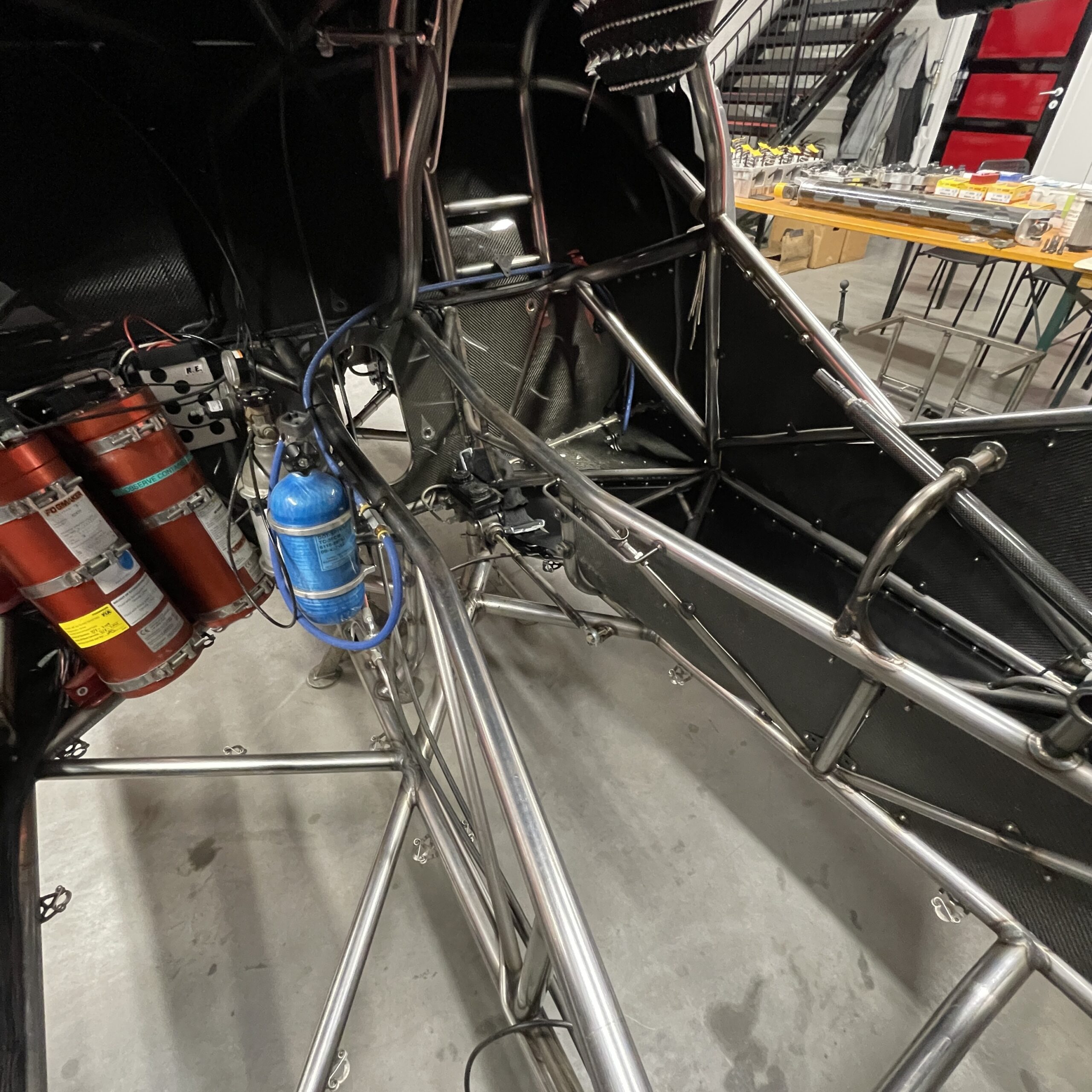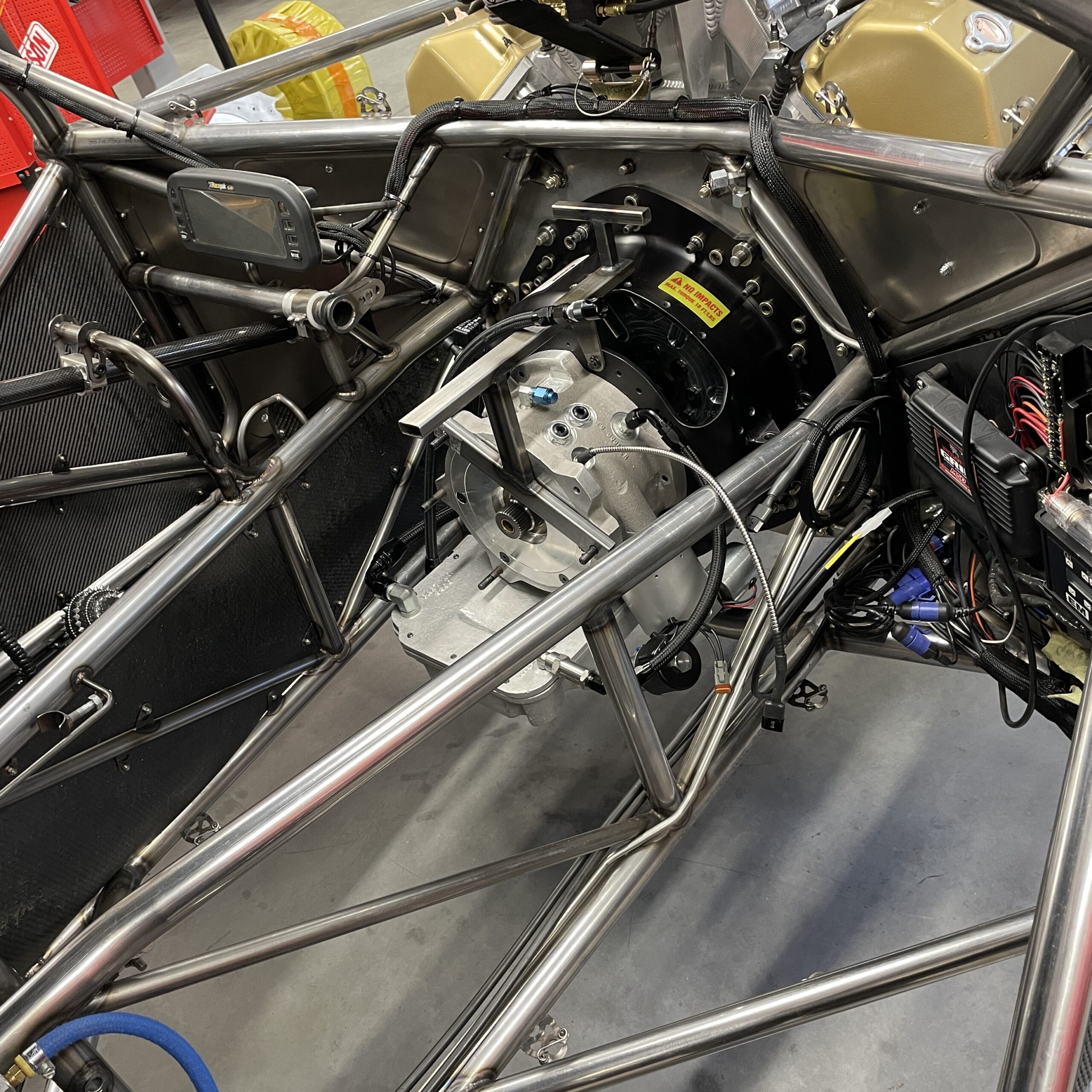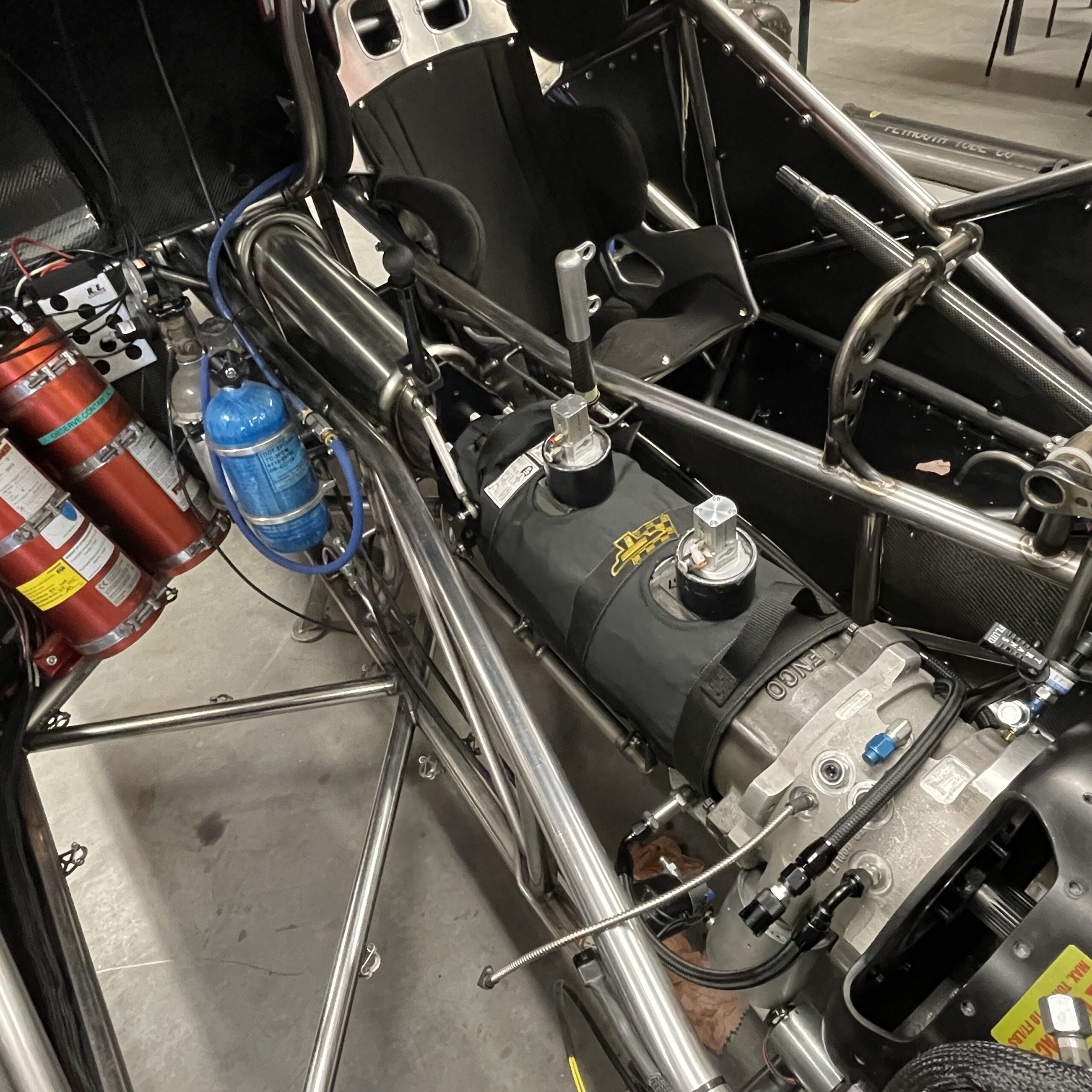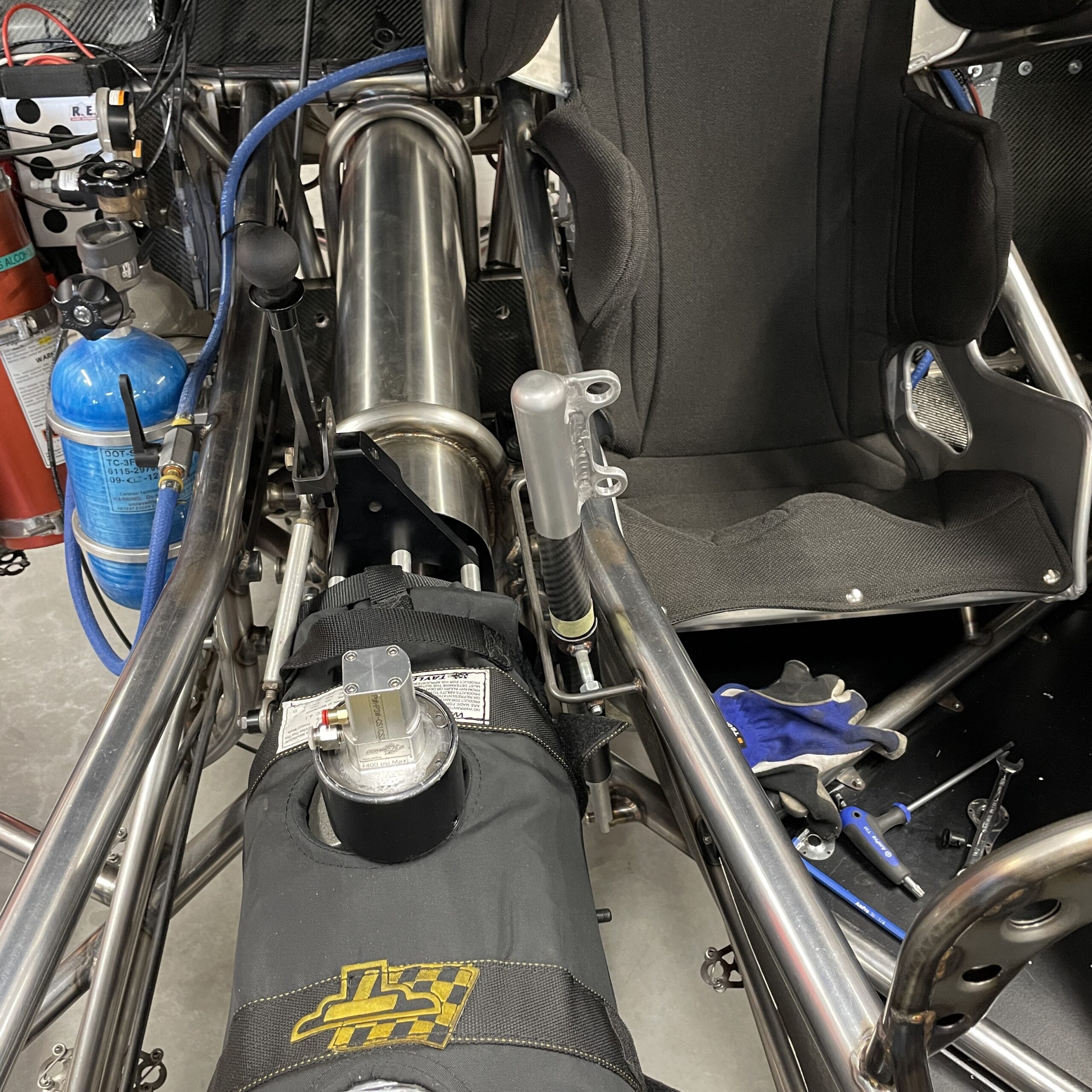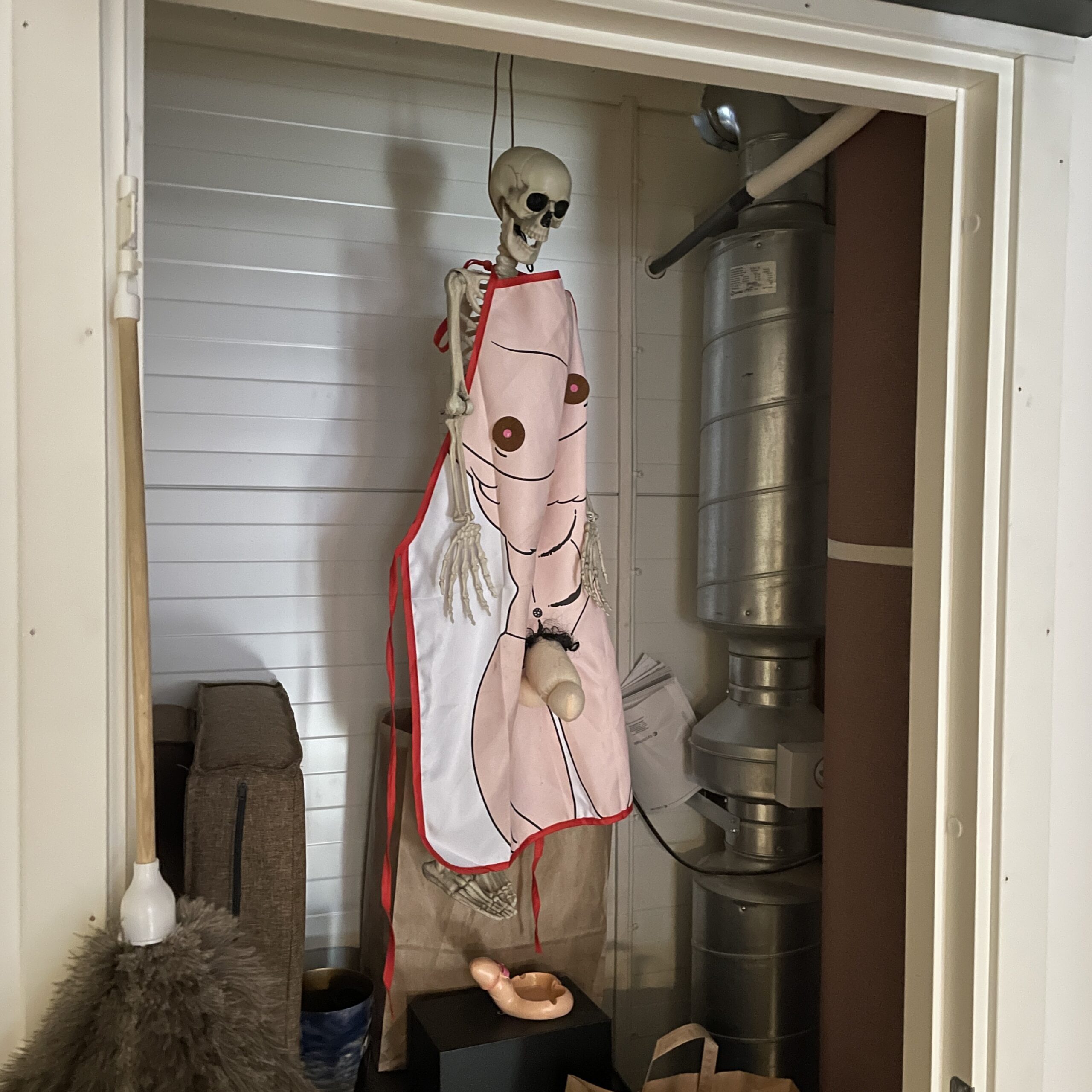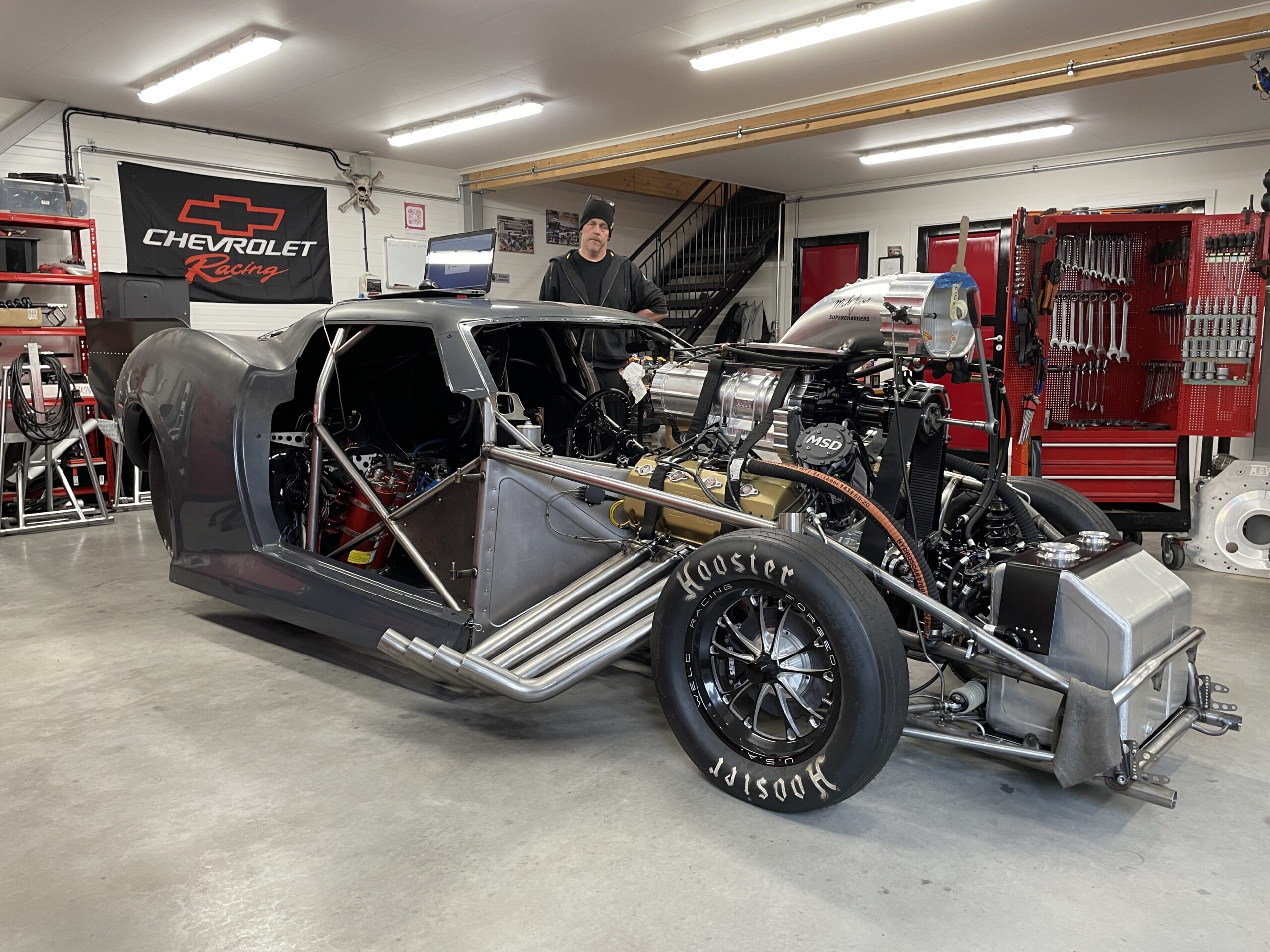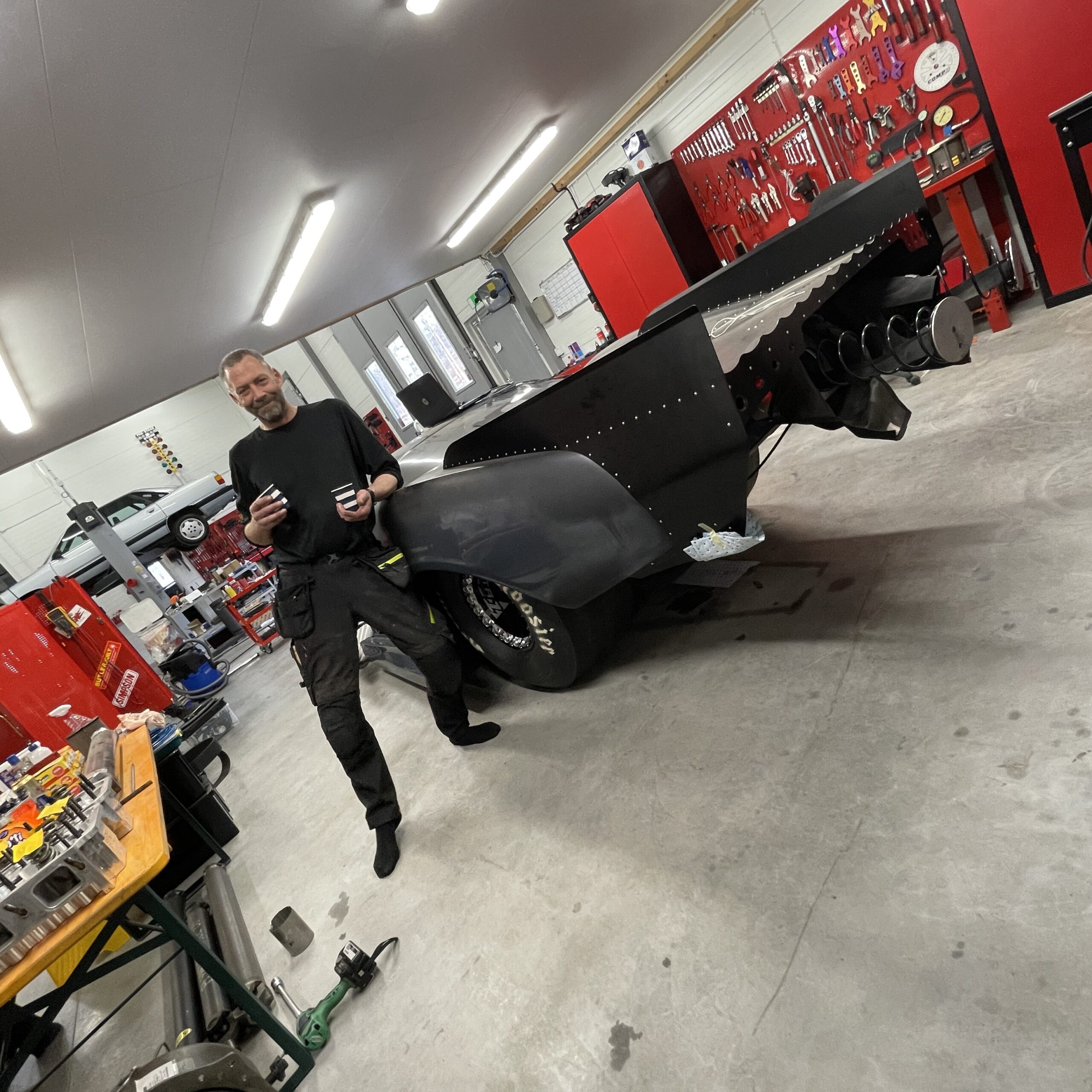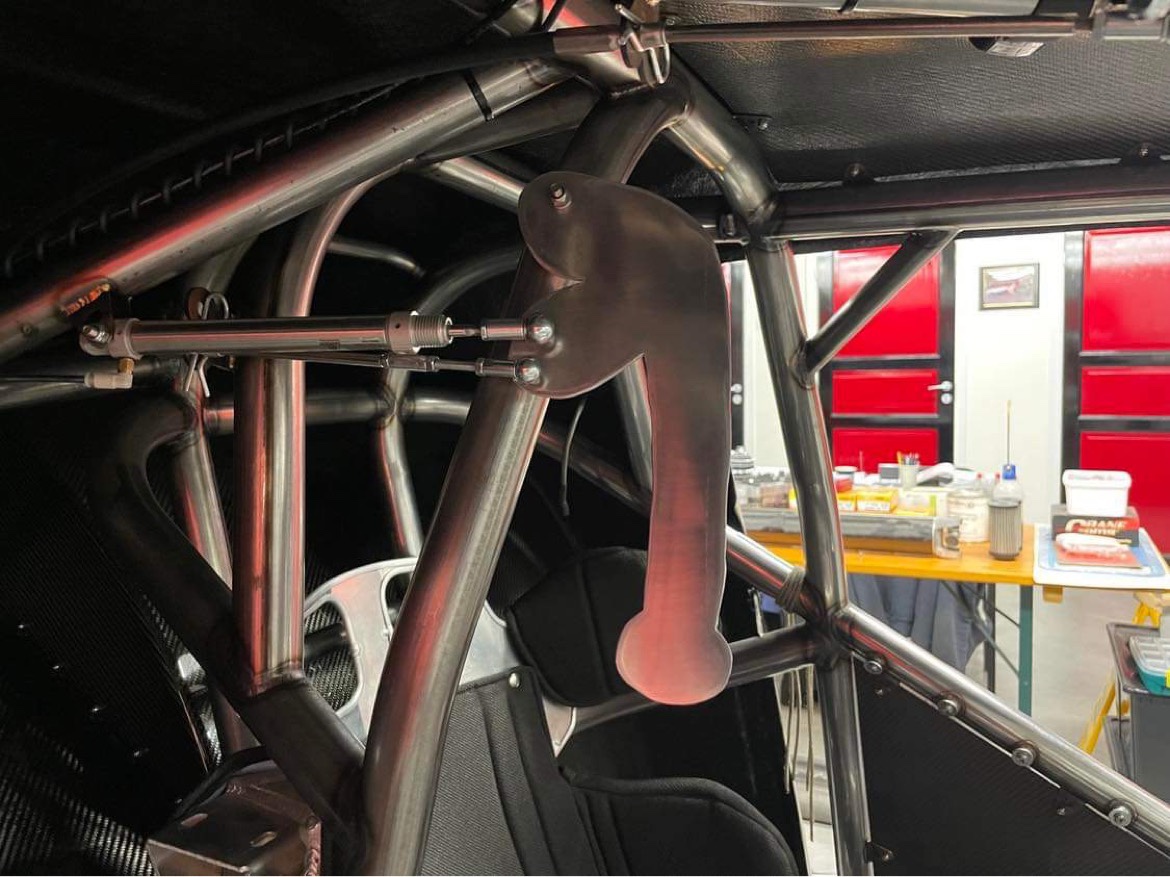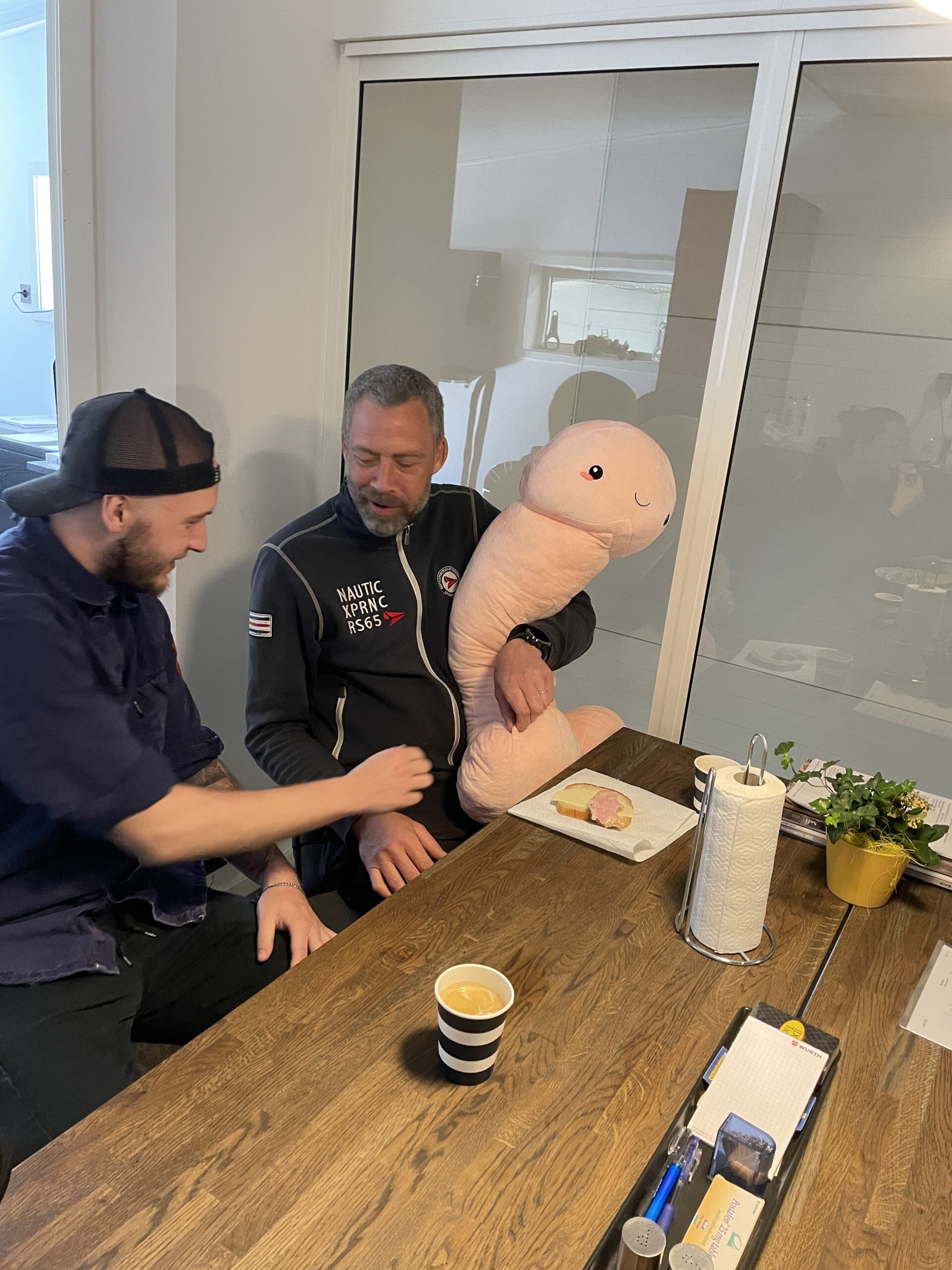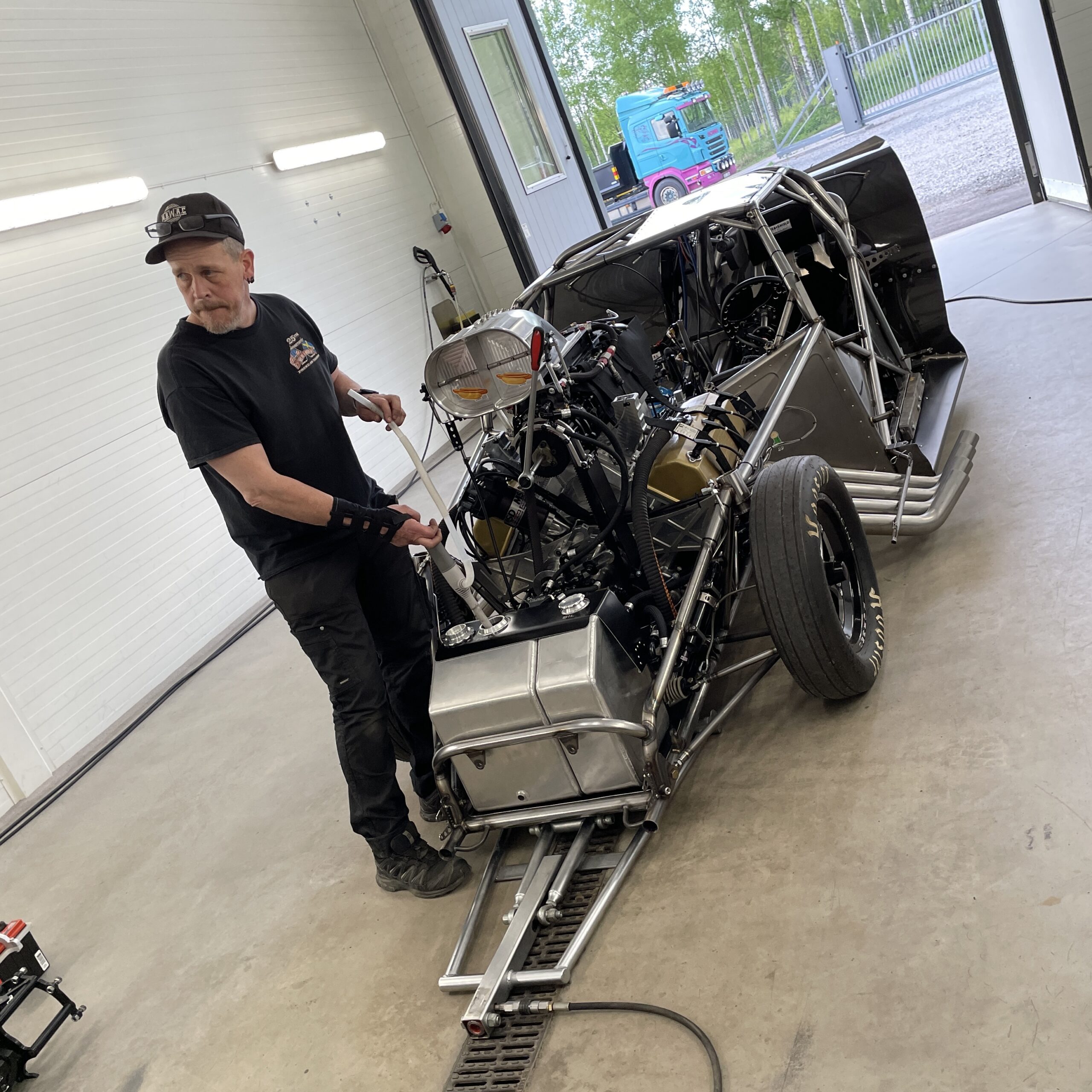 I did spend hundreds of hours myself on stuff on my end at my own shop and Jörgen and Benkt did work on stuff in Jörgens shop and then together we have spent a couple of hundreds of hours together at Jörgens shop during a total of maybe 10 days or so! Just like always, time is a problem and getting help at the shop is always difficult… It's most of the time a one-man band working on race cars in the shop but at least we were 3 in the band this time! HAHA! 😉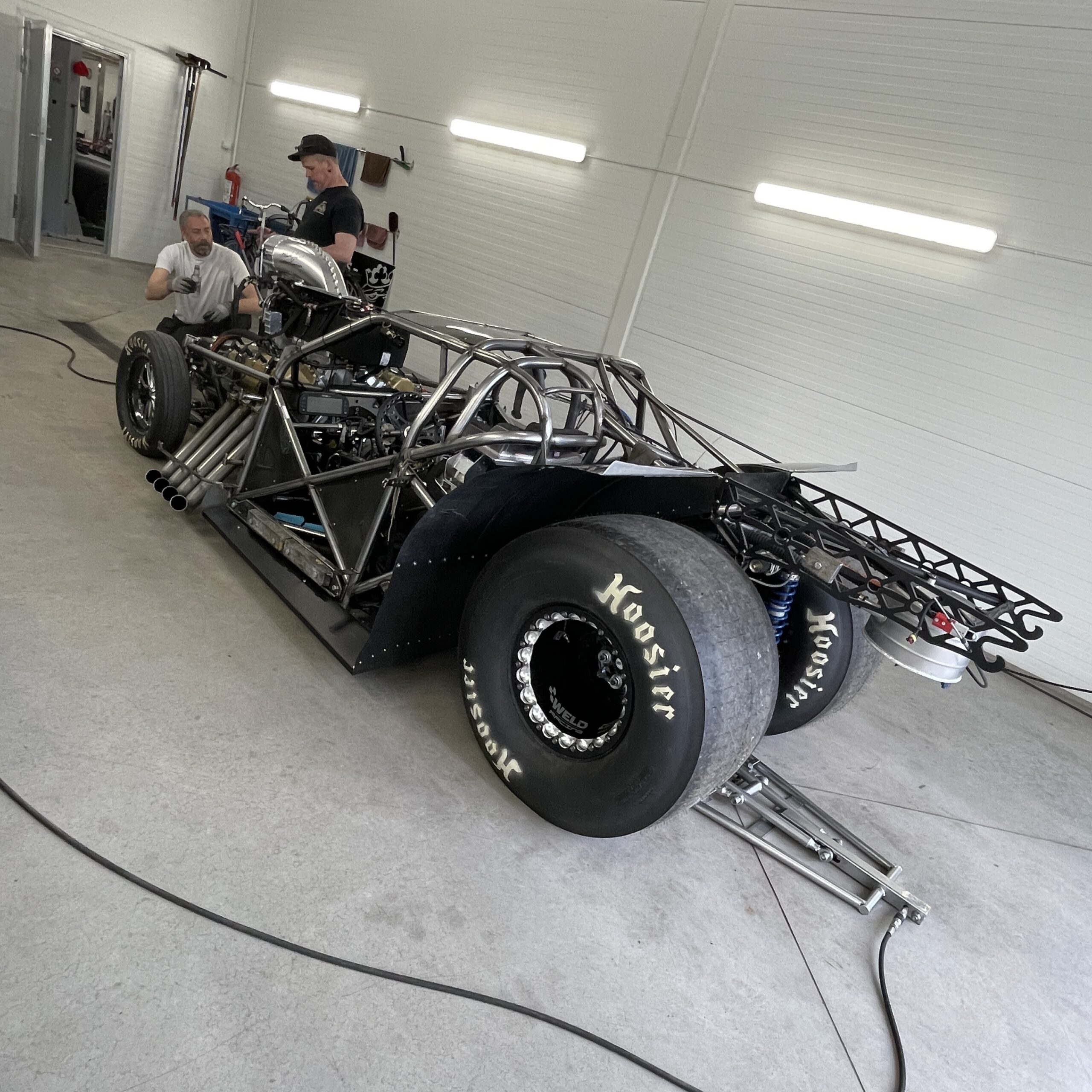 We got the car ready the day before or so before Tierp after a lot of problems with the fuel system and blower package!….. More about that in a new post!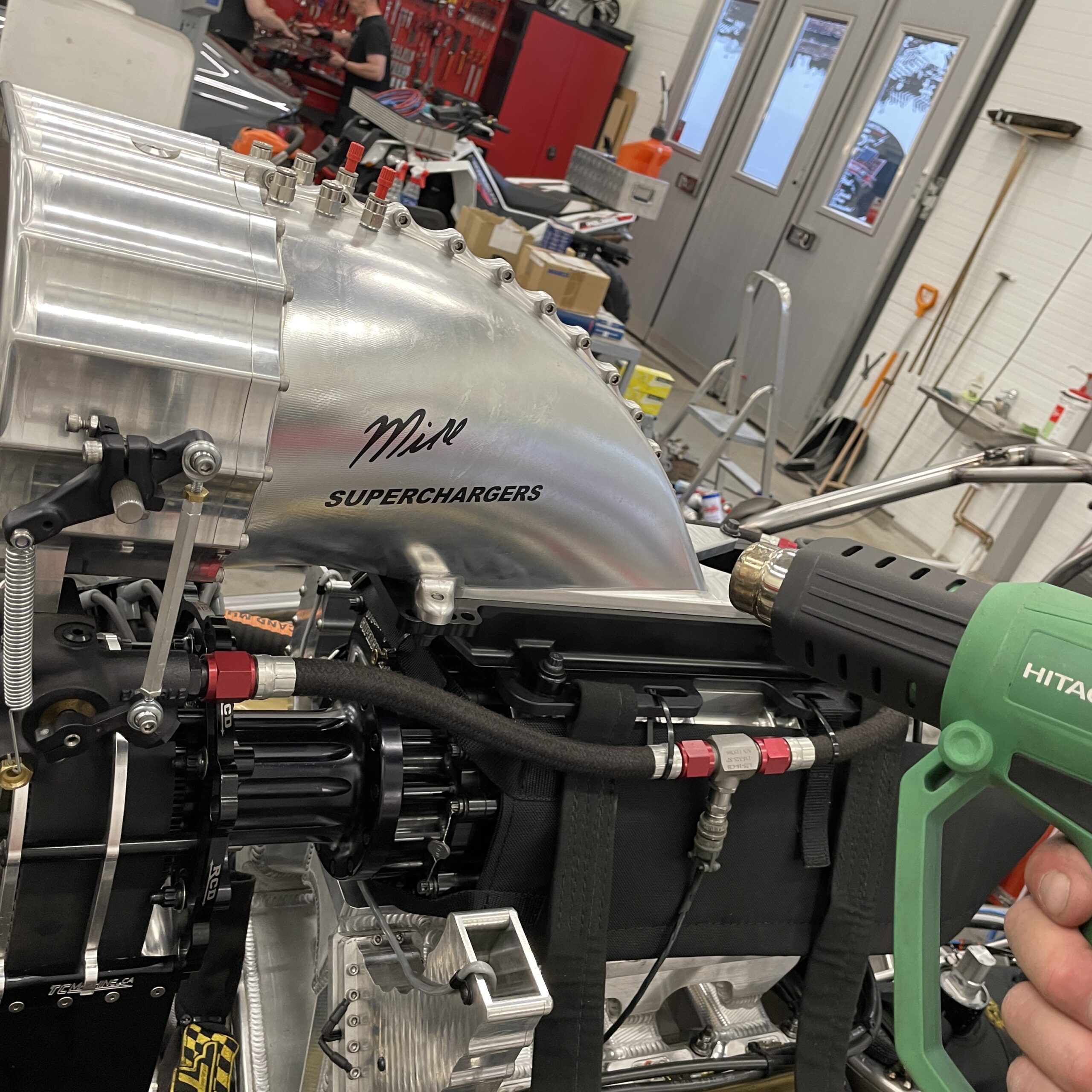 Bänkt are doing his sausage thing! 🙂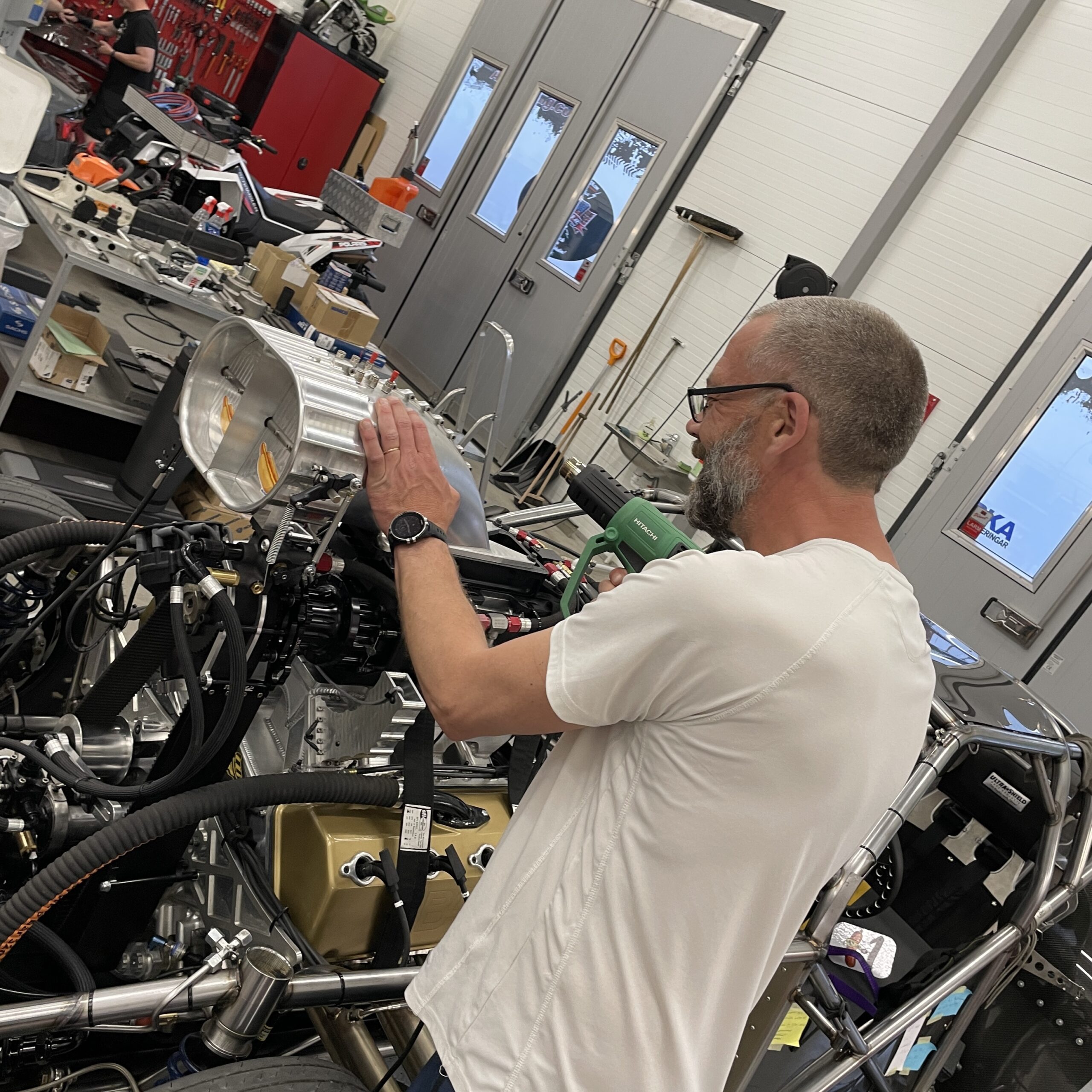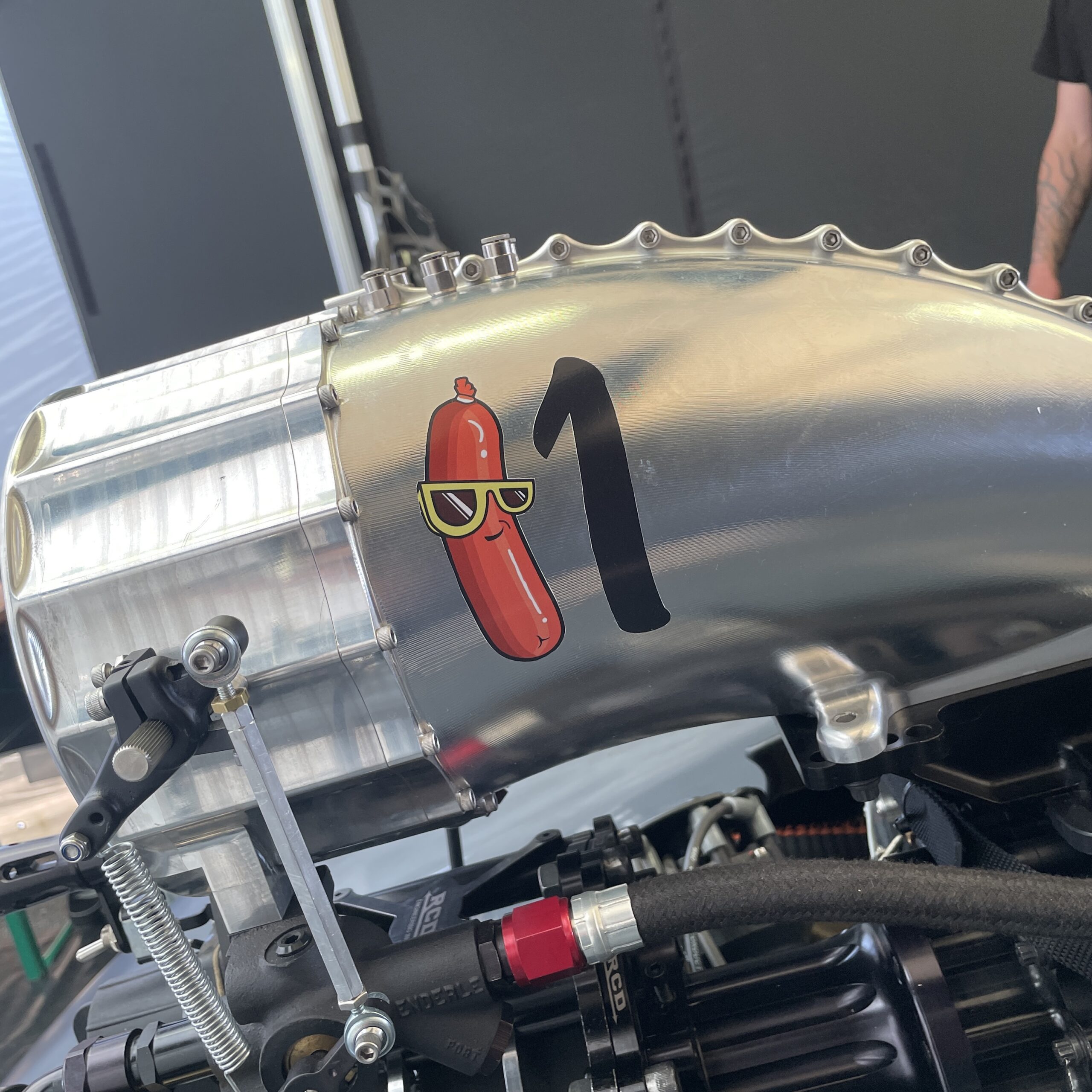 And Me and Sofi took the truck and trailer on a little secret trip of 310 kilometers from the ÅBM shop in Täby to Jörgens shop in Ludvika on Tuesday before the Tierp race.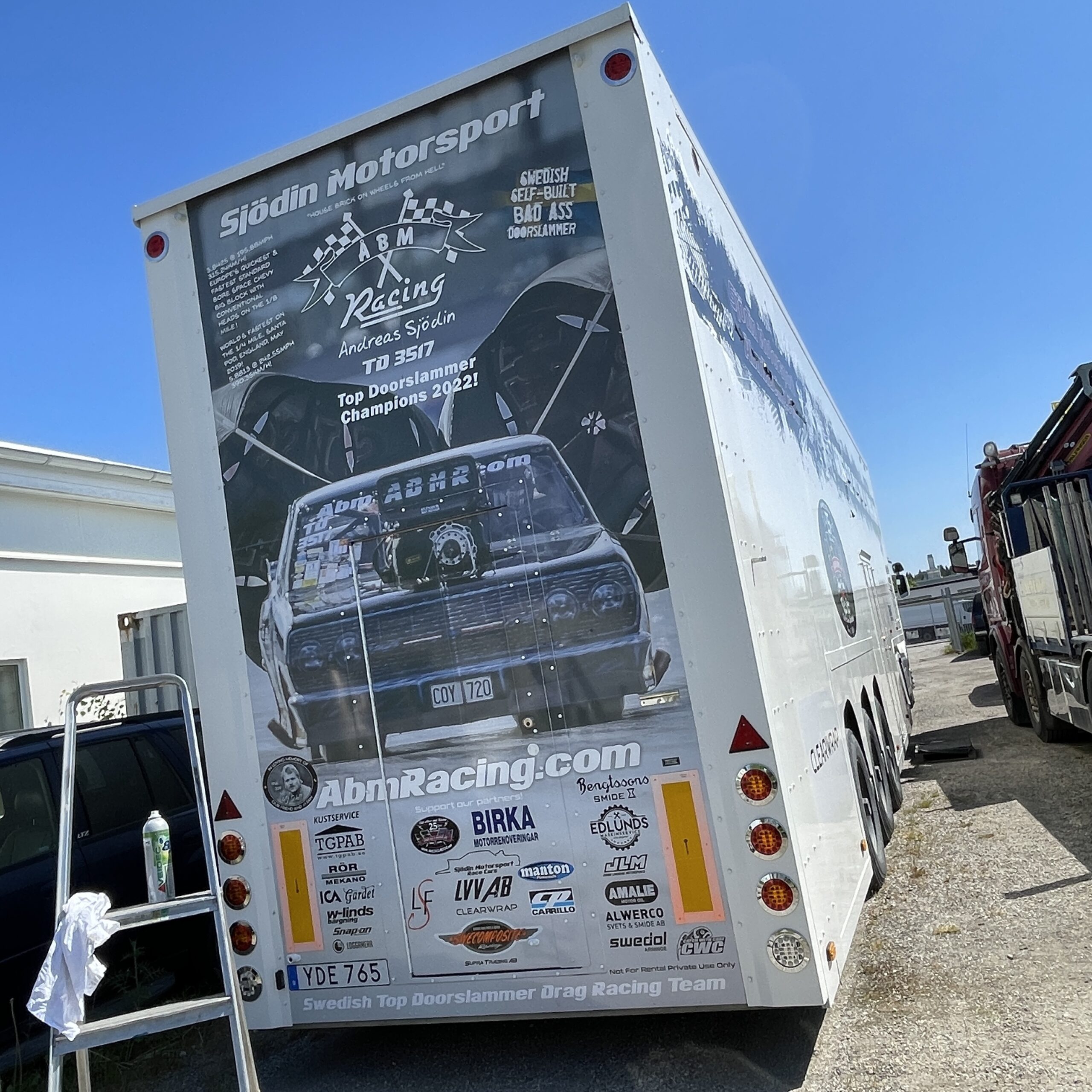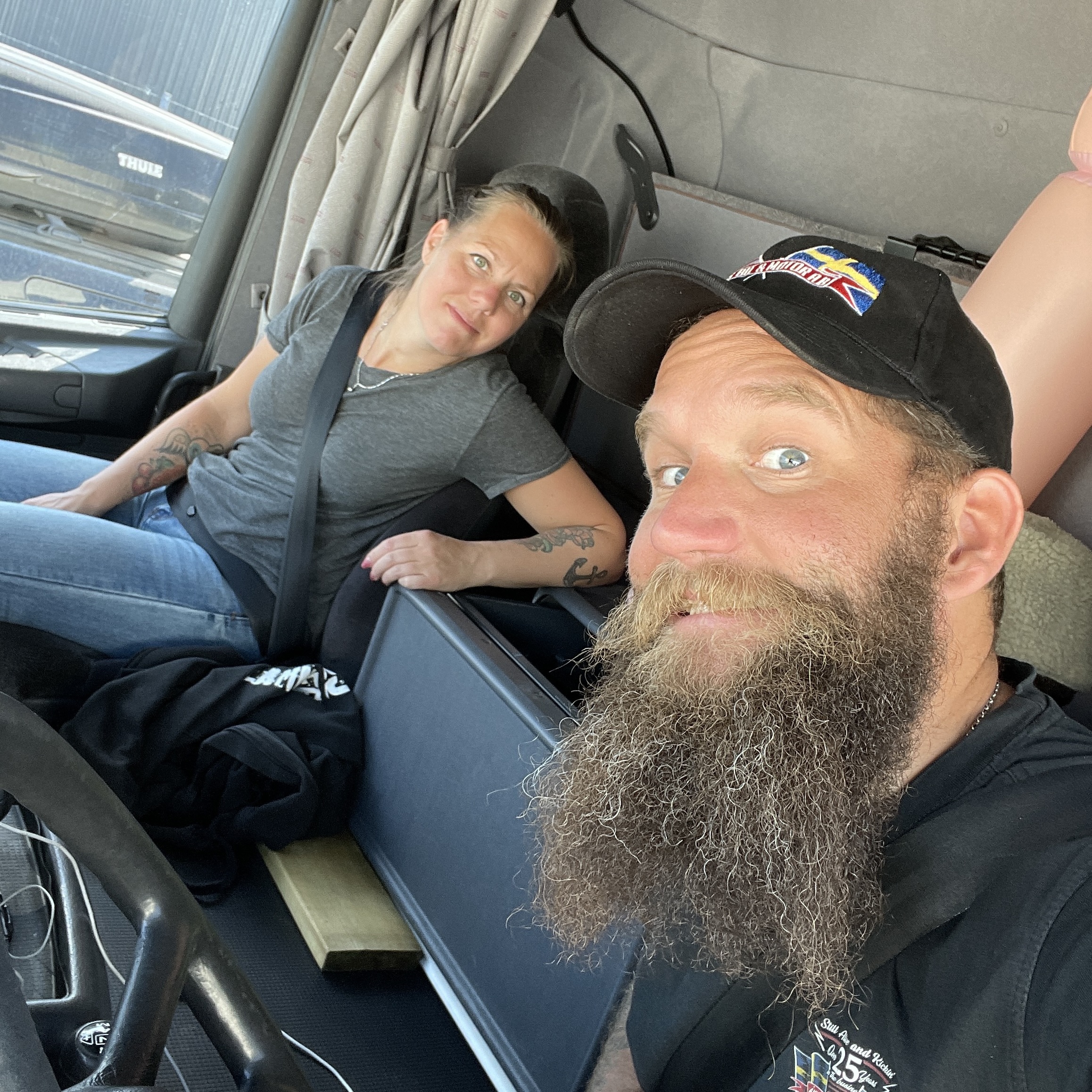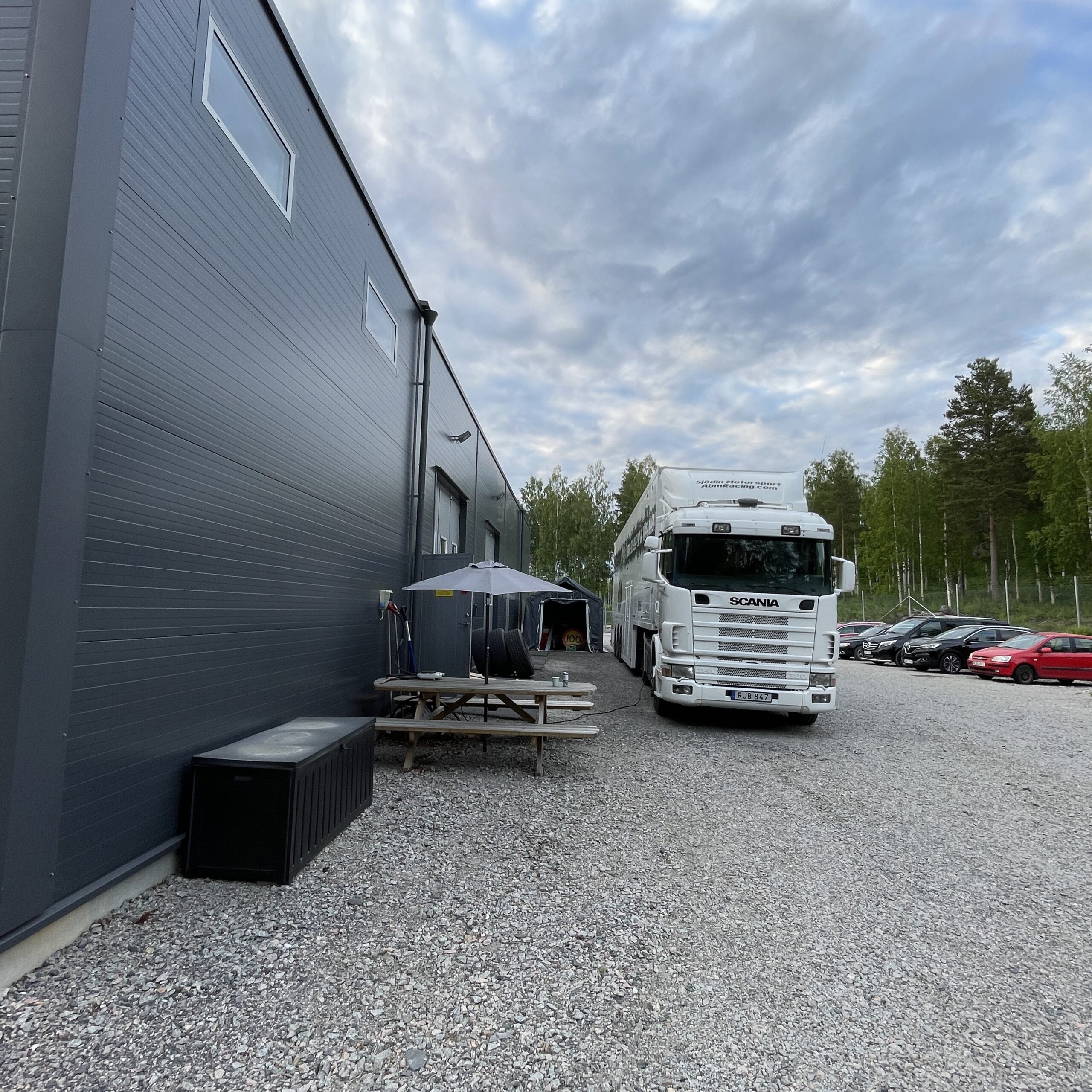 To do some last things on the car and then load the Corvette on Wednesday morning and then go to Tierp Arena!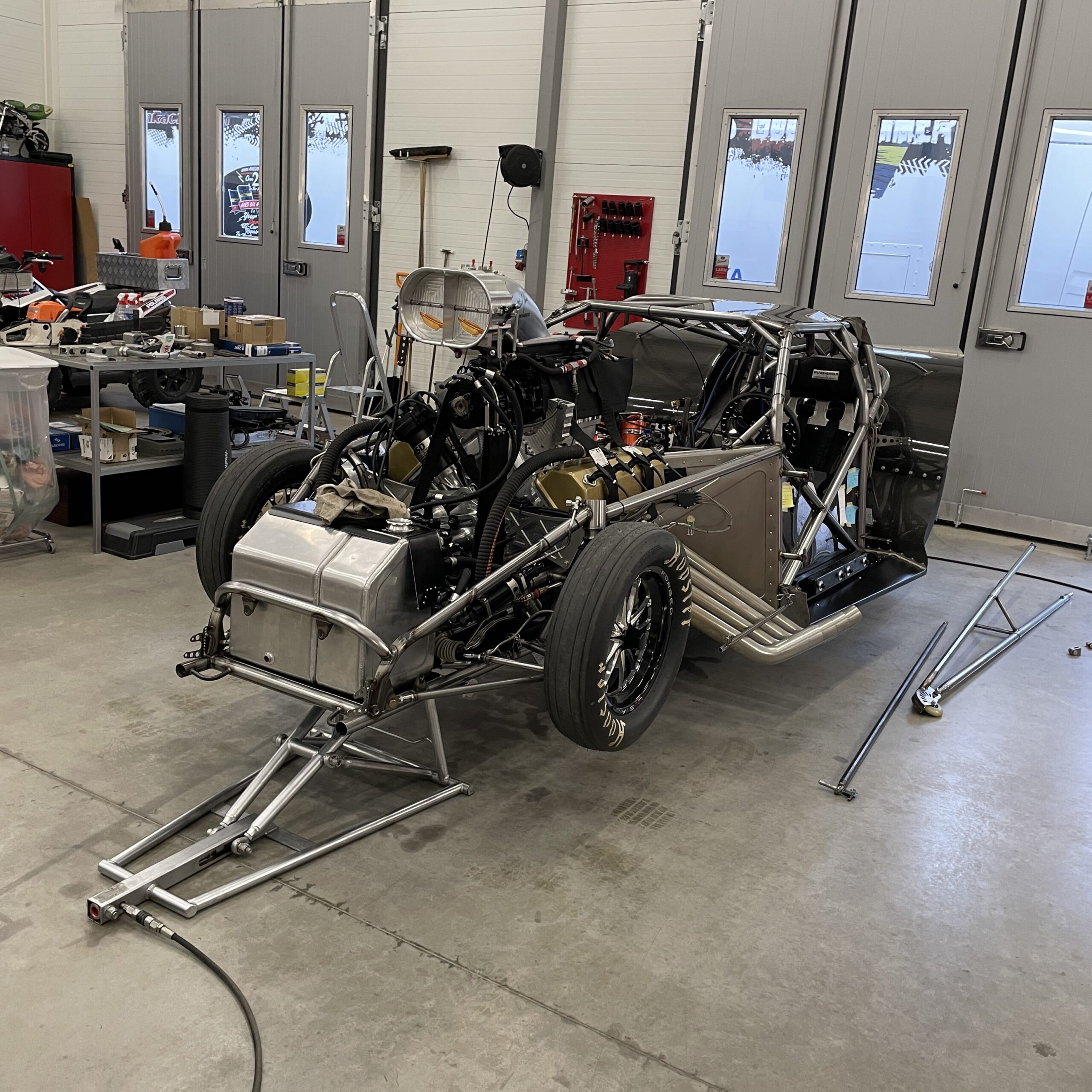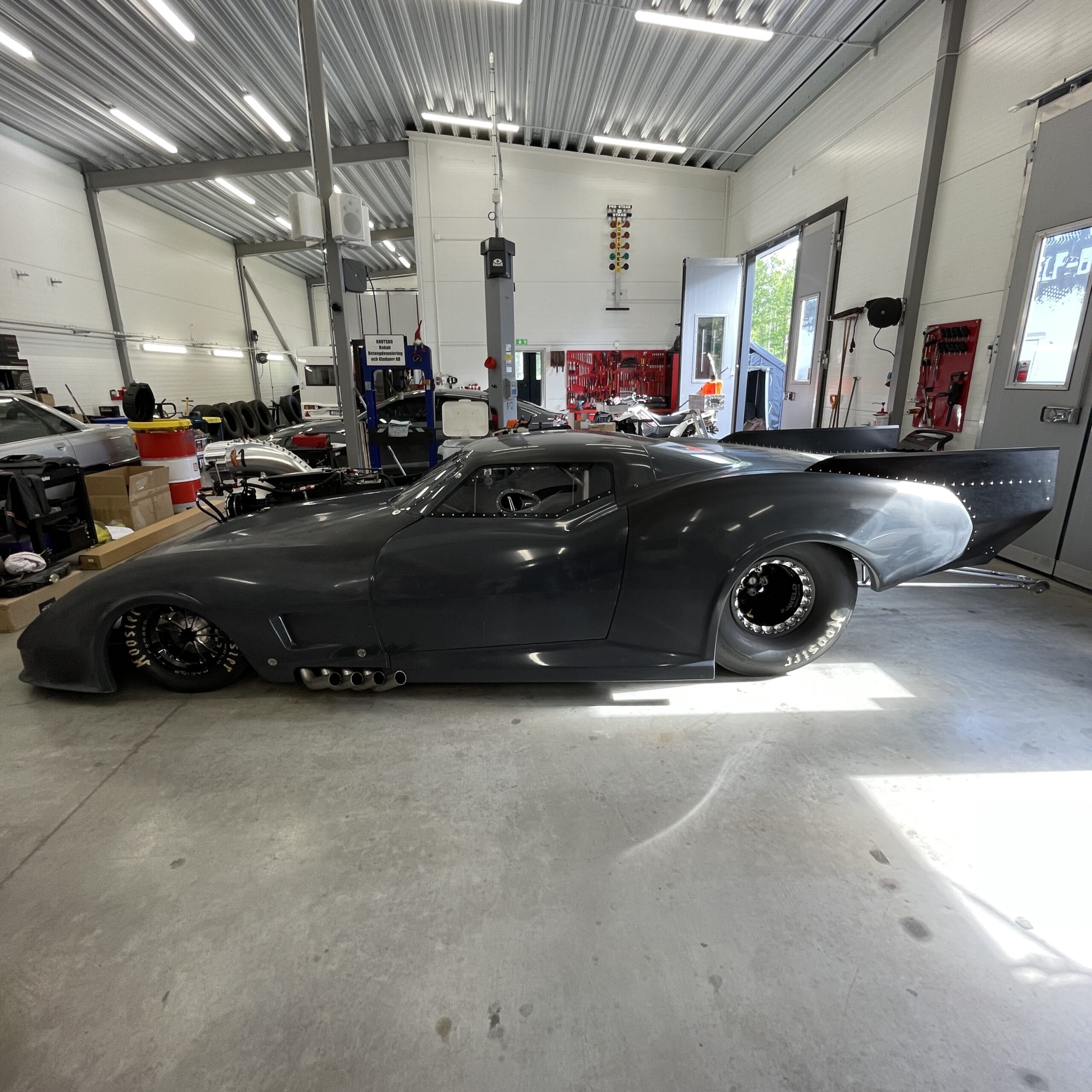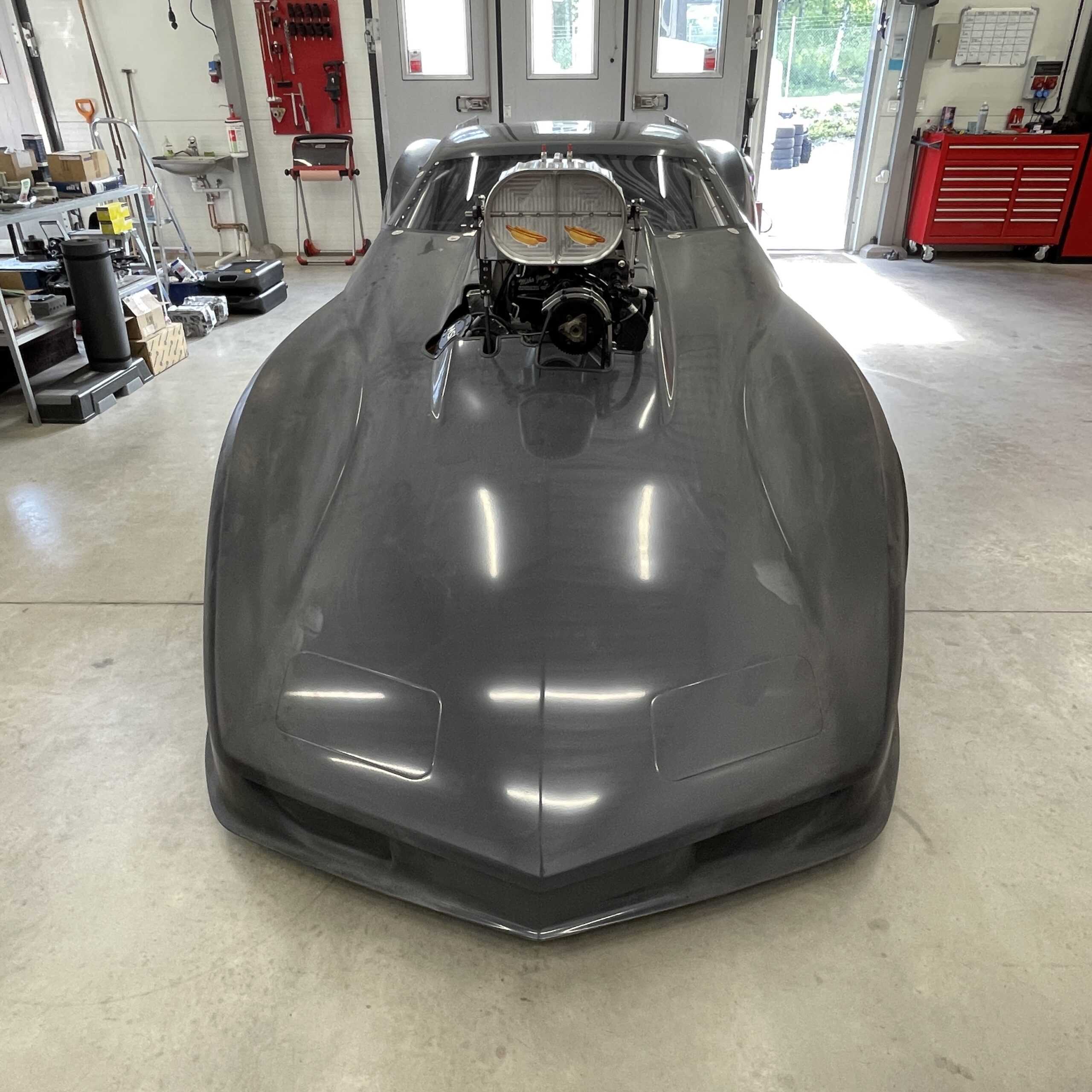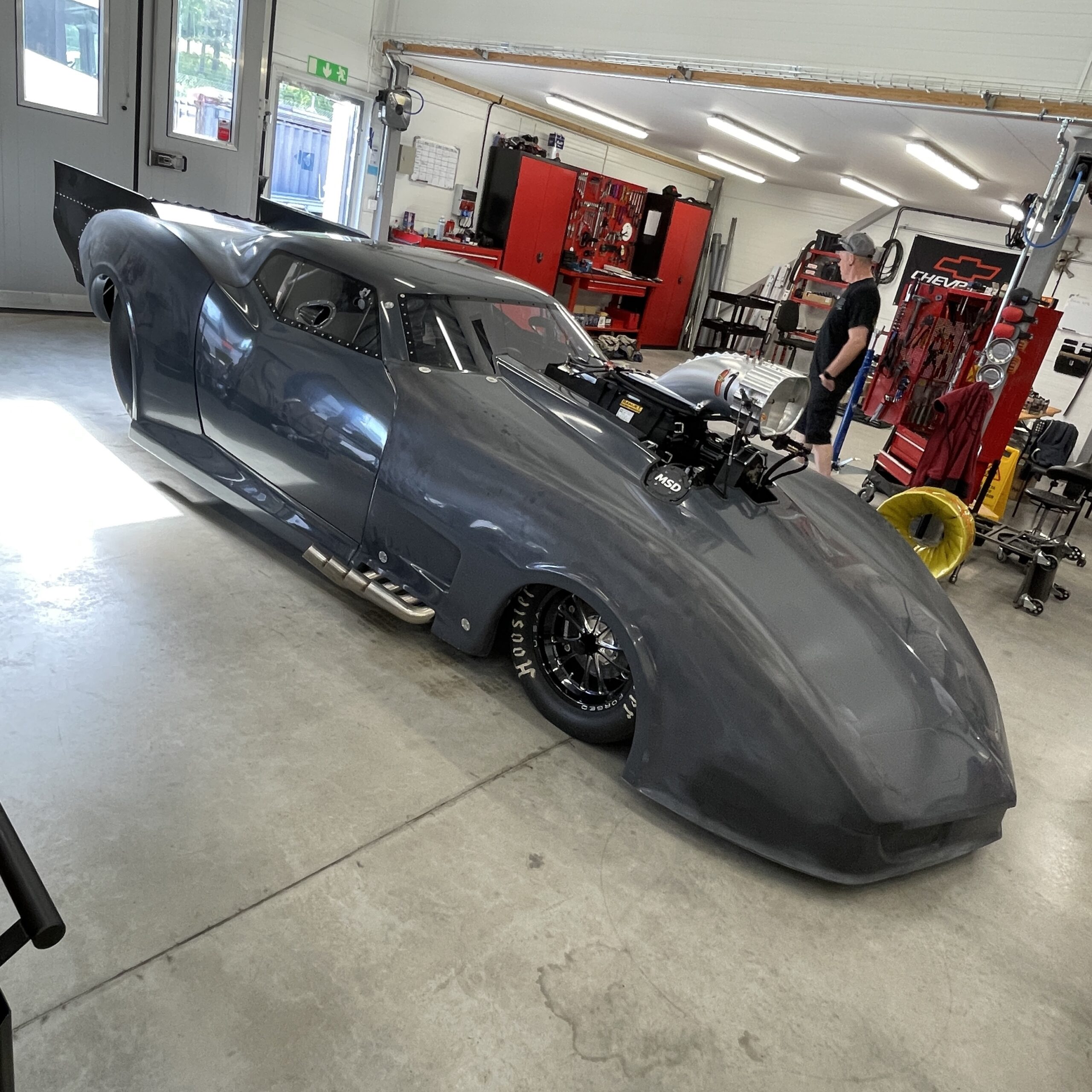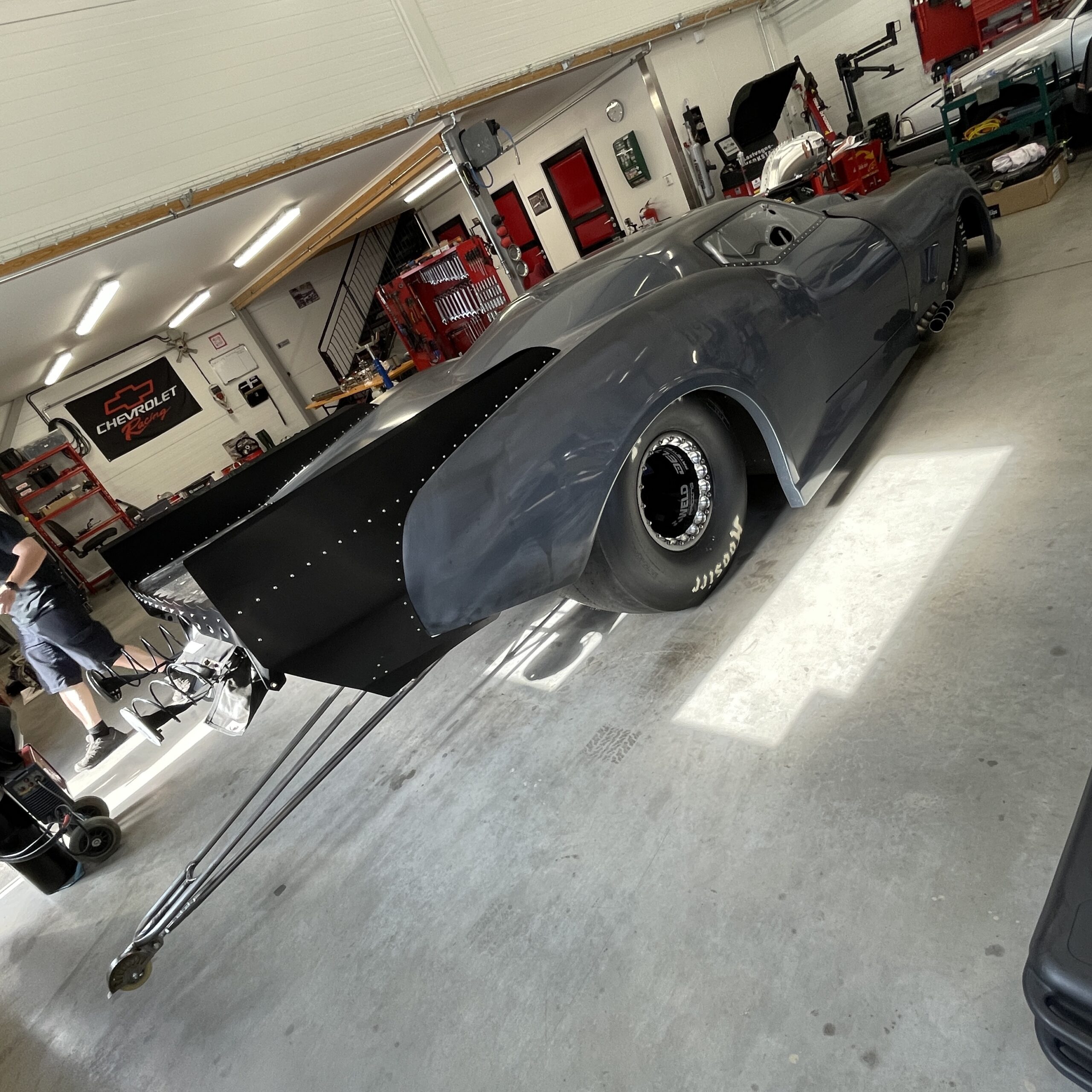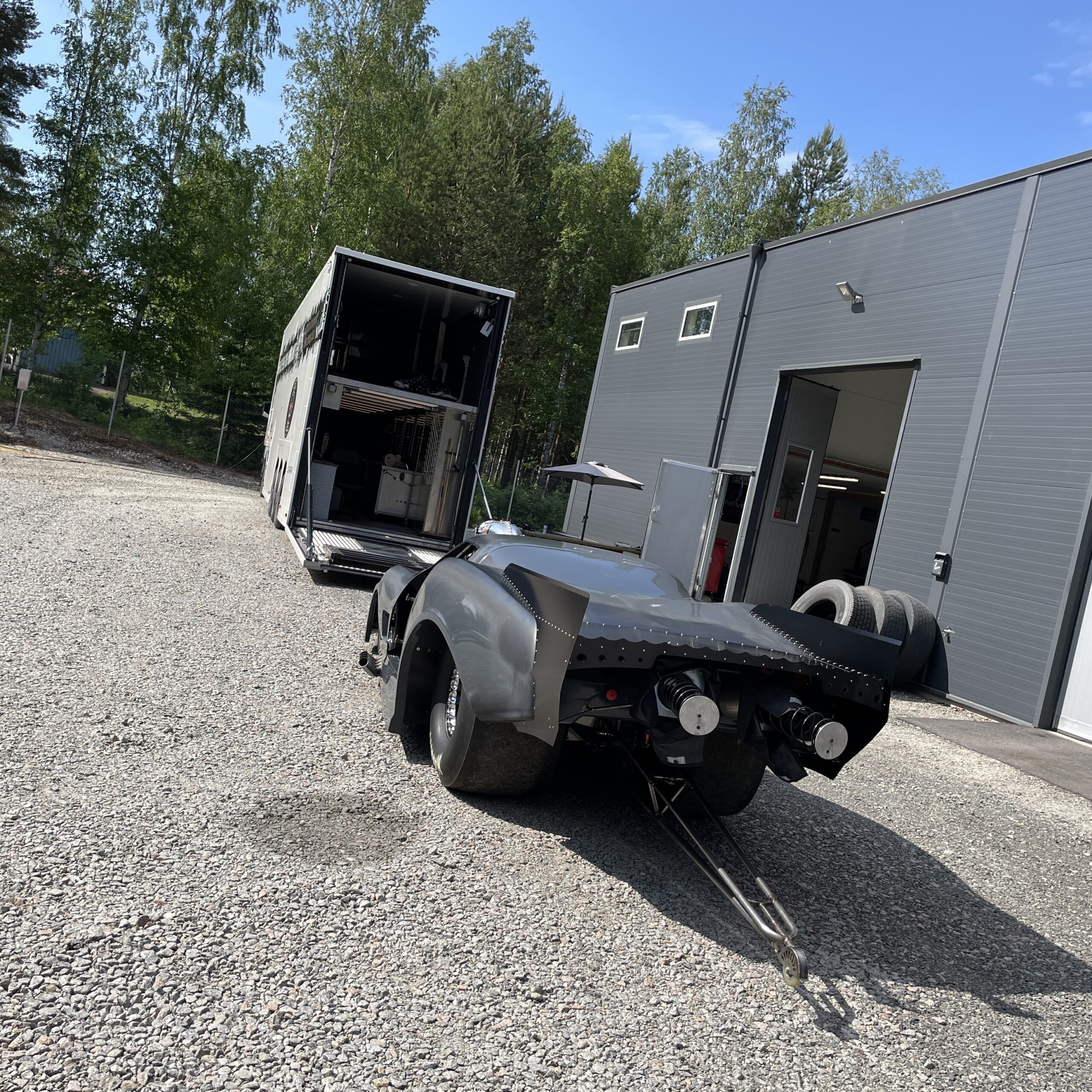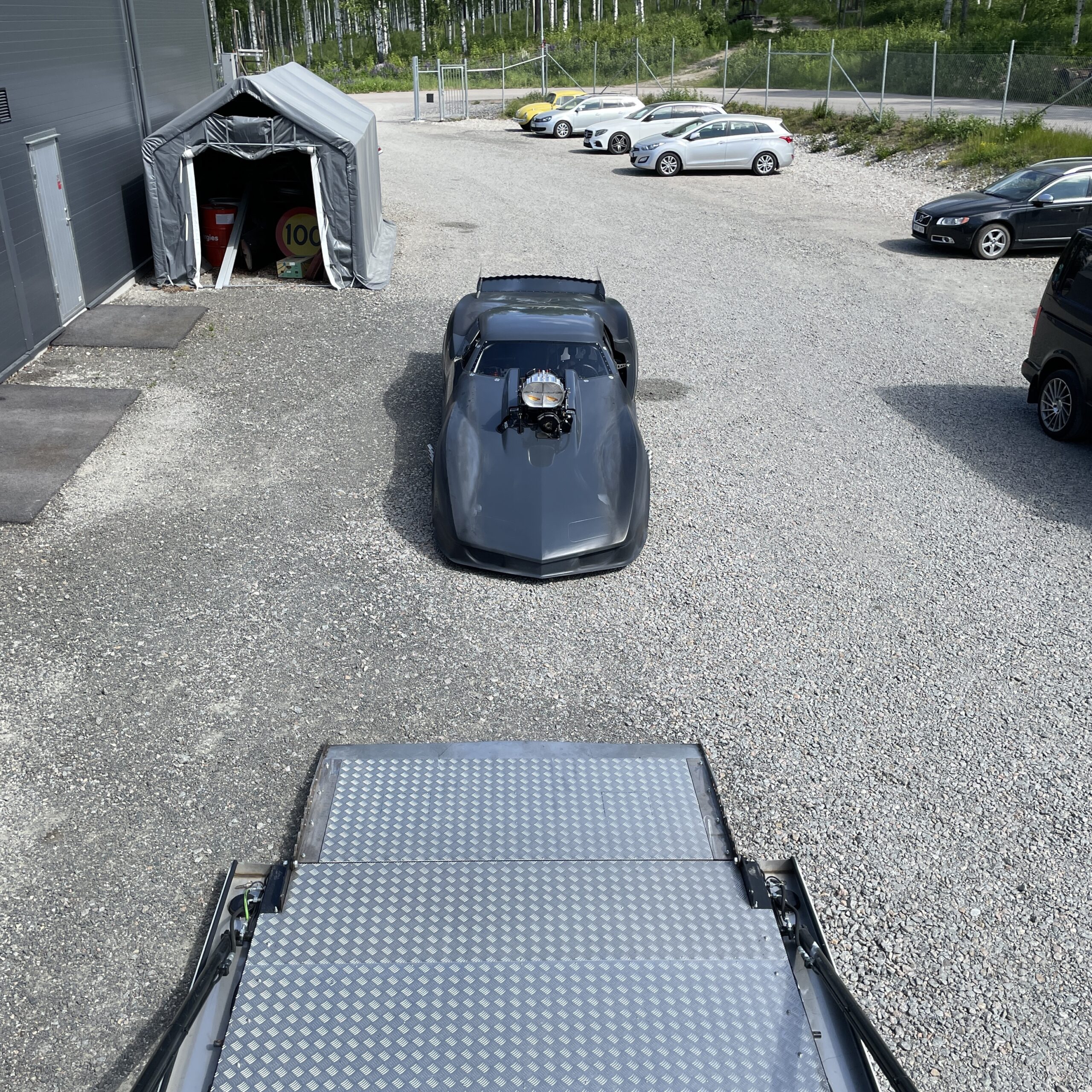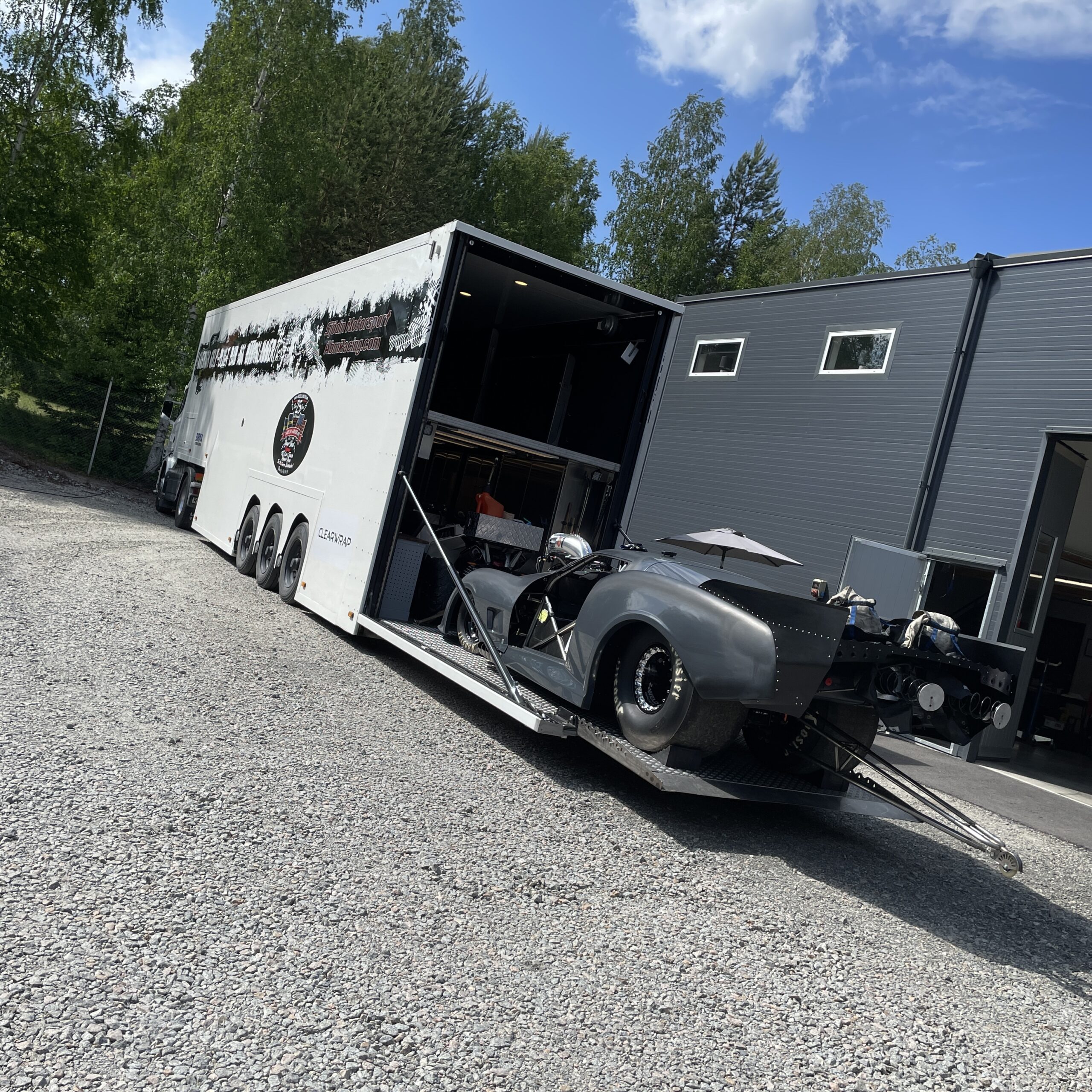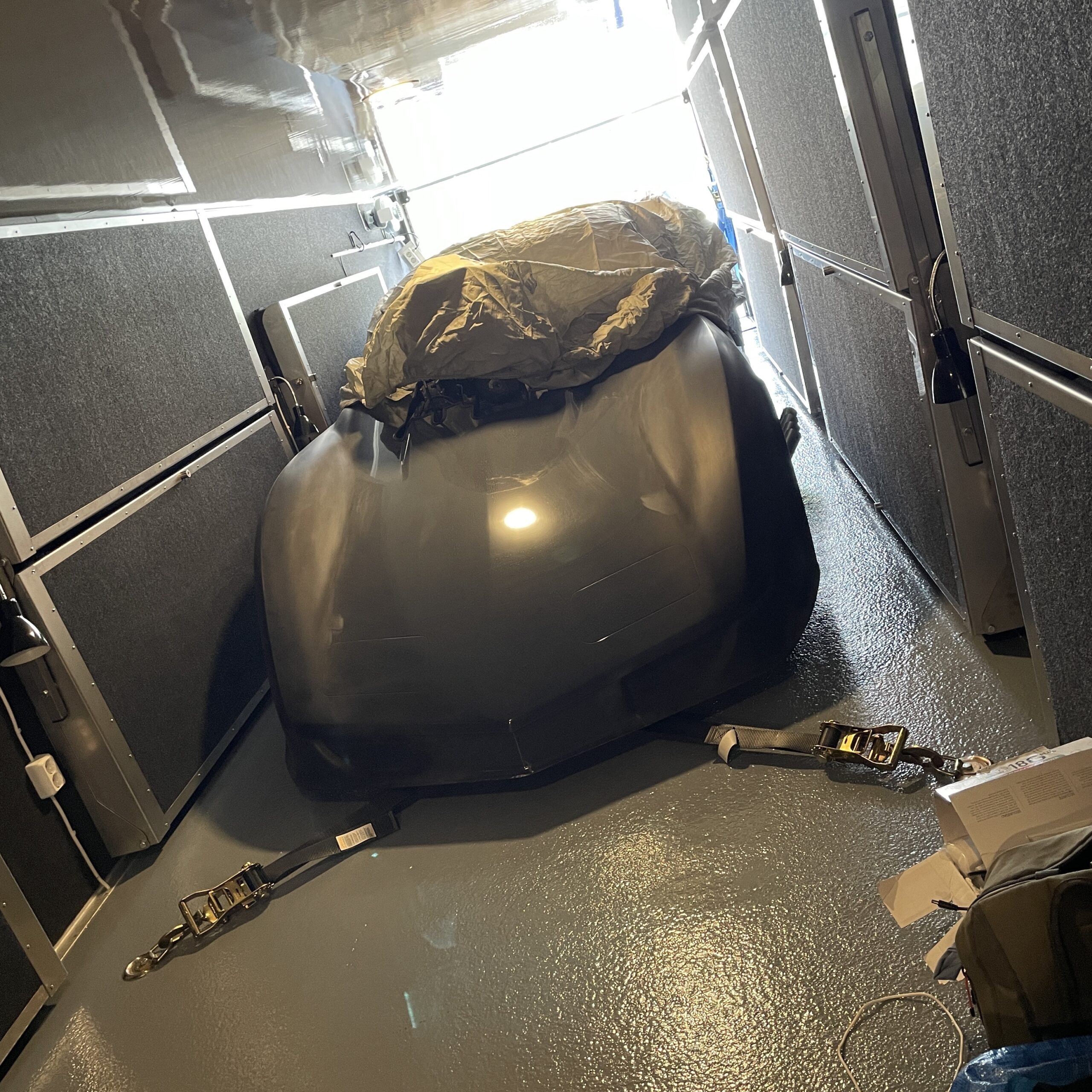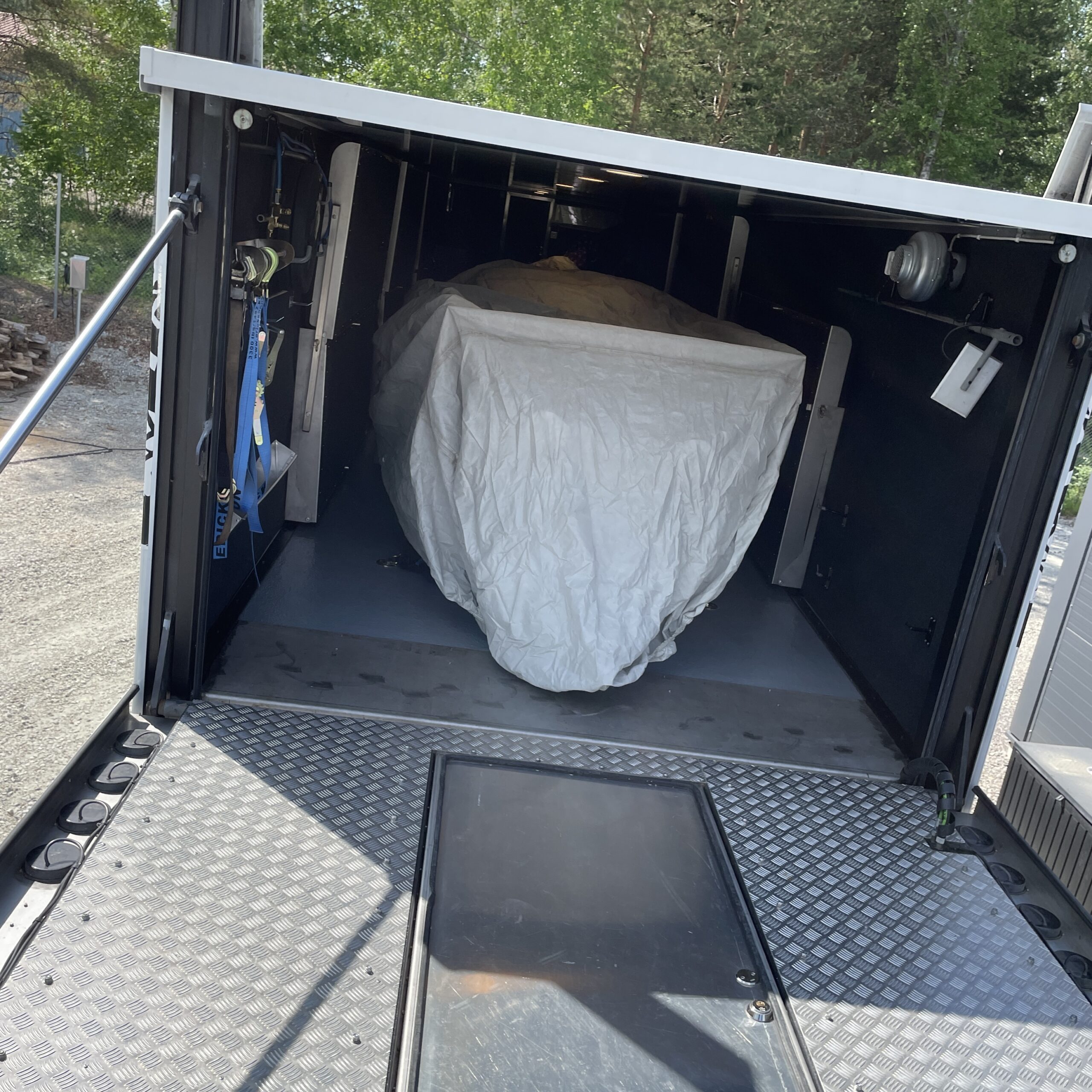 The Corvette have finally found it's way to a race track for the first time!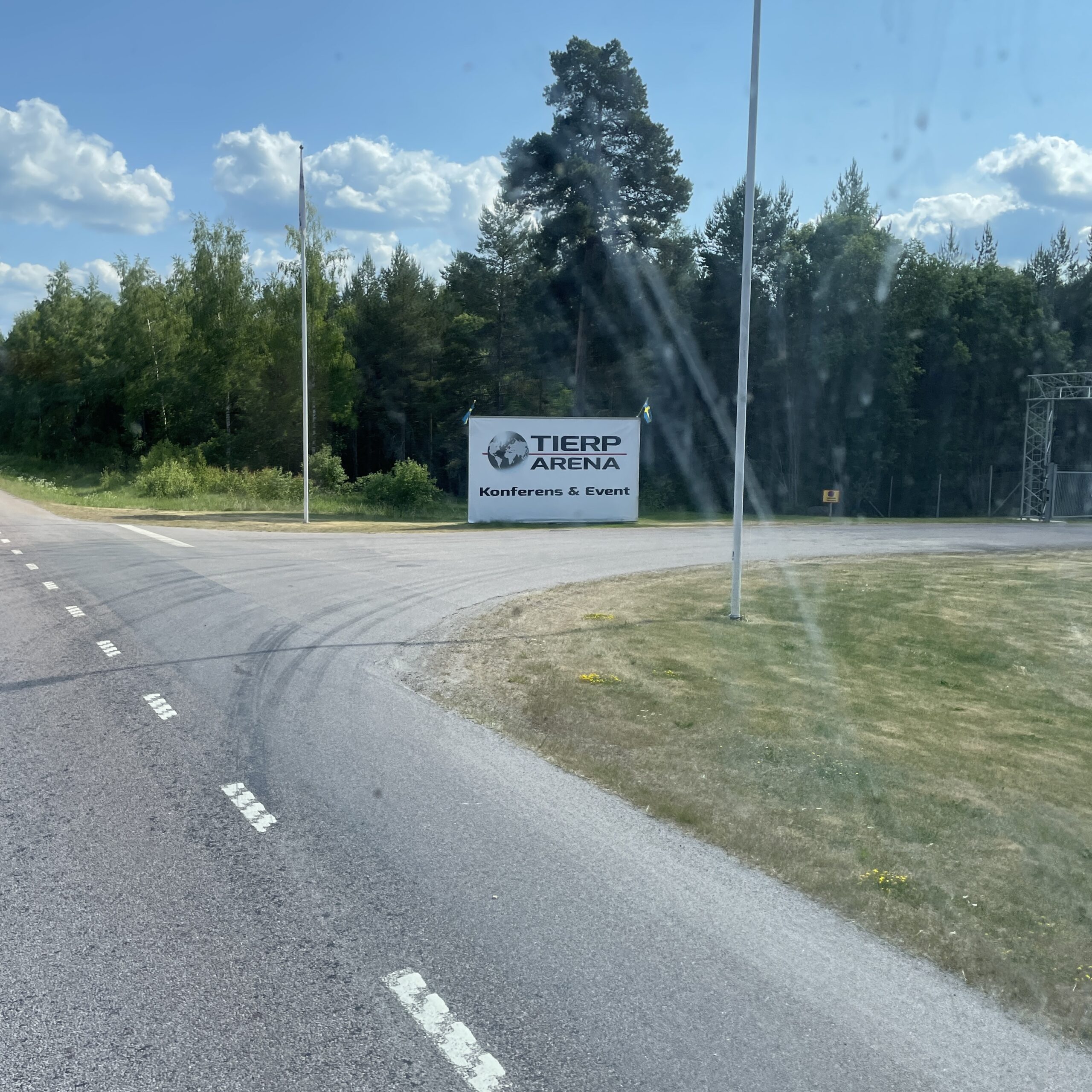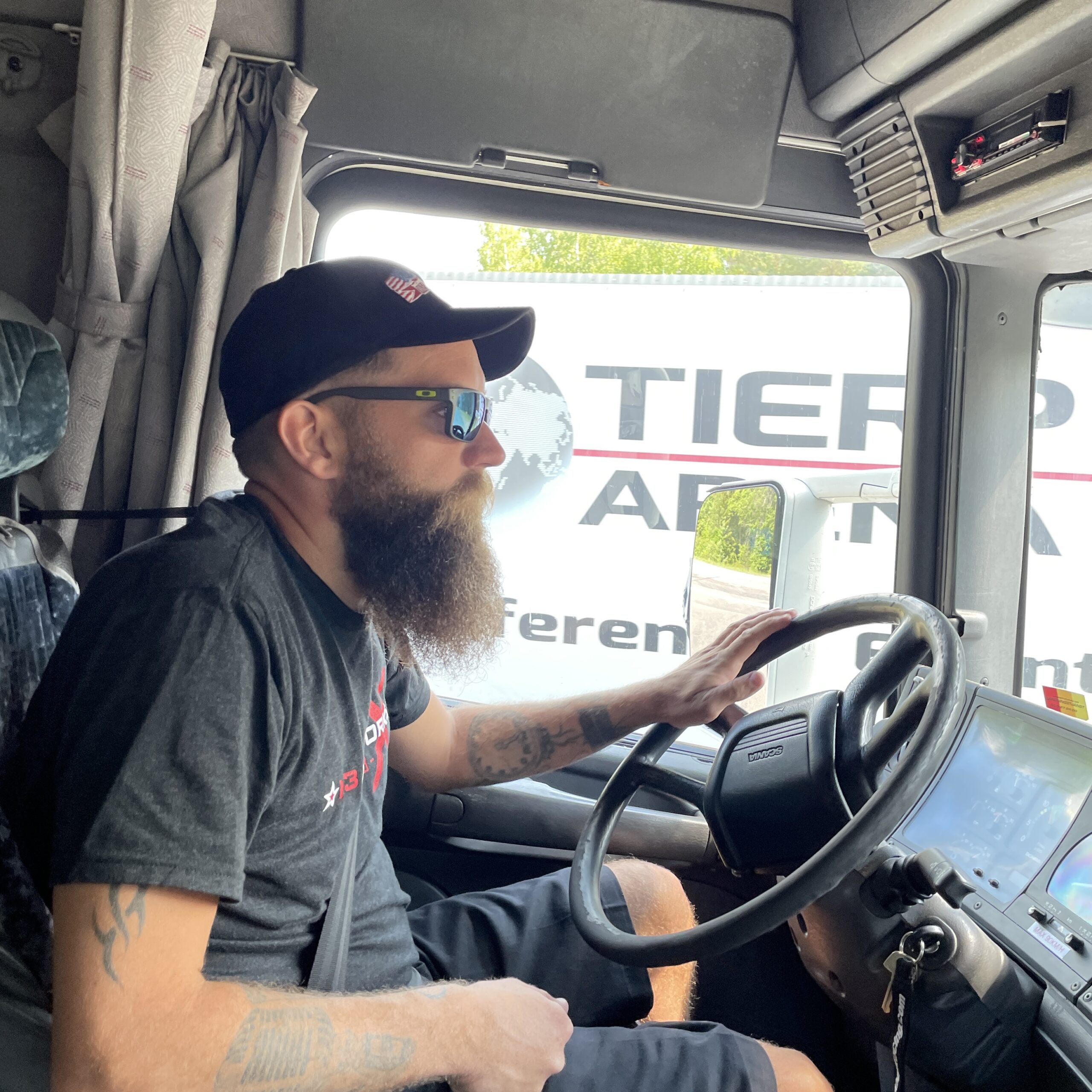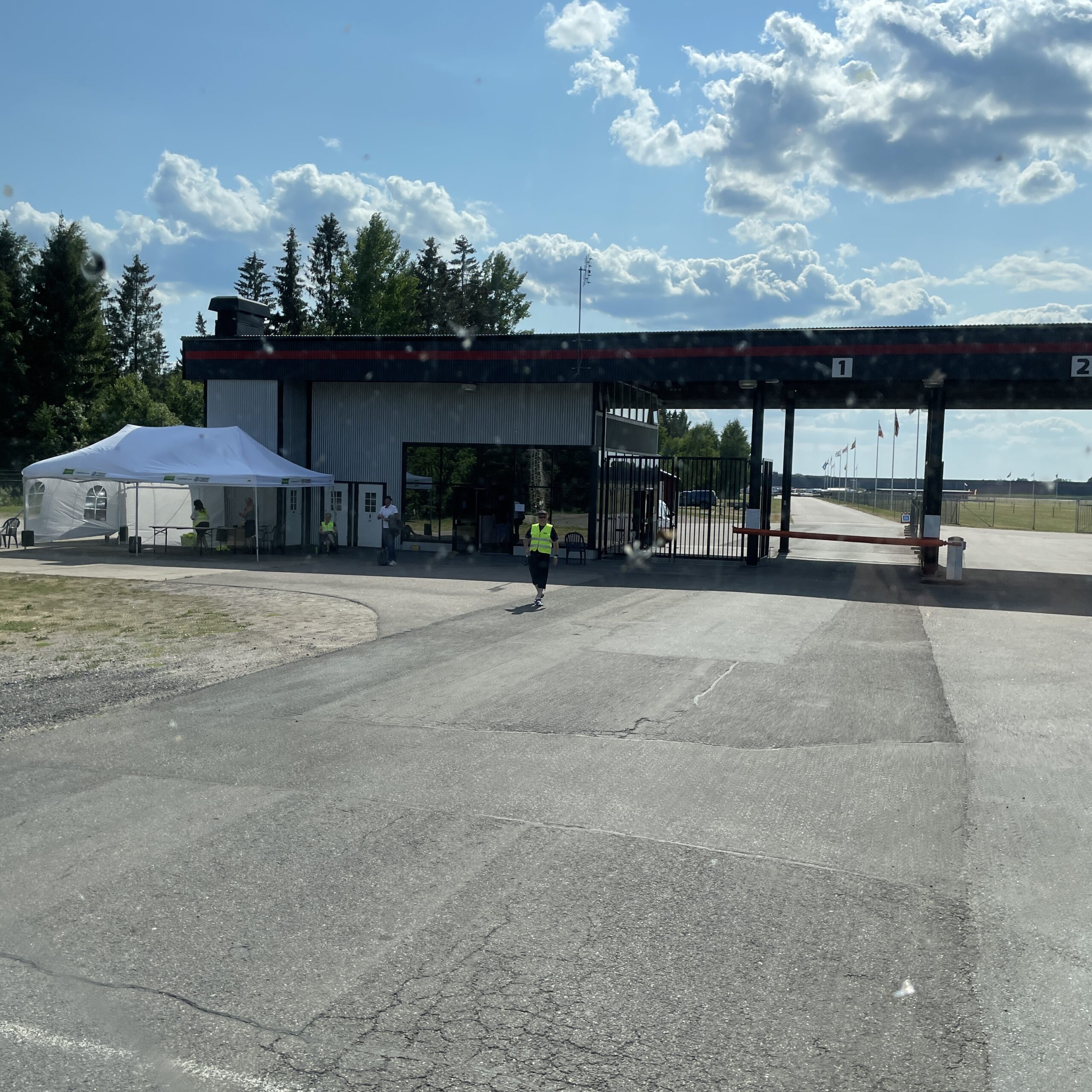 We unloaded the car after we got our pit area done and it was some people that went over to us and was happy to see "our little secret"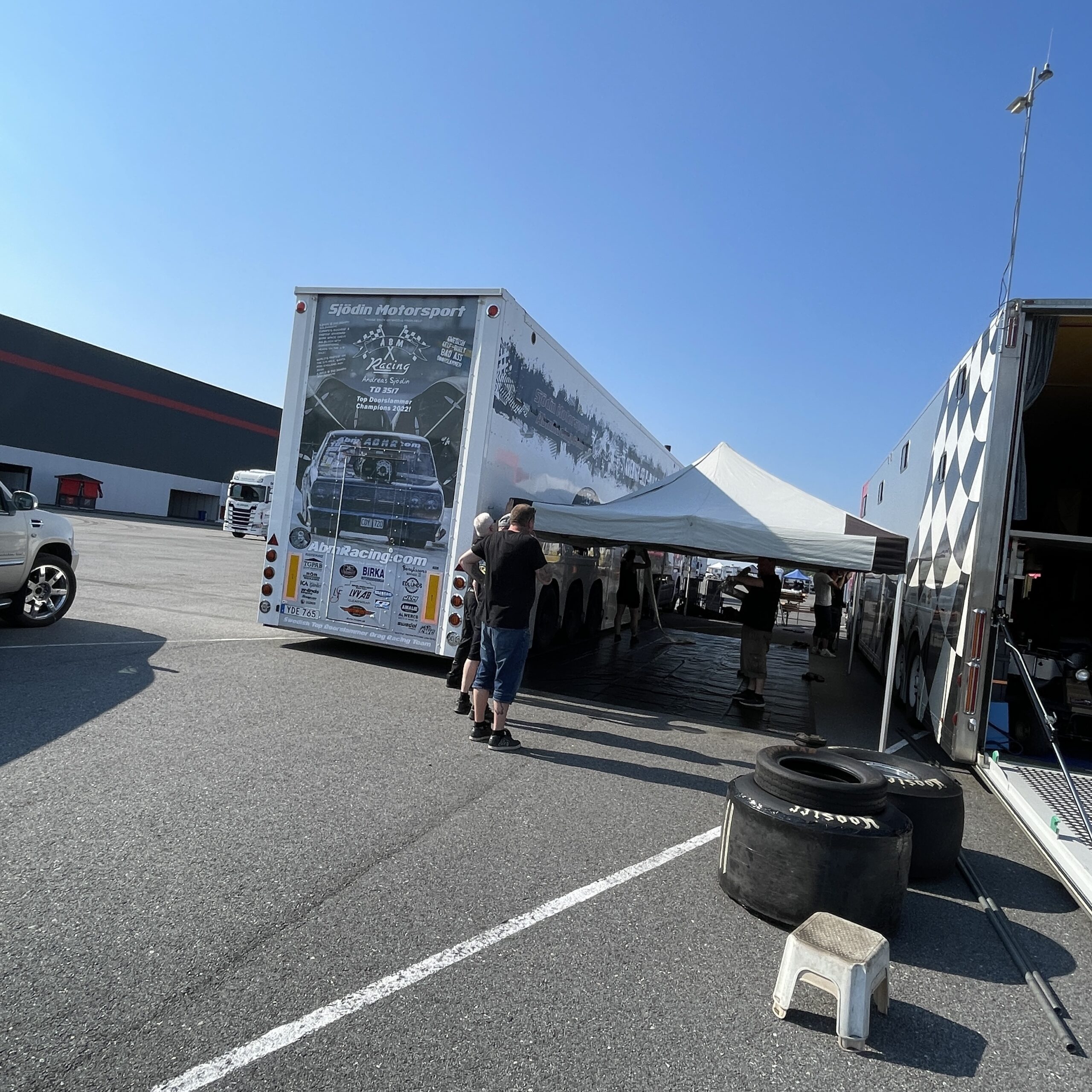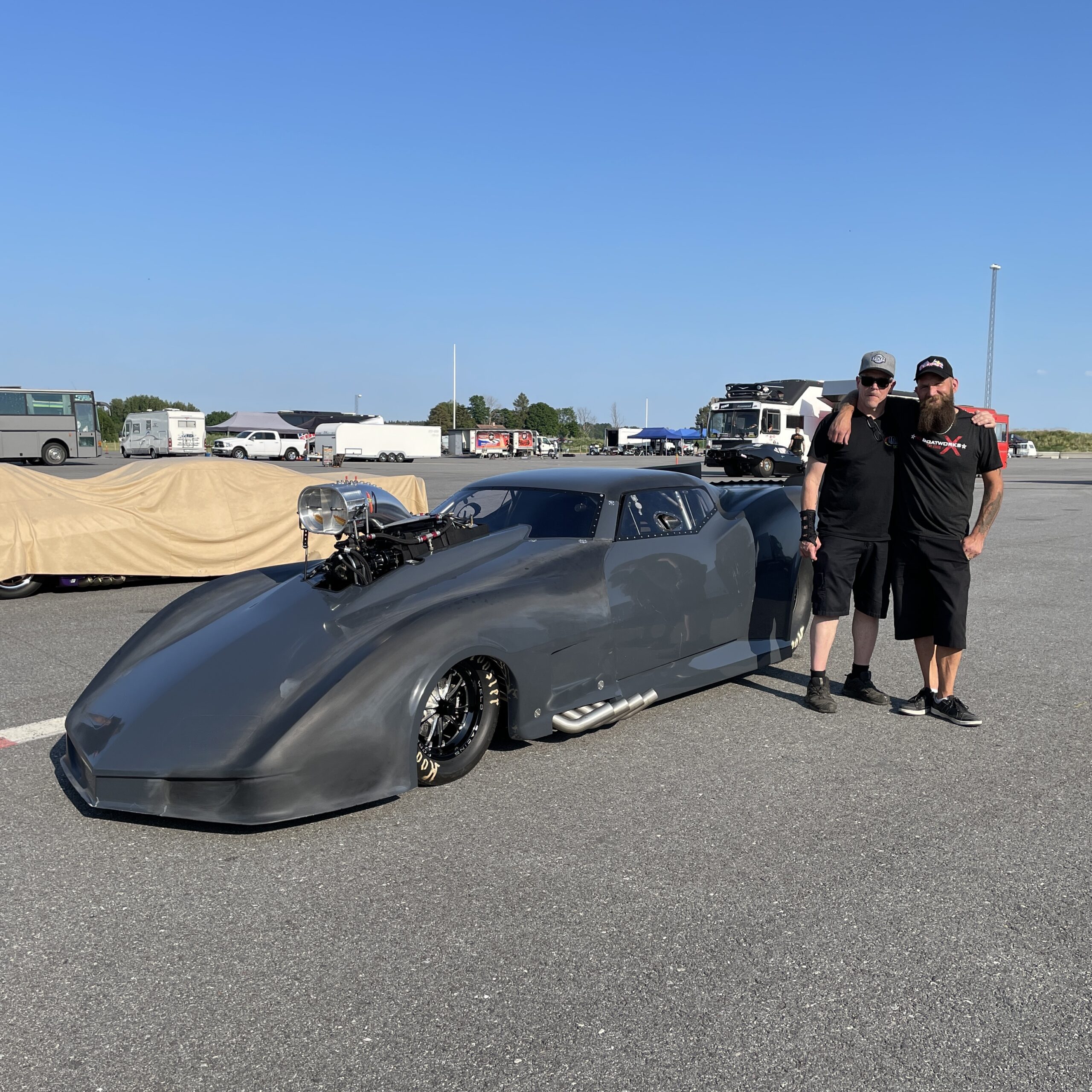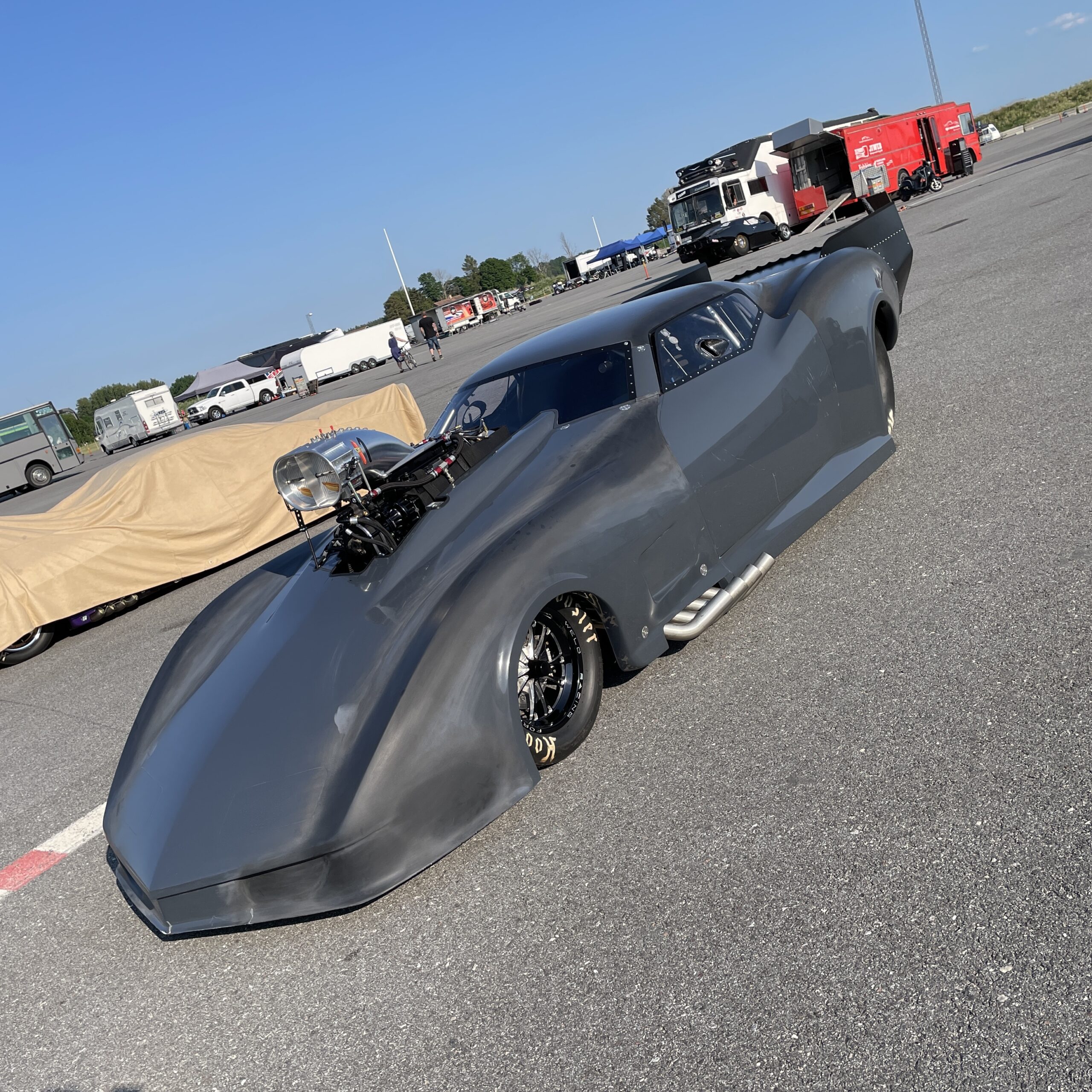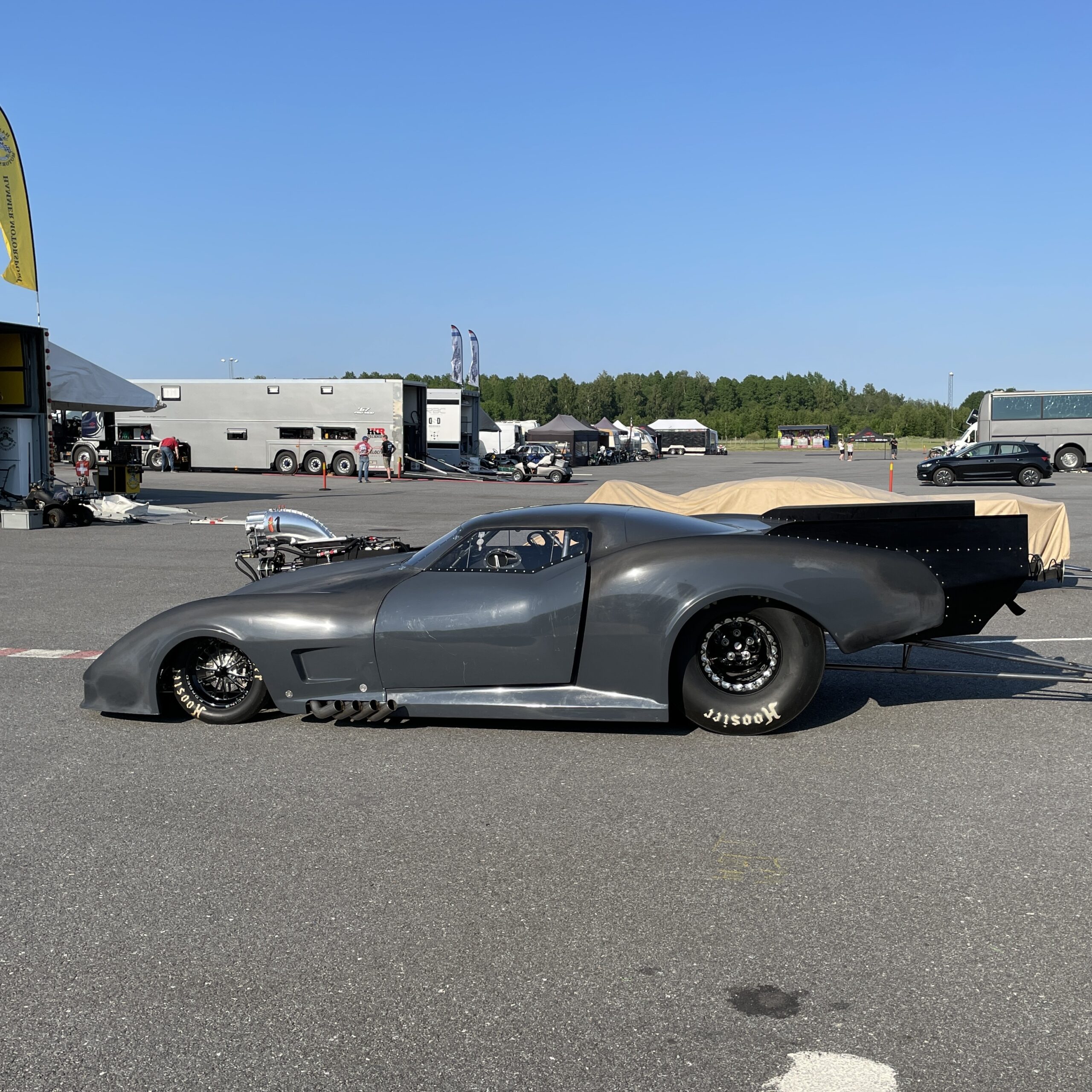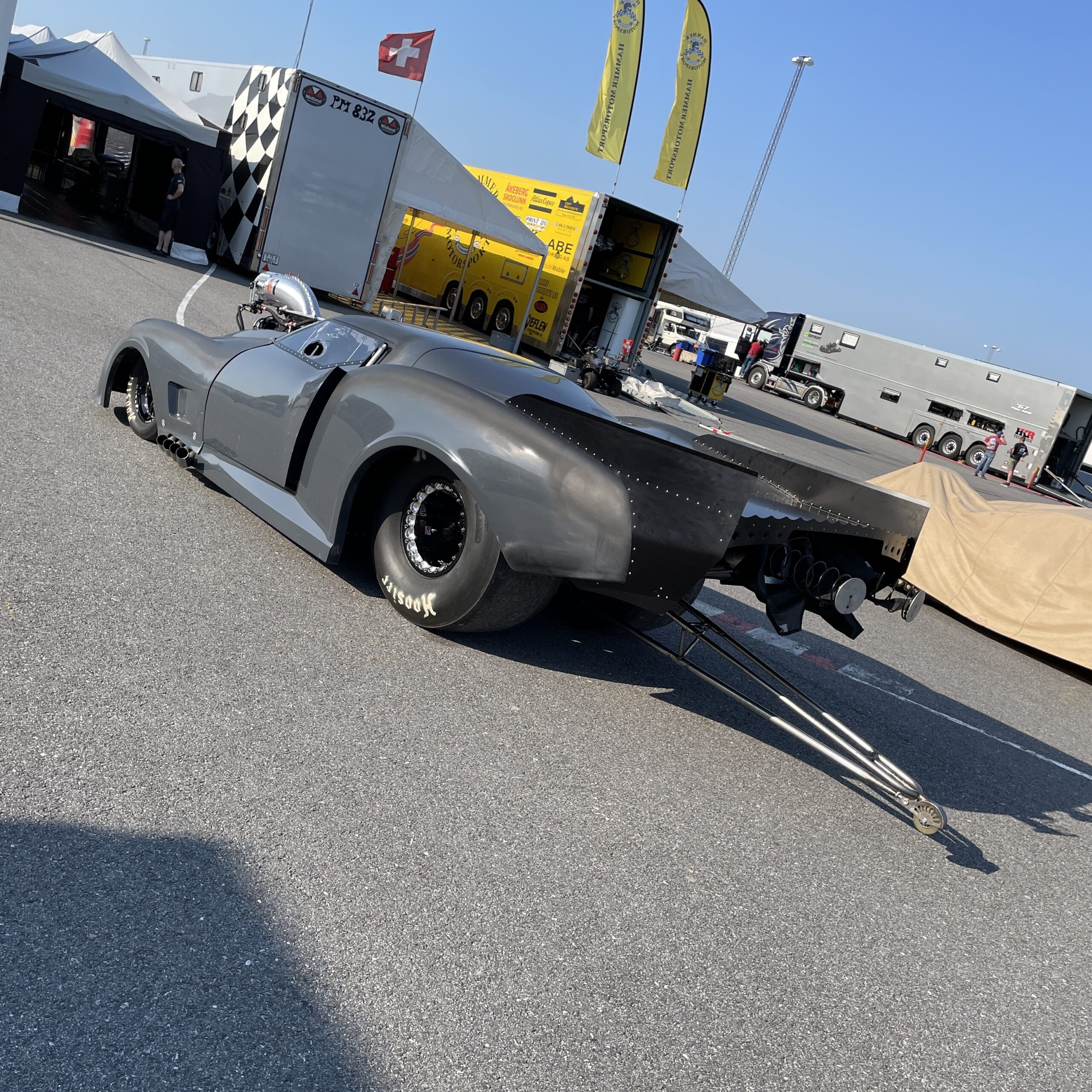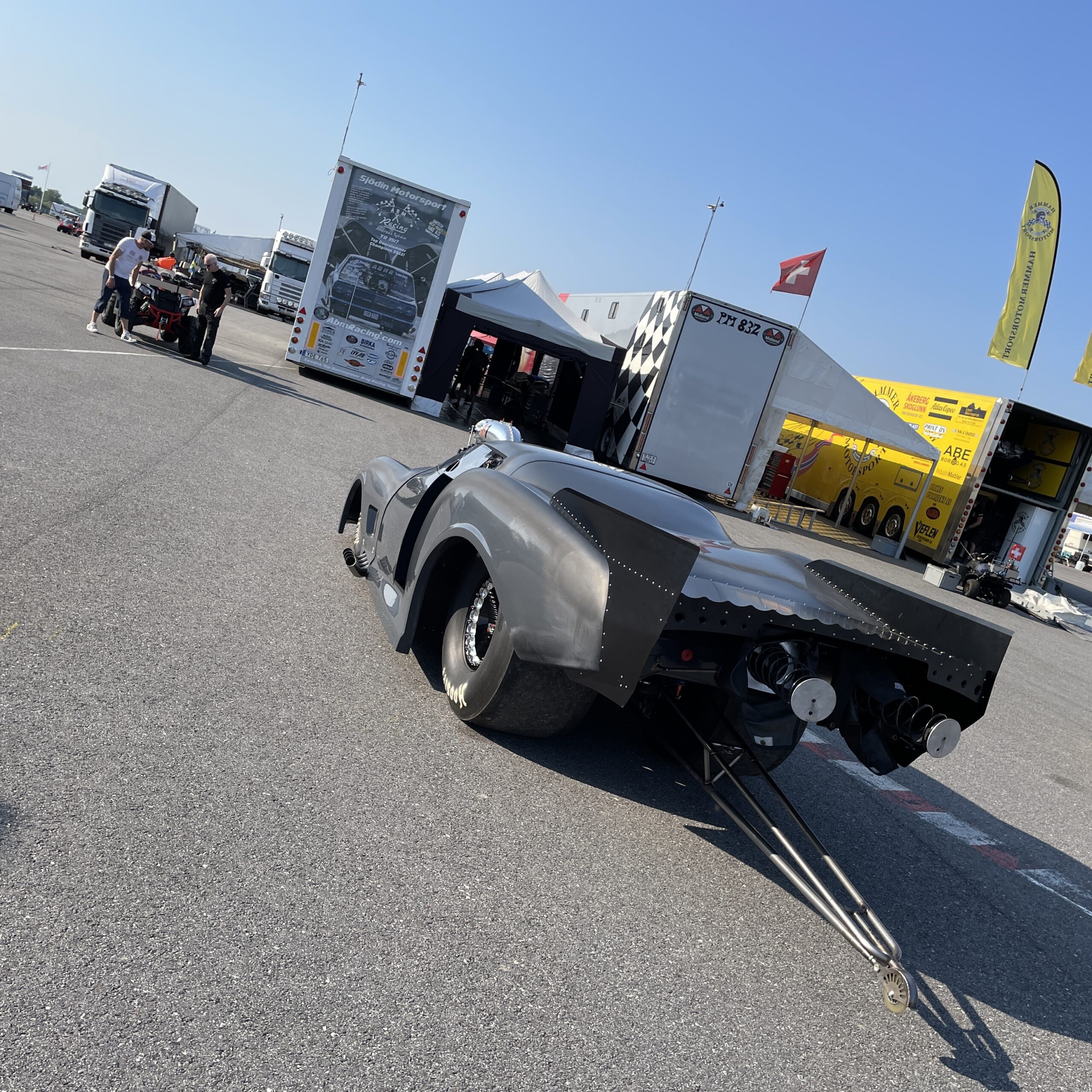 We also took the Vette for a test drive with the push car to see how it felt before launching it from the starting line for the first time!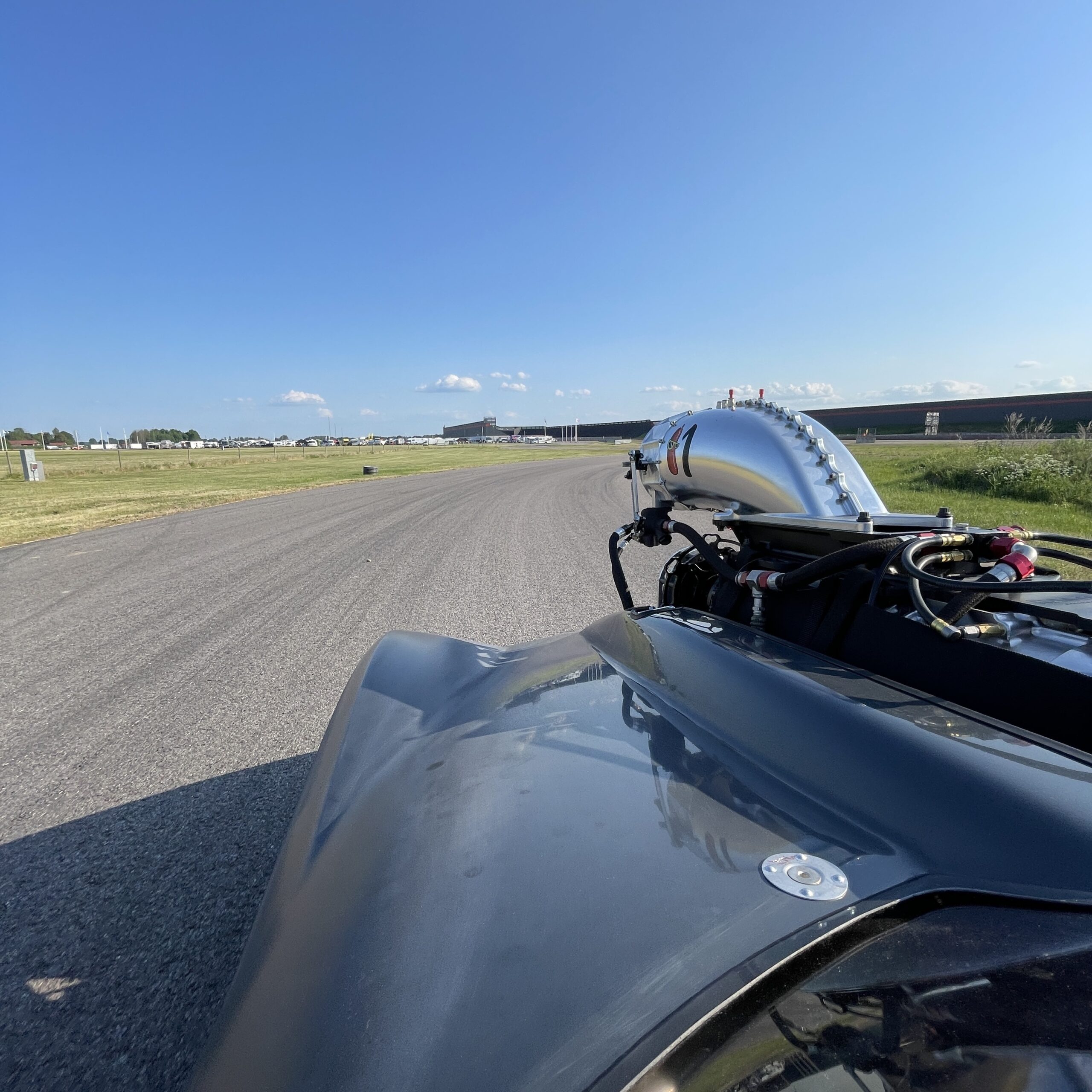 We did continue to work on the car on Wednesday and during the whole Thursday mostly with the fuel system and idle problem…. We decided to go early to the track so the rest of the team could get familiar with the car because they had never seen it before and the race weekend / qualifying for us started first on Friday.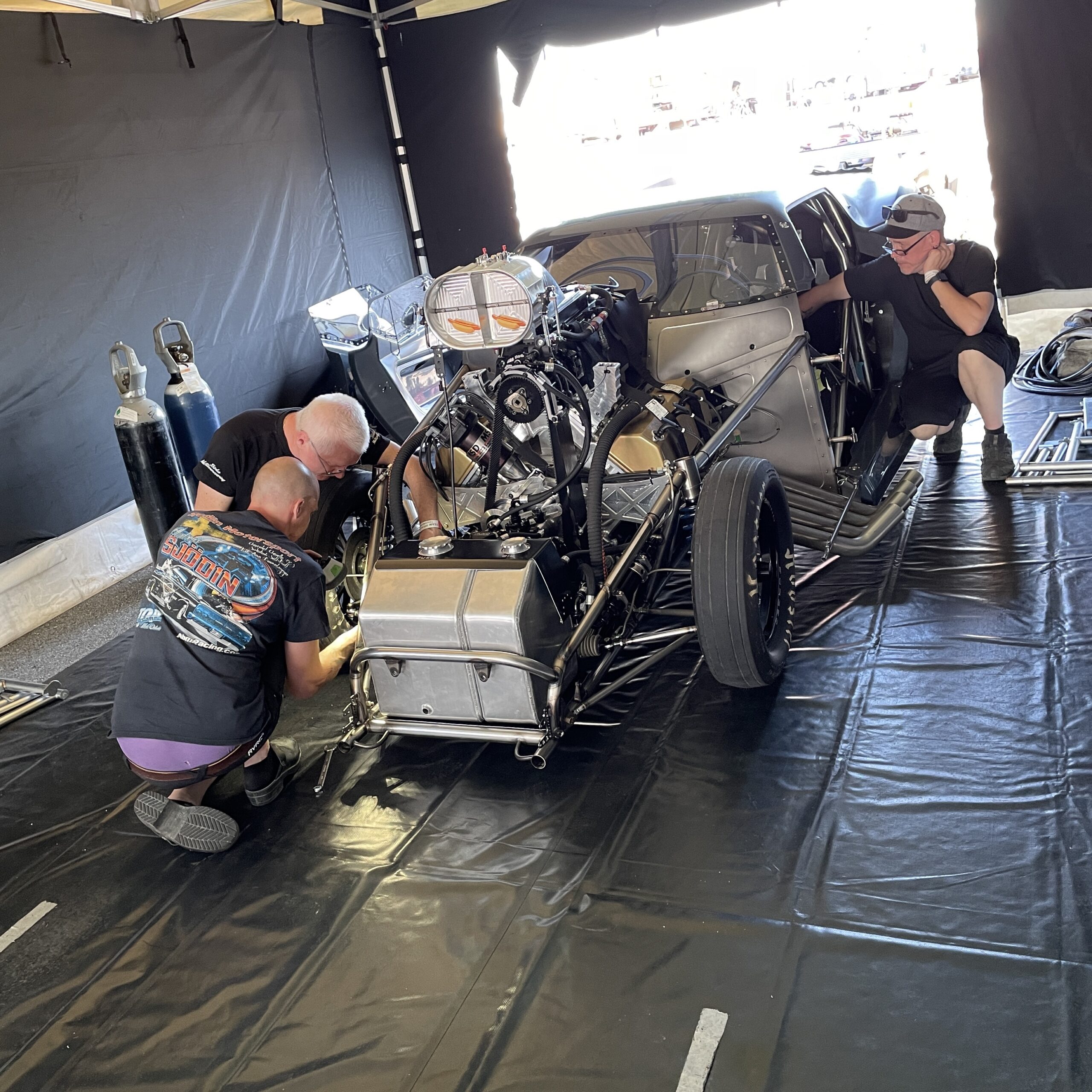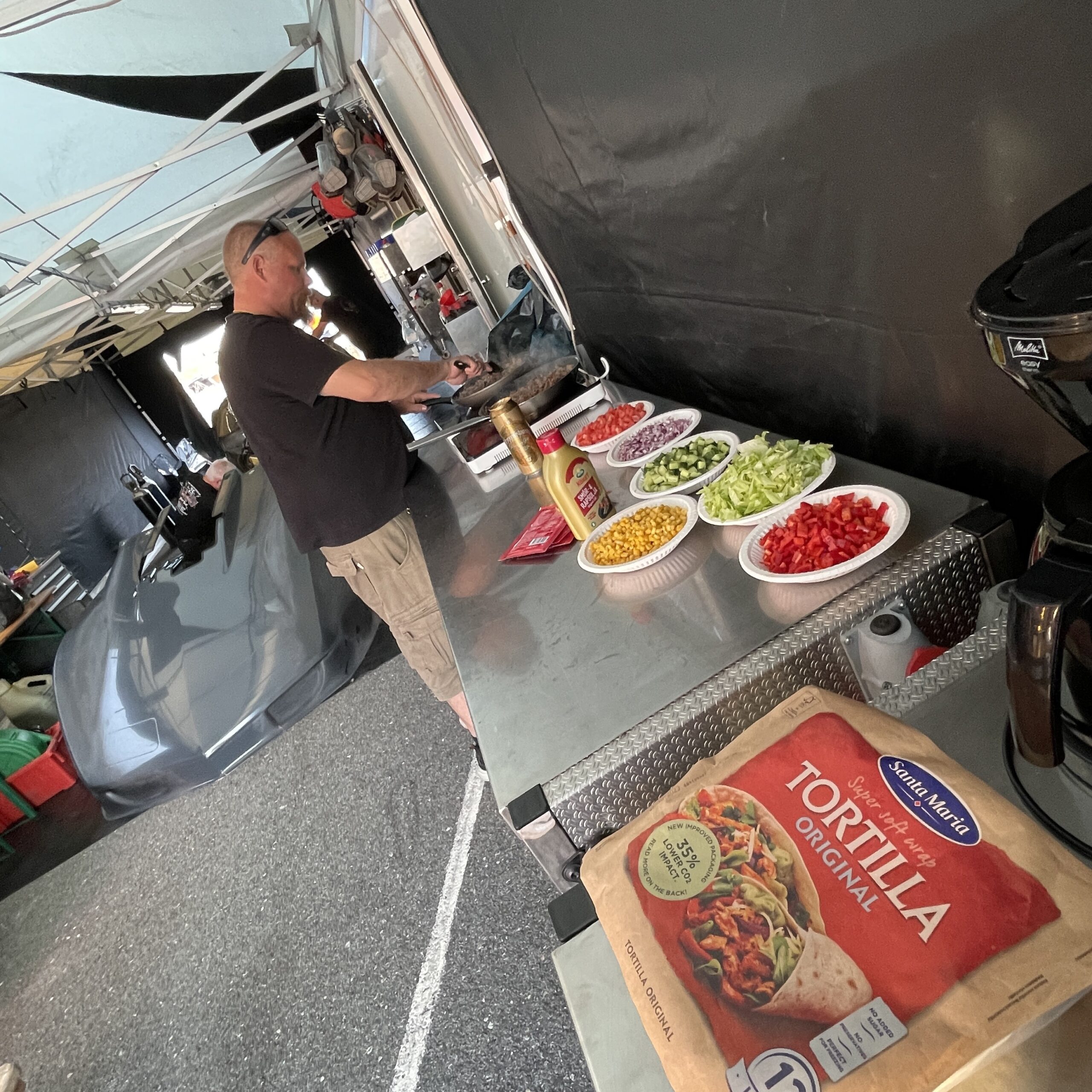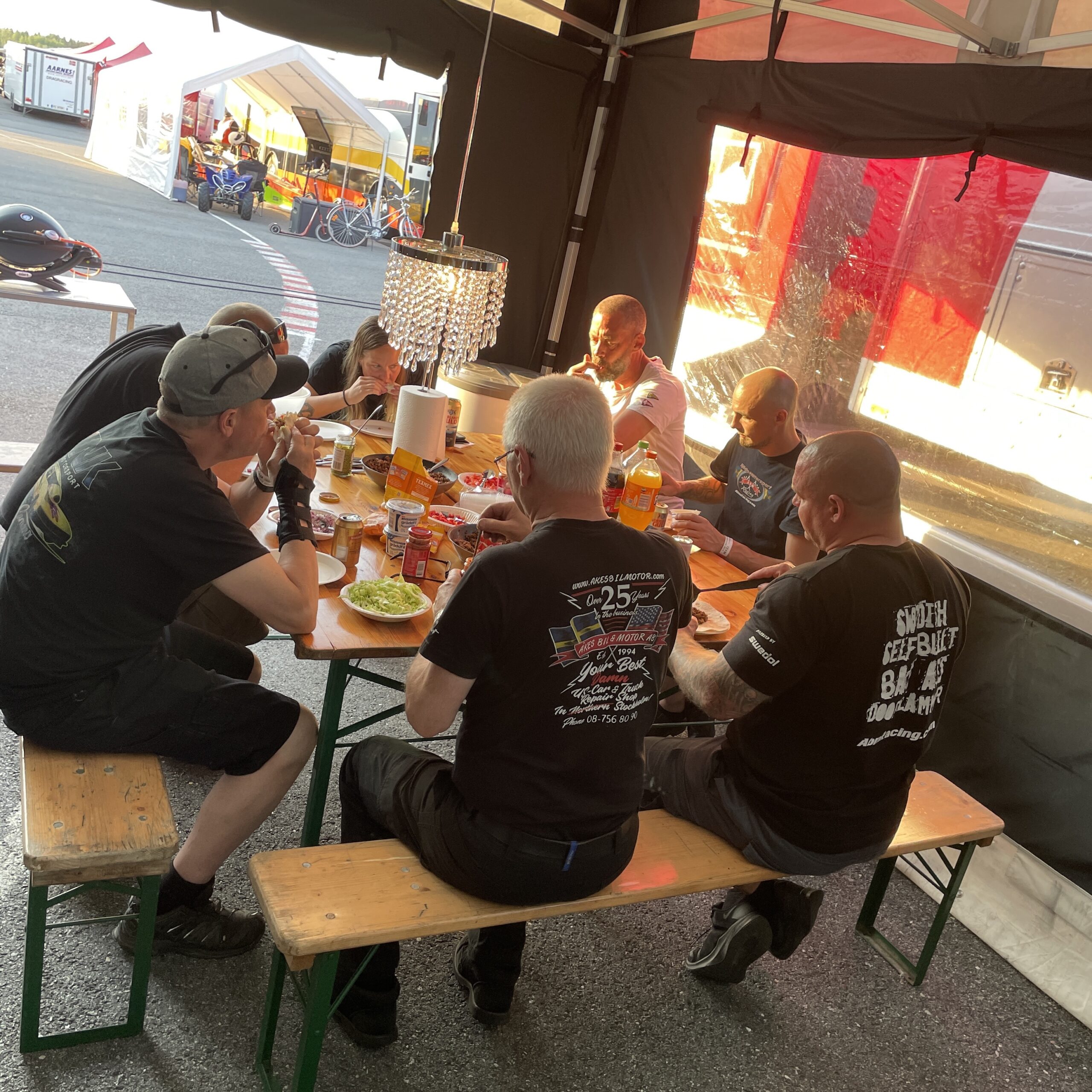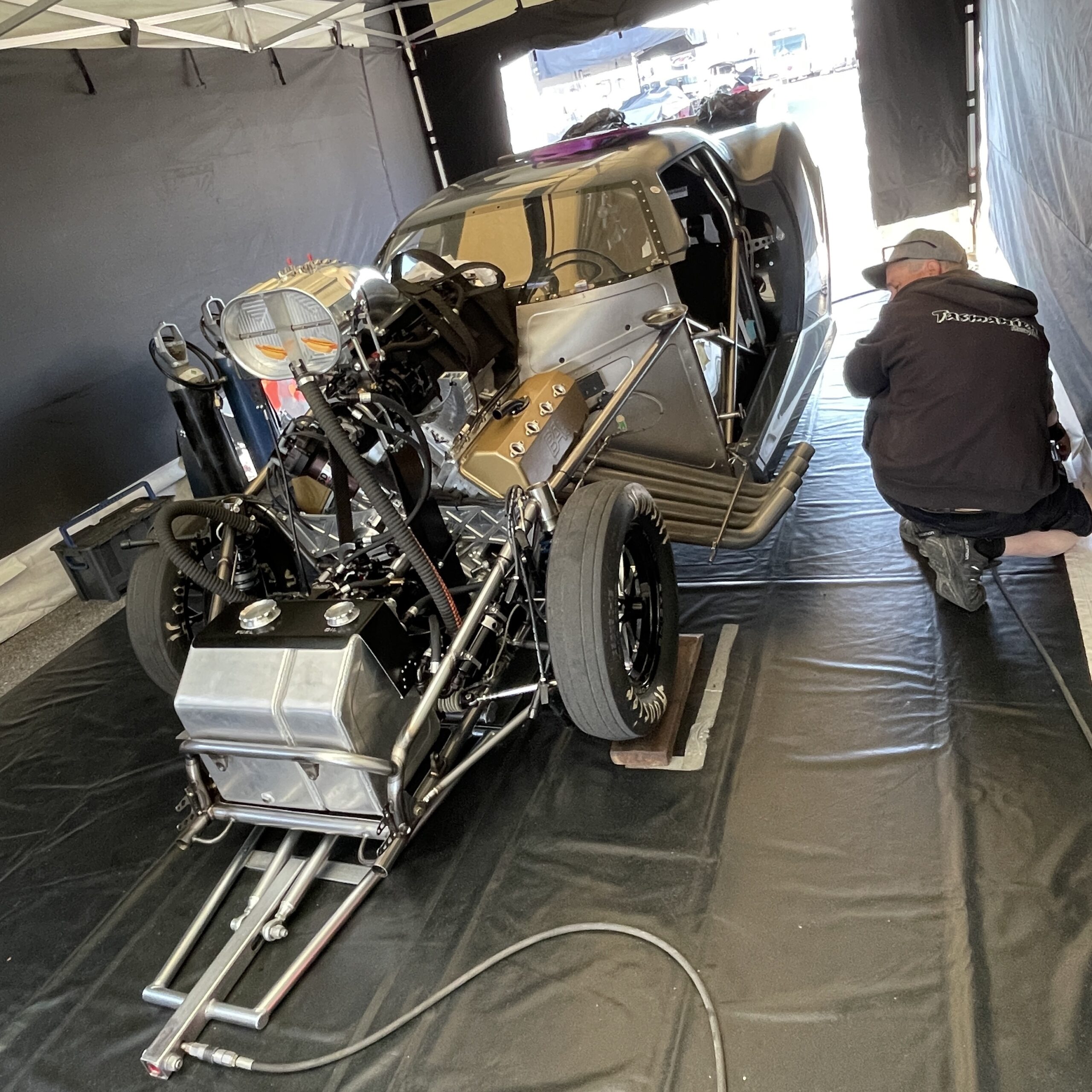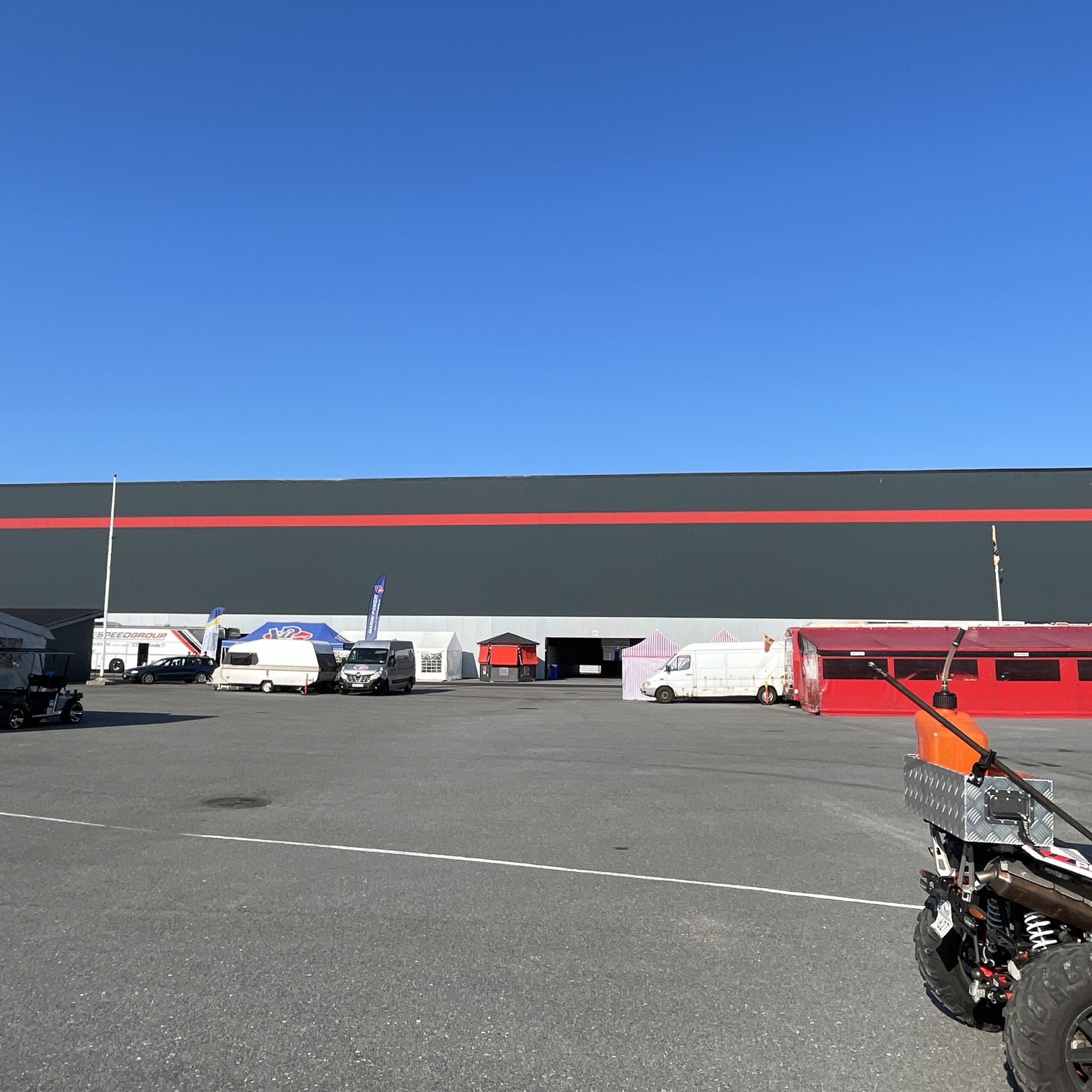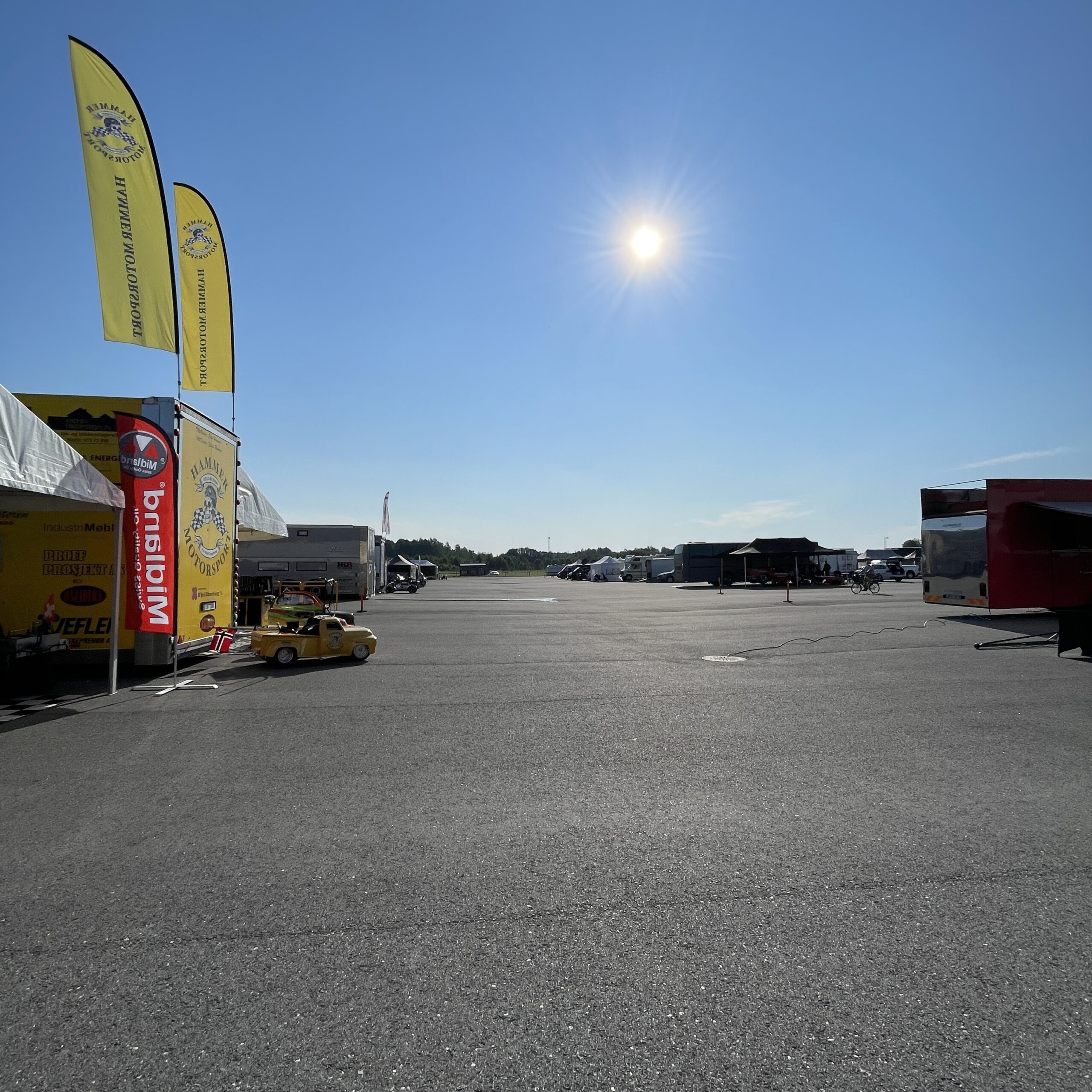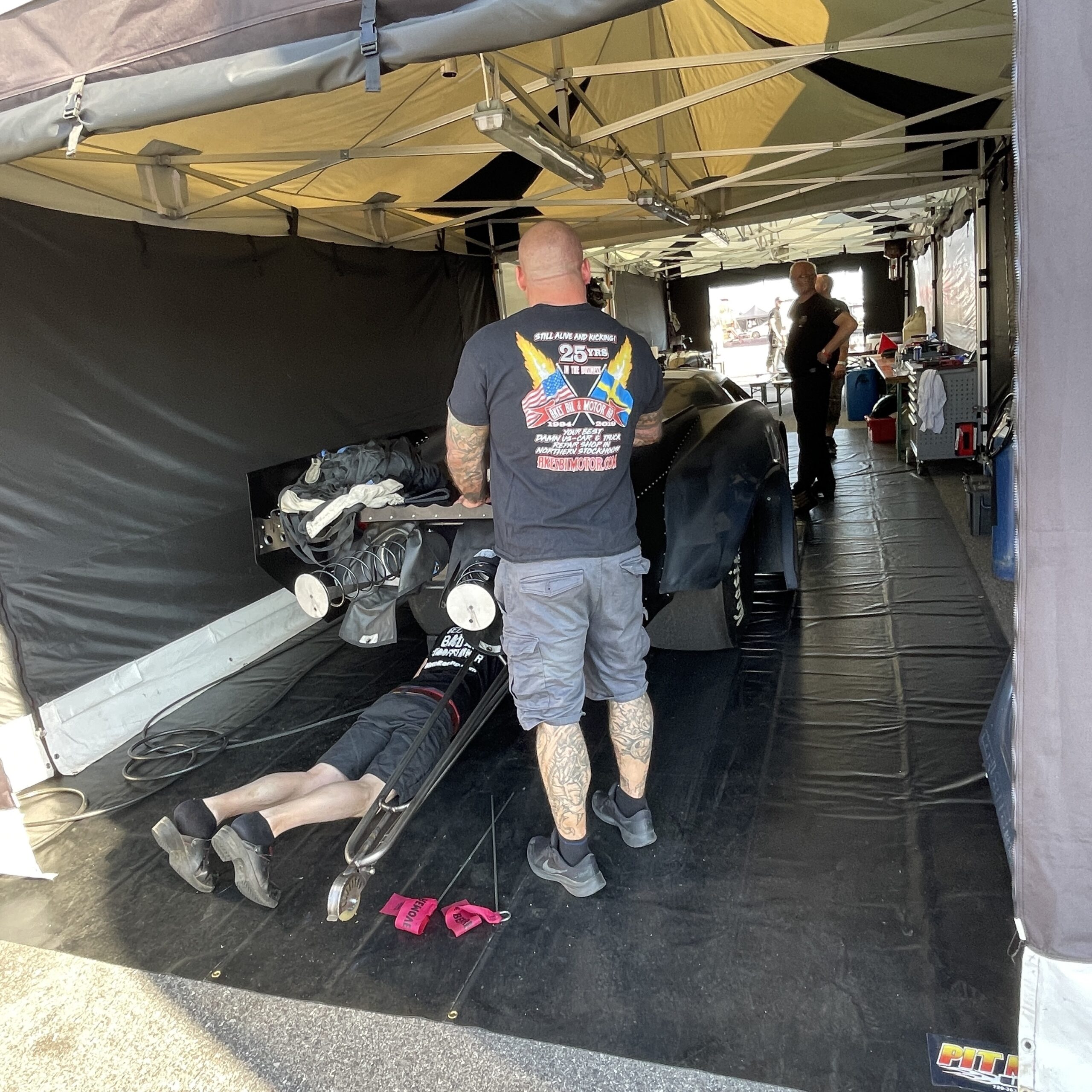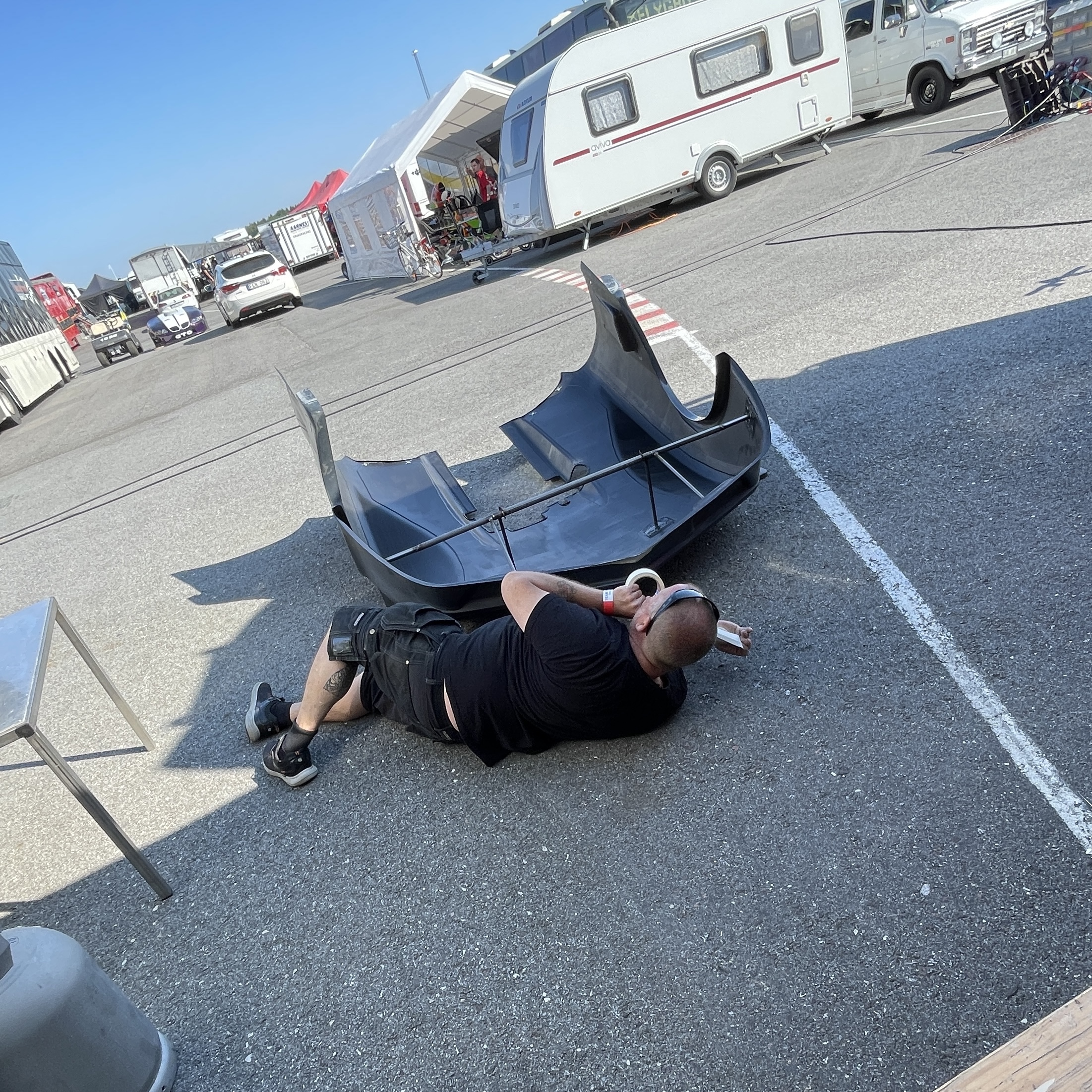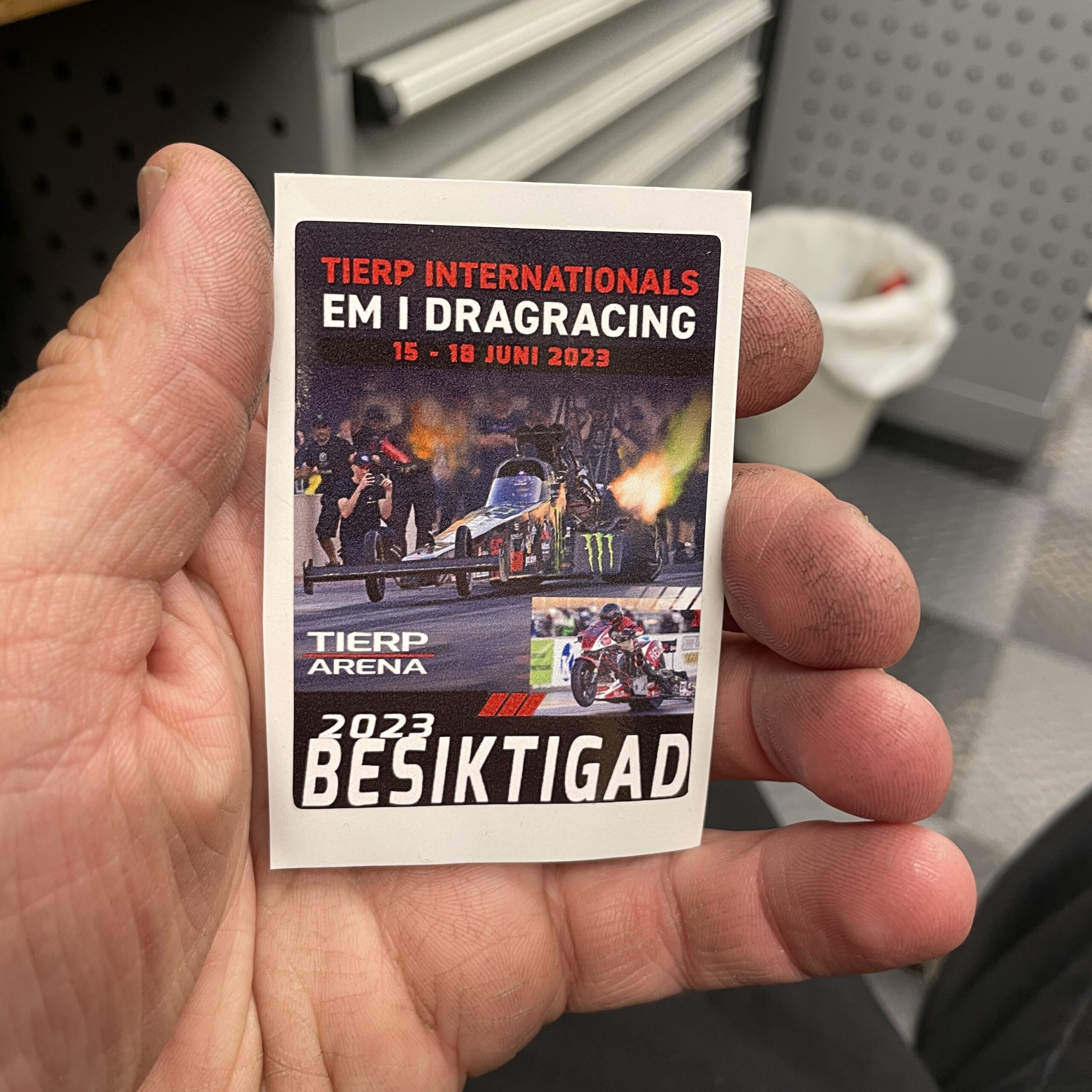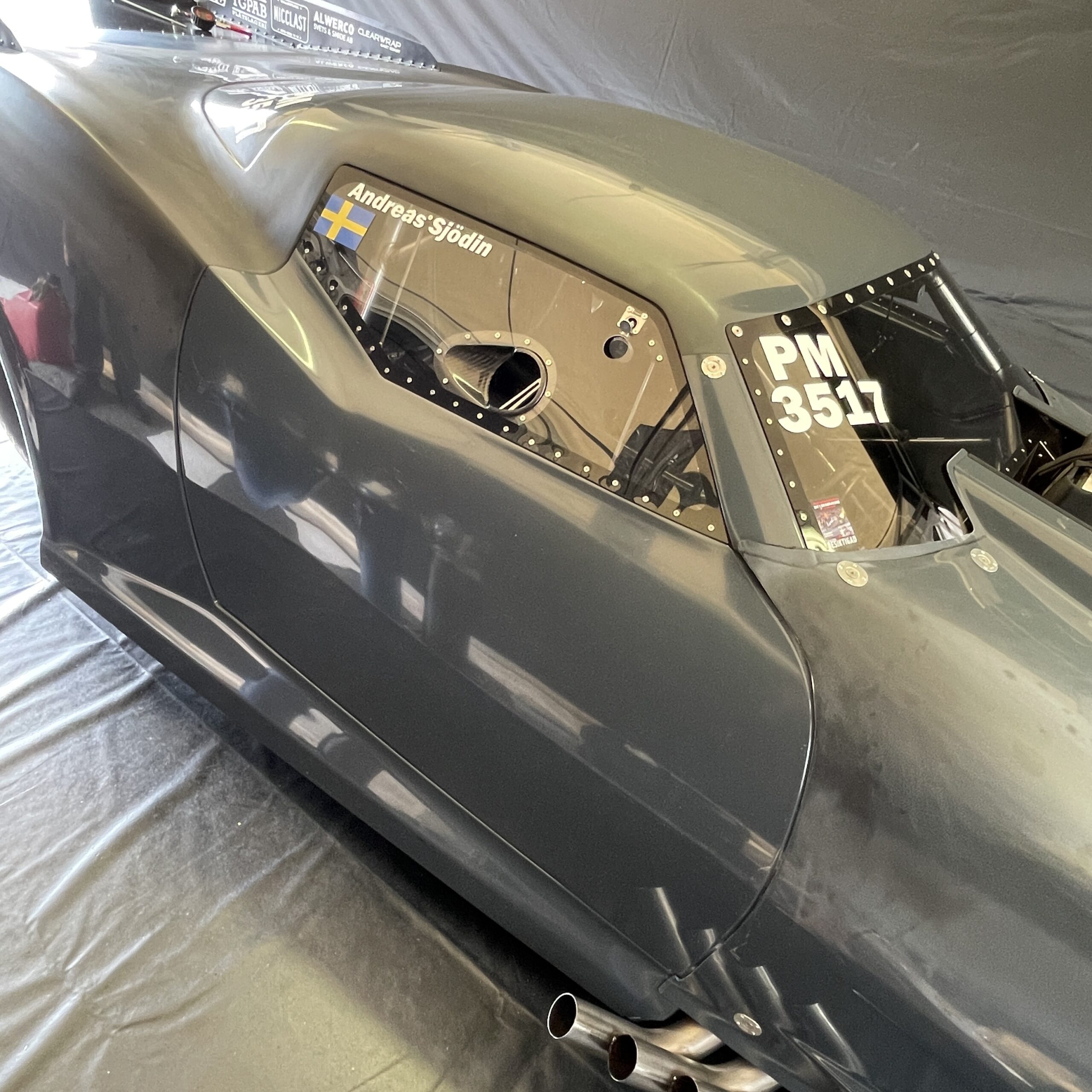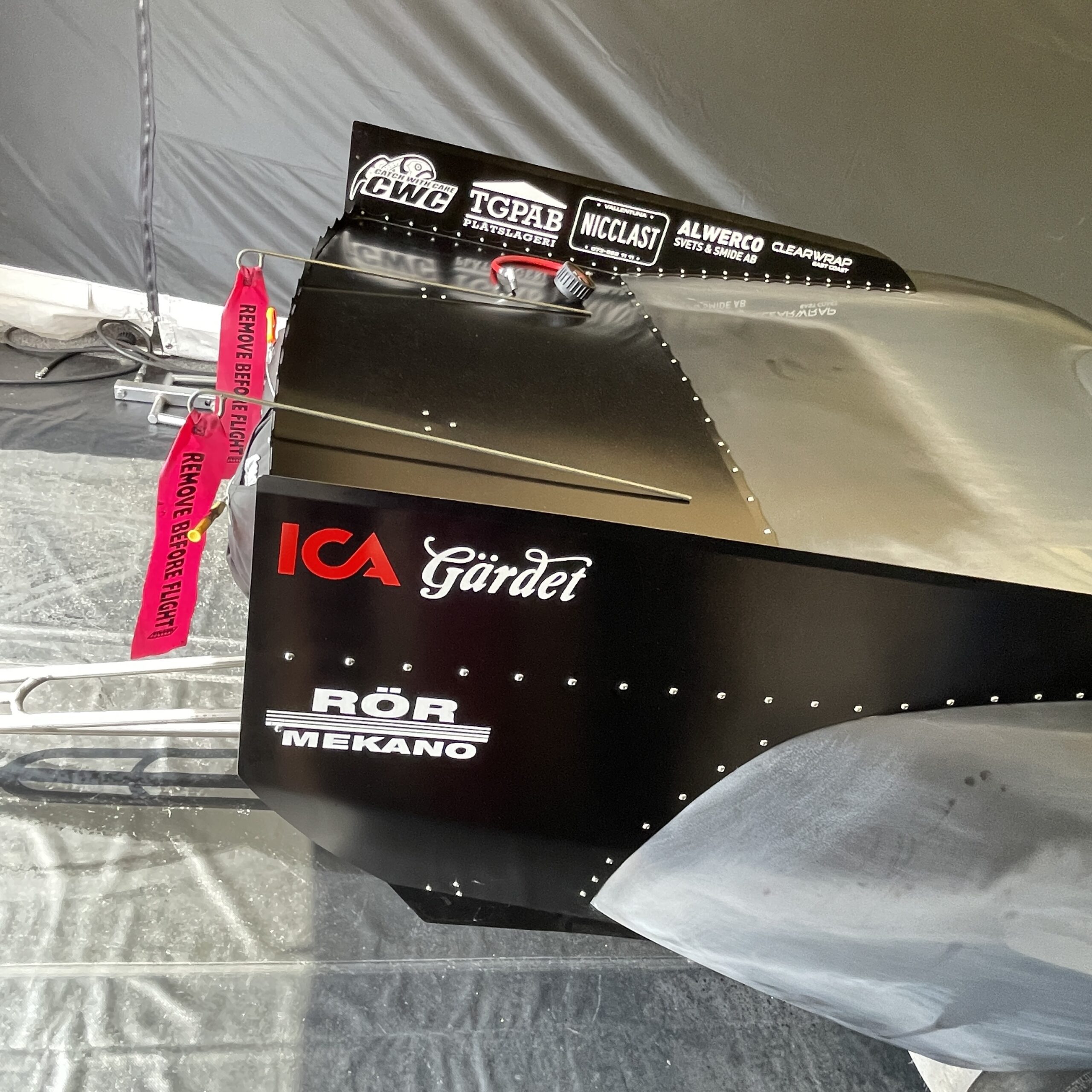 We made 2 planned soft test rounds on Friday, first just a 60ft to check the car and set up on it! 1.07 on a brand new car that never made a pass before is pretty ok I think with the little power I gave to it, only problem was the rolling idle on the motor that we been trying to fix but haven't solved it all the way!….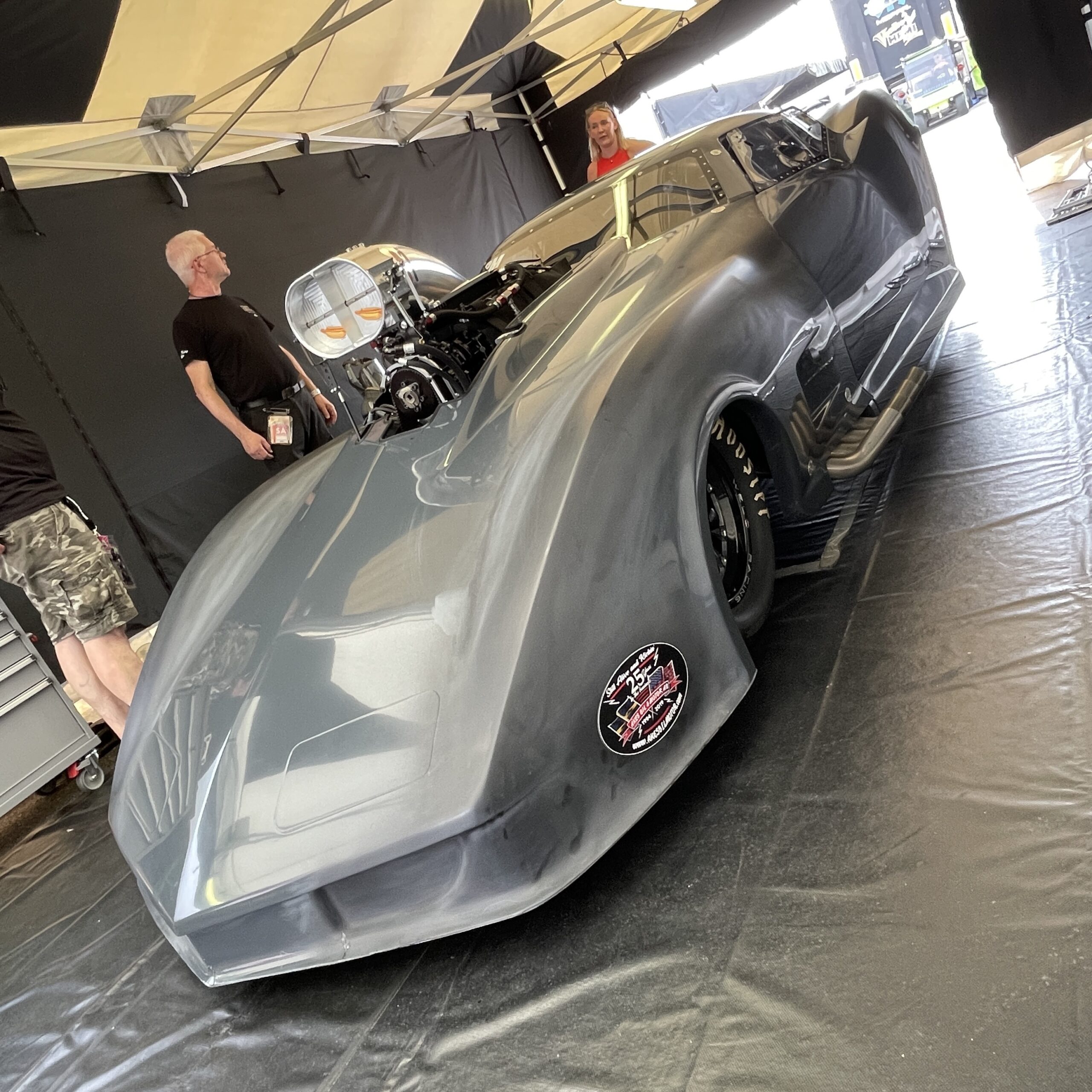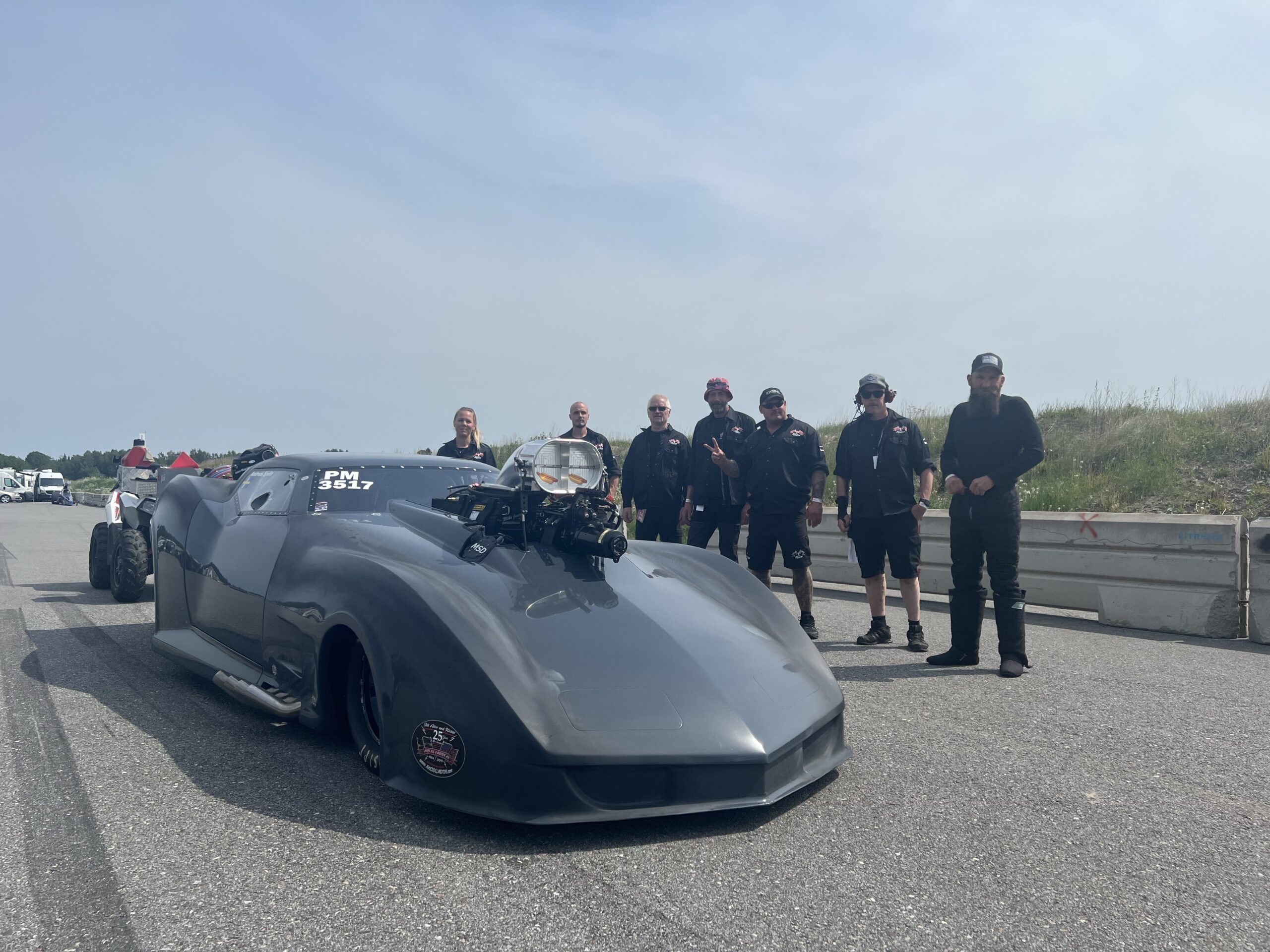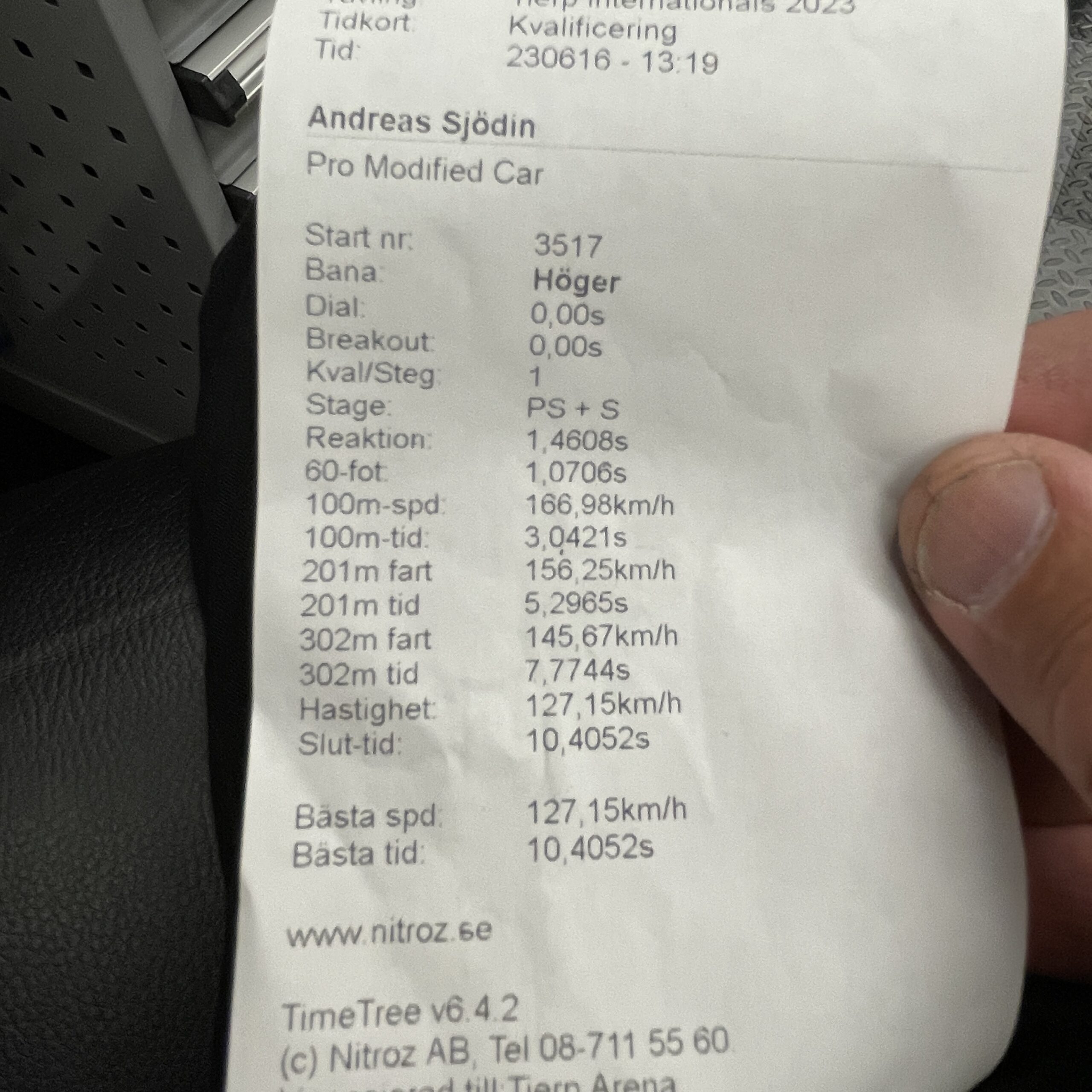 On the second test pass I added some power to see how the car would react to it, but before the pass when we fired up the motor before the burn out the motor acted really crazy, idle was rolling more than earlier and after the burn out the idle was all the way from 1500-2400 in neutral…. And in gear it was really hard to hold the car with the brakes, I had to step way hard on the brake to try control the car but succeeded to stage it at least and made a 450ft ish pass, 1.00 to 60ft and was off the throttle at 2.99 and rolled into a 4.30 to the 1/8 mile! Car was still way down on power, rich on fuel, low timing and way too low gear ratio in the transmission! BUT I got what I wanted and next step is to add some power and make a full pass down the track to get more data on the motor and start reading real fuel flow, spark plugs and so.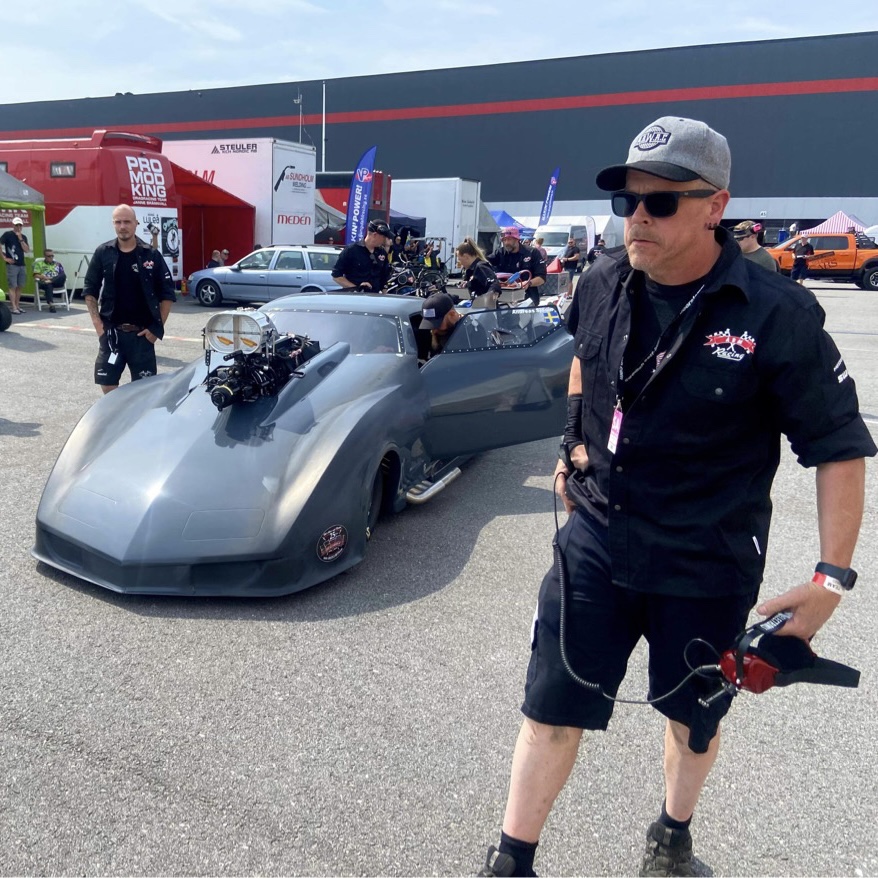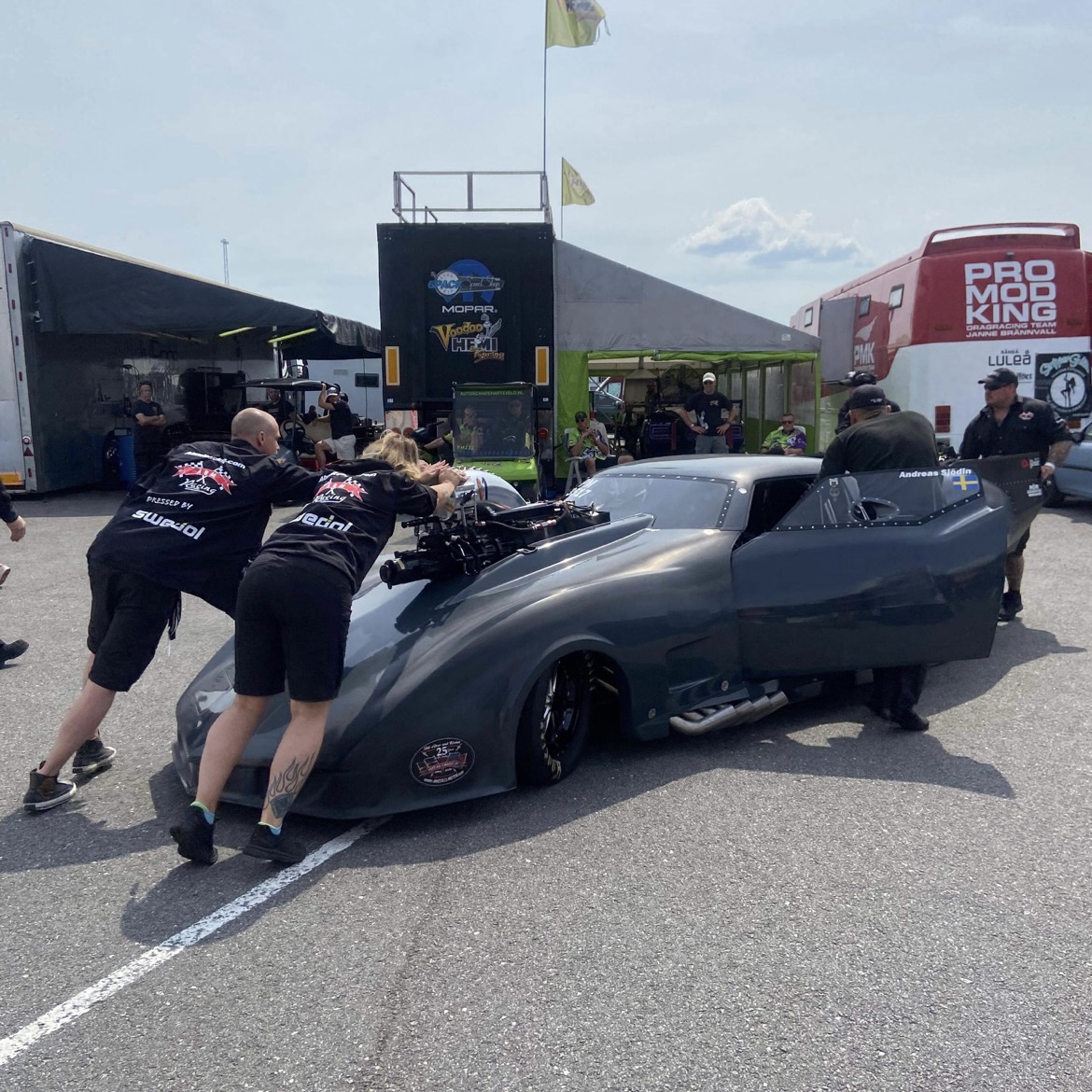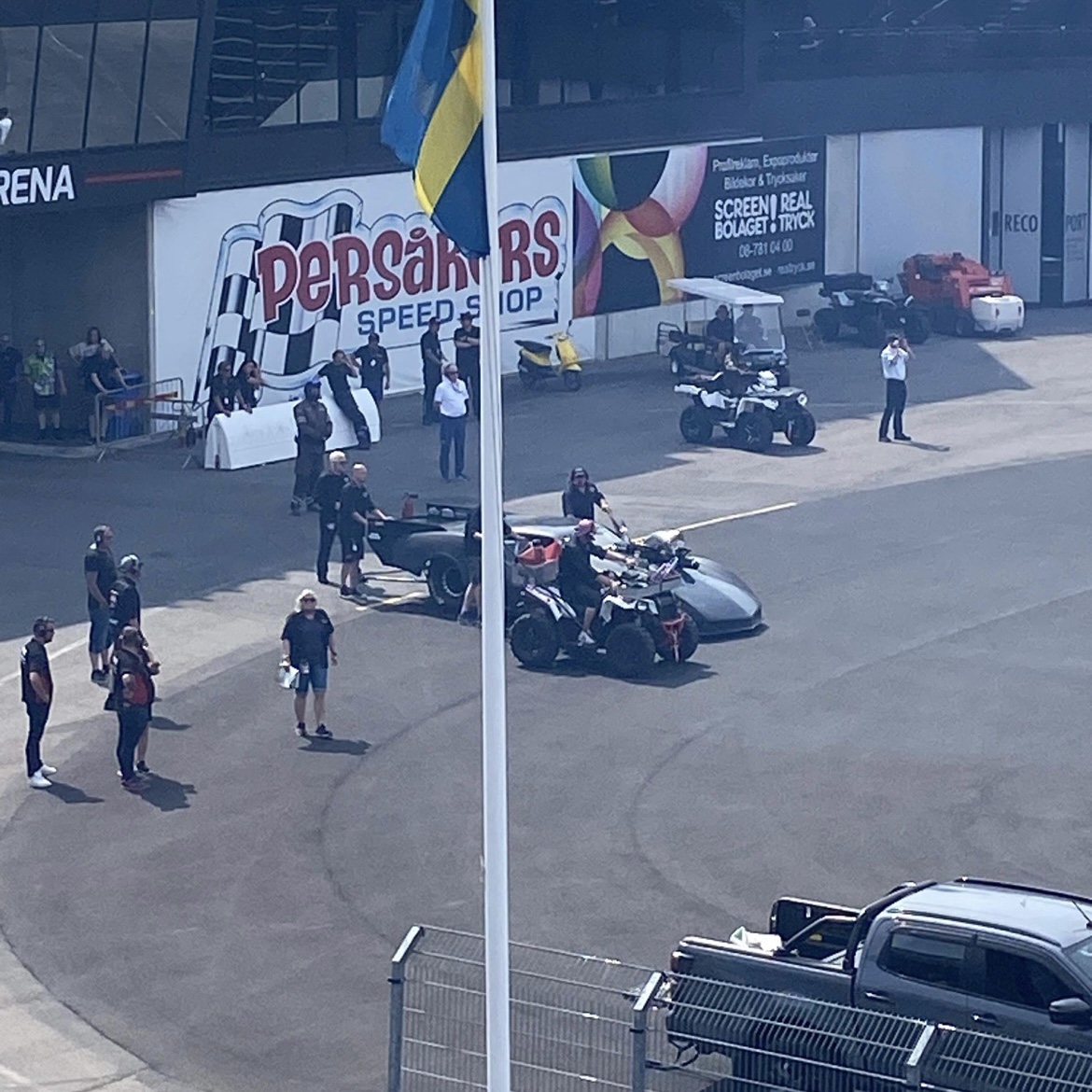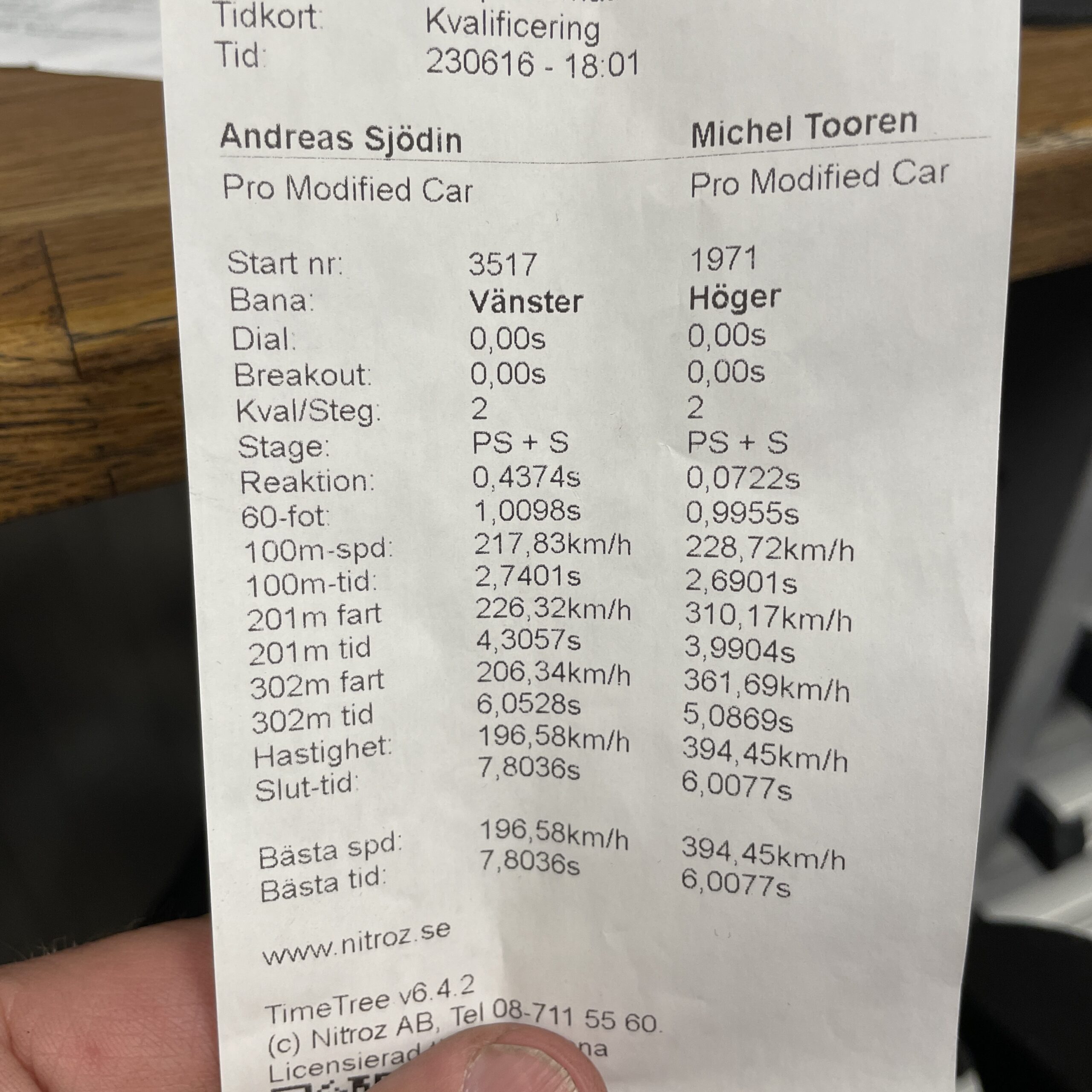 Then we serviced the car to see that everything looks like it should, changed transmission to free up the motor and all was ok!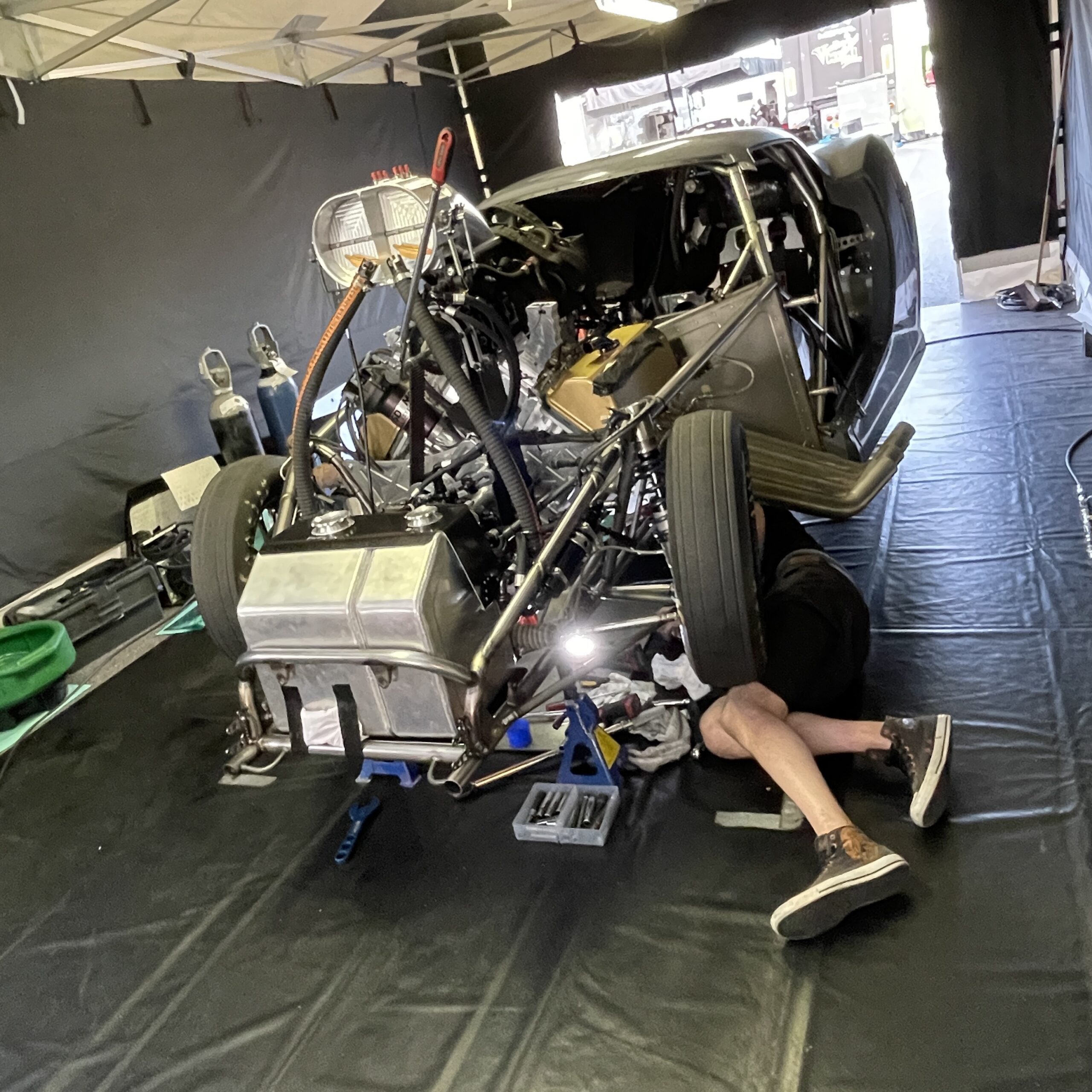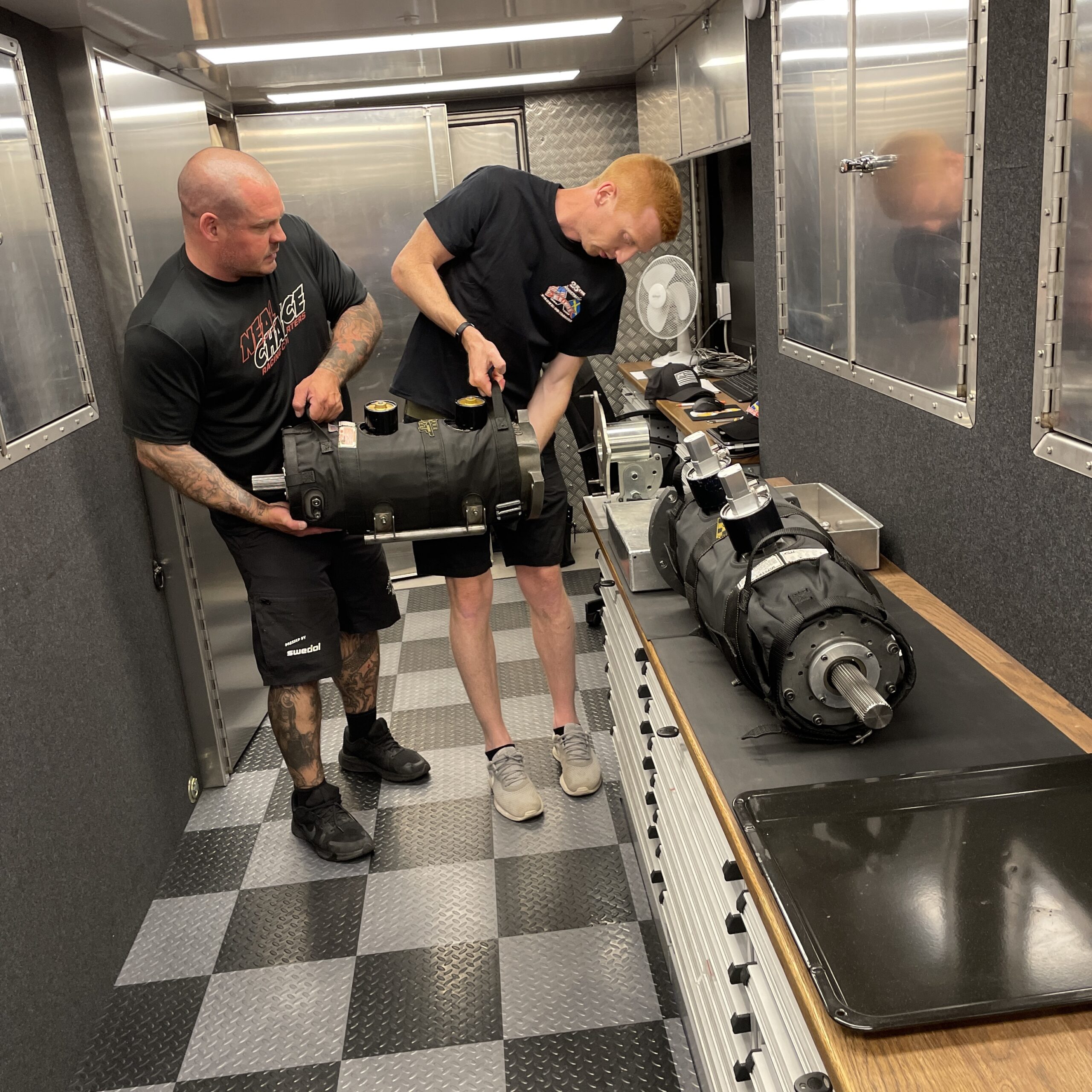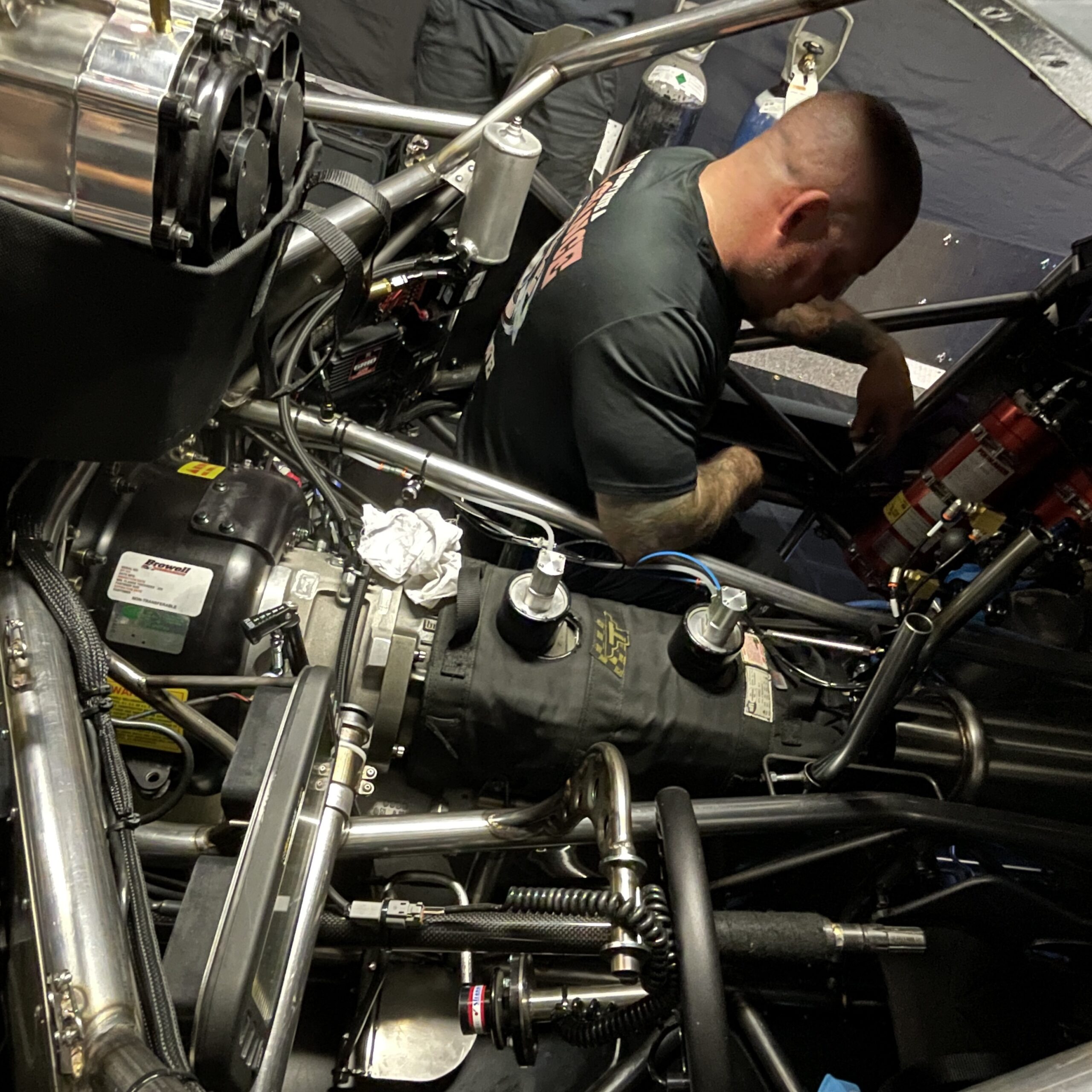 After that we continued to mess around with the blower and fuel system trying to figure out why we have so much problems with the idle!…. We took the injector hat and spacer off the blower and we found a lot of strange leaks, everything from o-rings, to mismatching parts that caused leaks and strange openings between parts that we sealed up to try control the idle.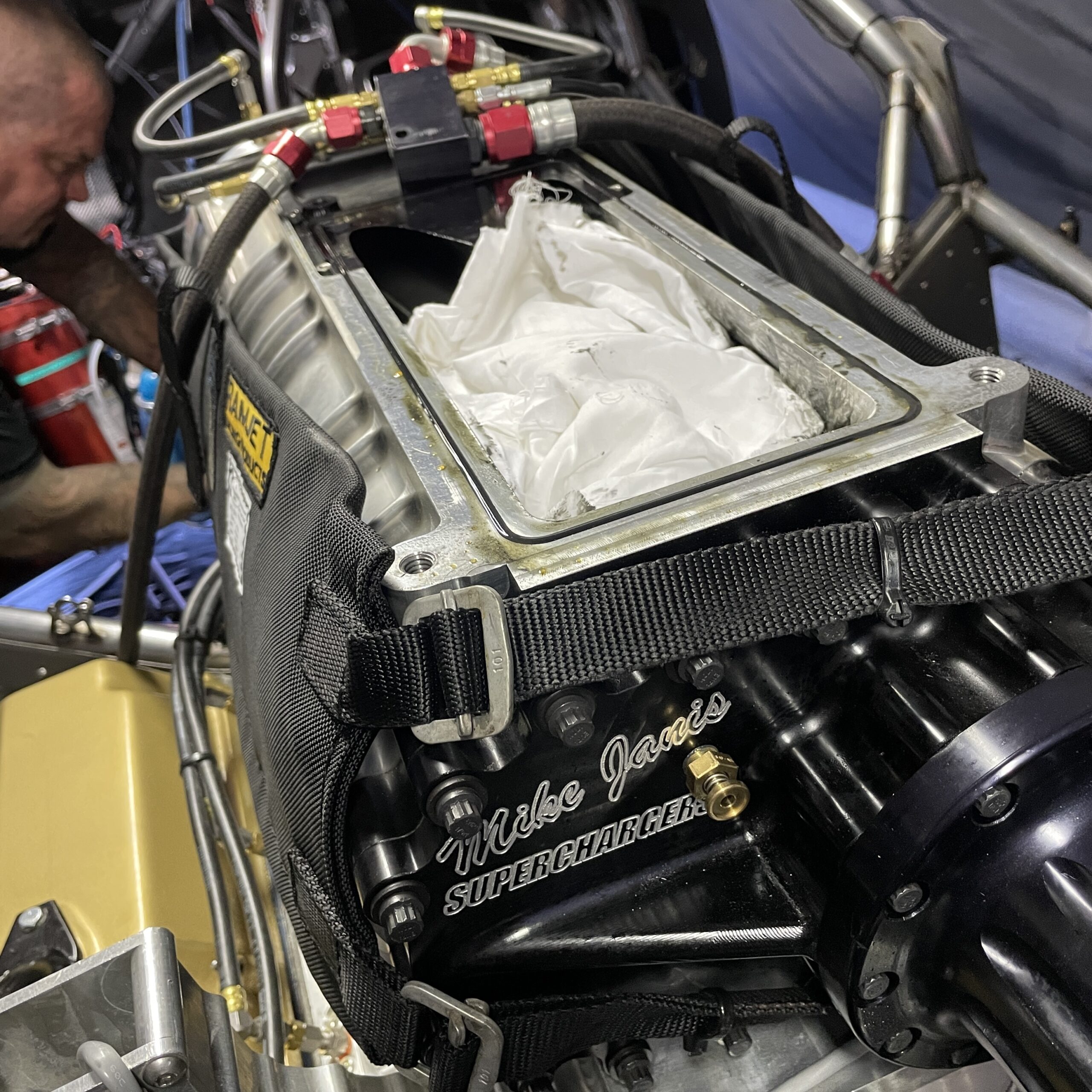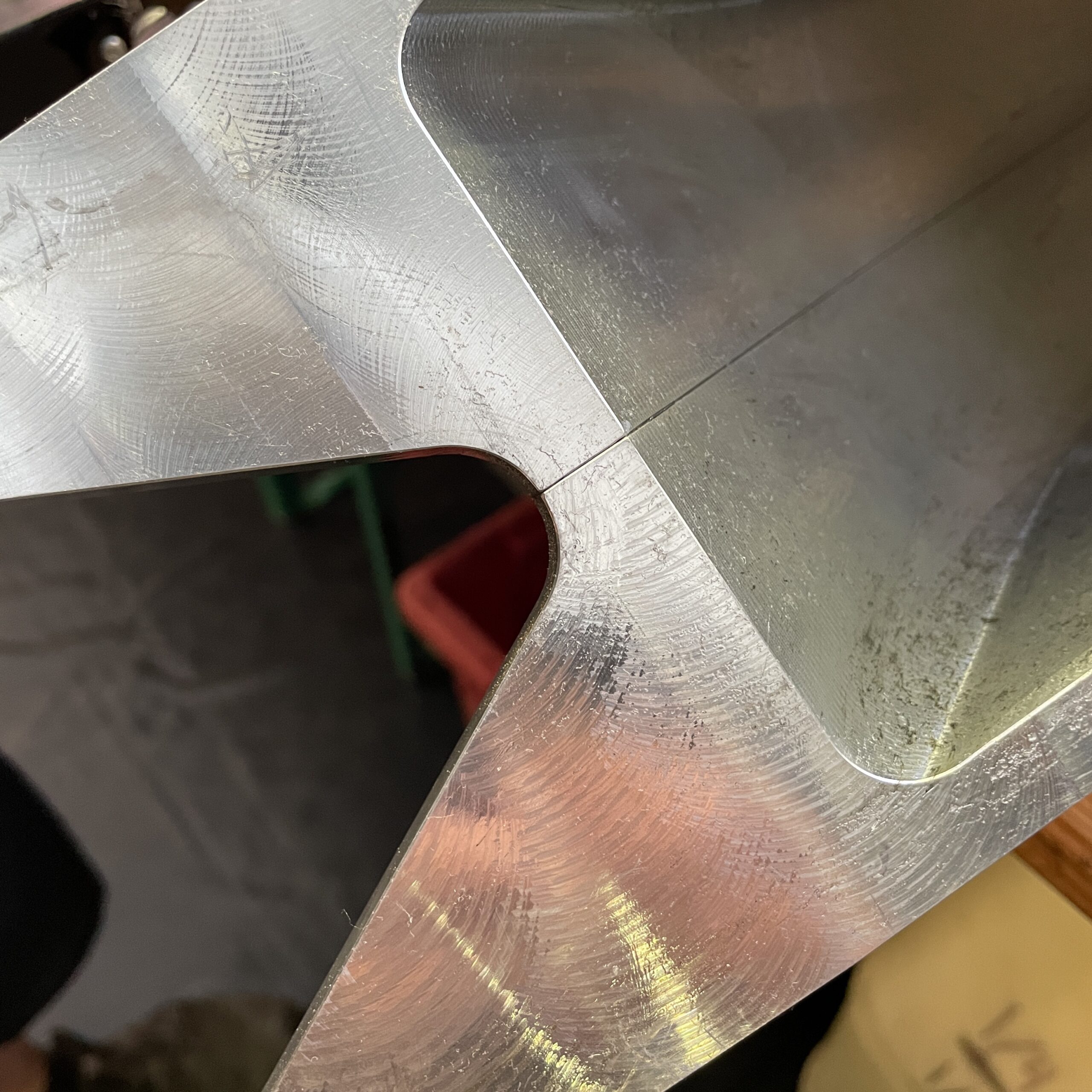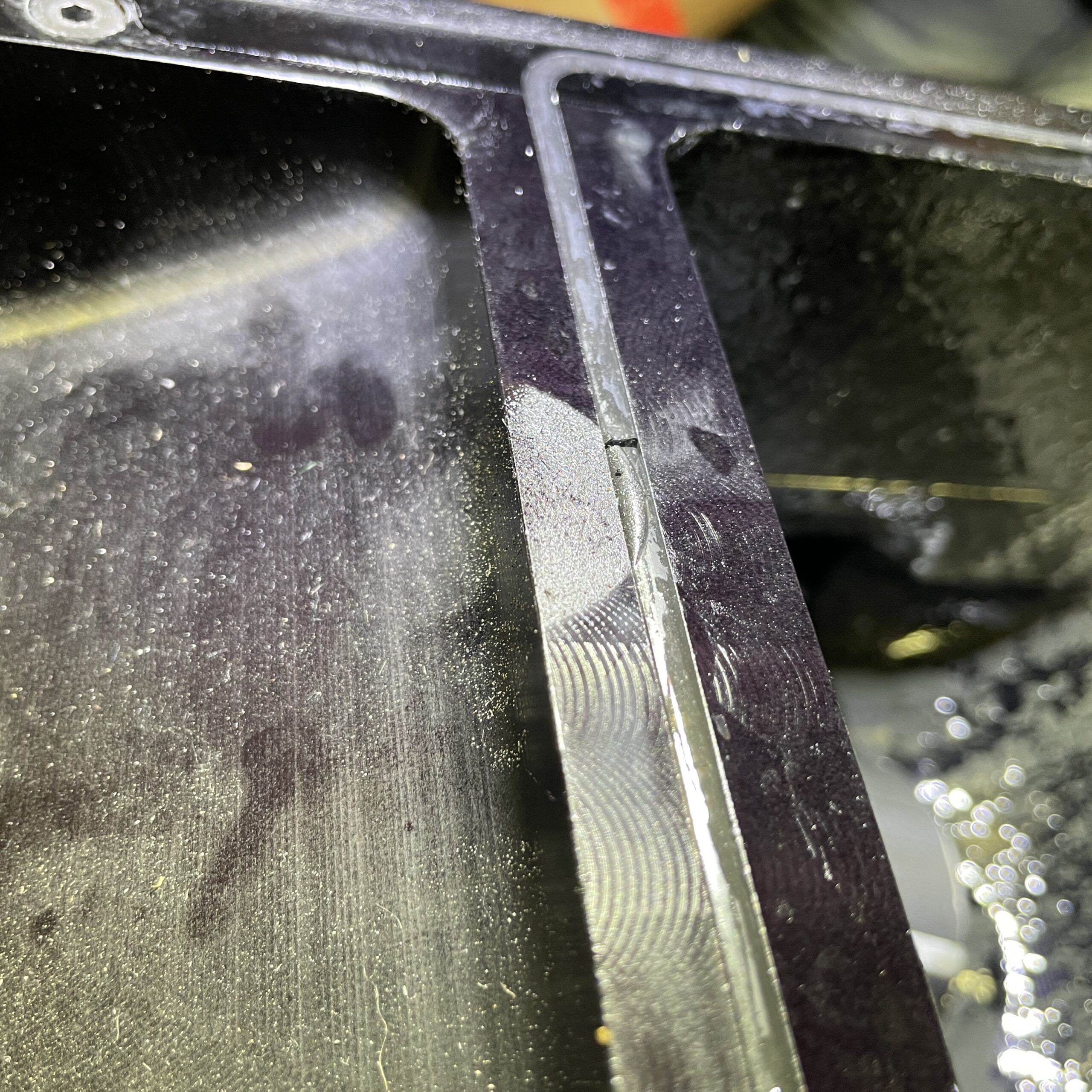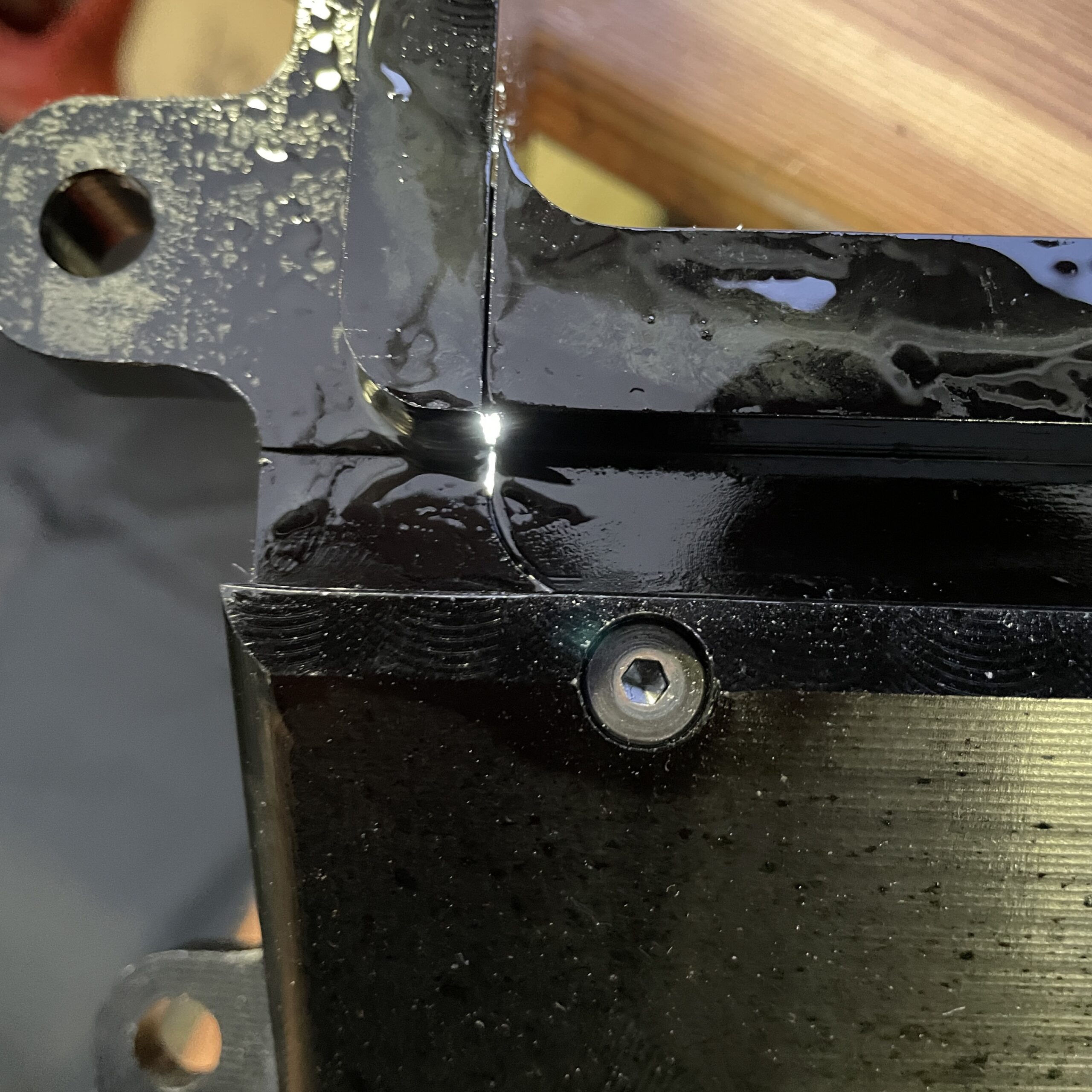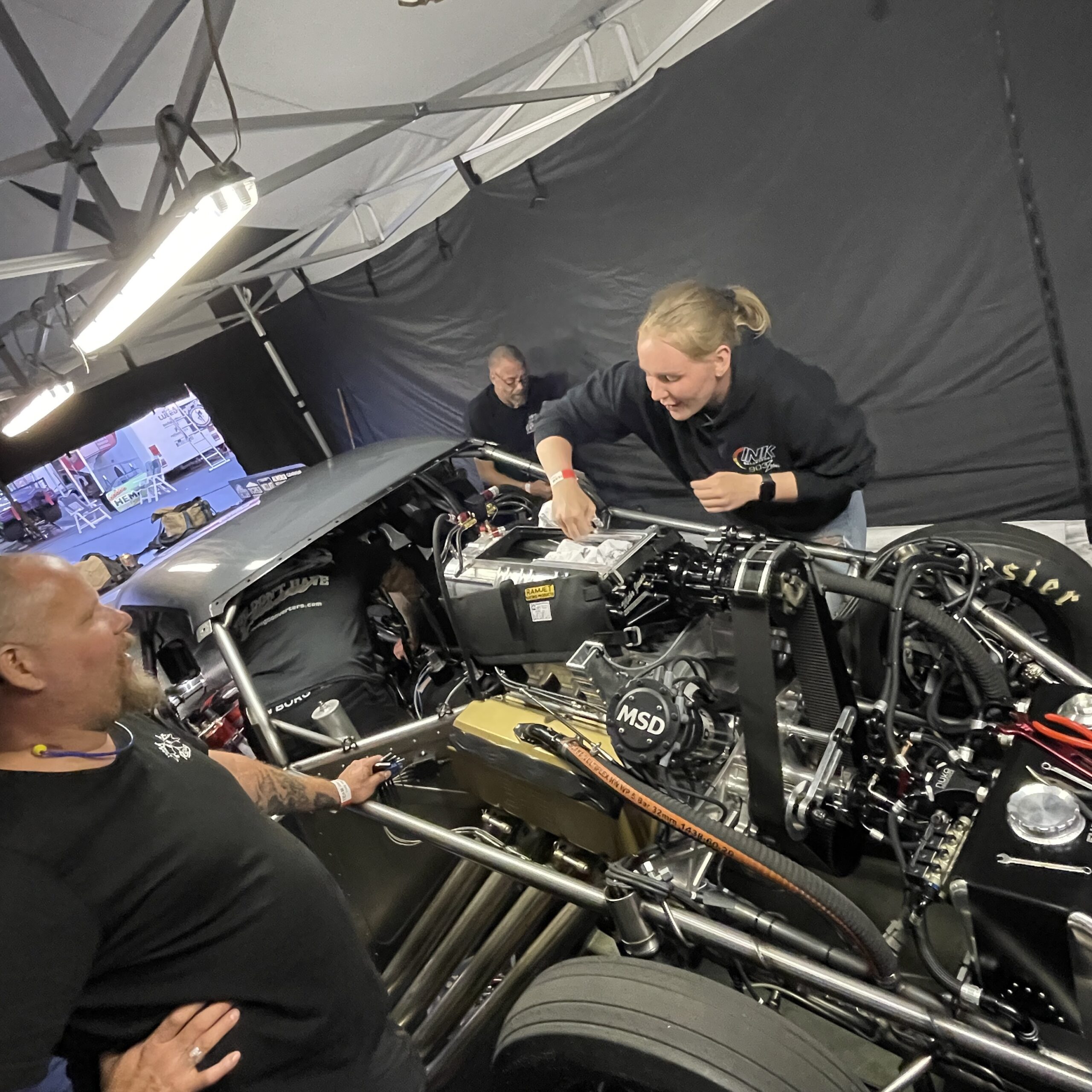 We also found a leaking check valve in the fuel system, I wonder how the seller was able to control the opening pressure on it when it was machined wrong and did not close after it opened…. It was closed first, then when it did open it did not close until pressure was zero and then it opened again at a pressure that of course also was wrong compared to what I was told it should be….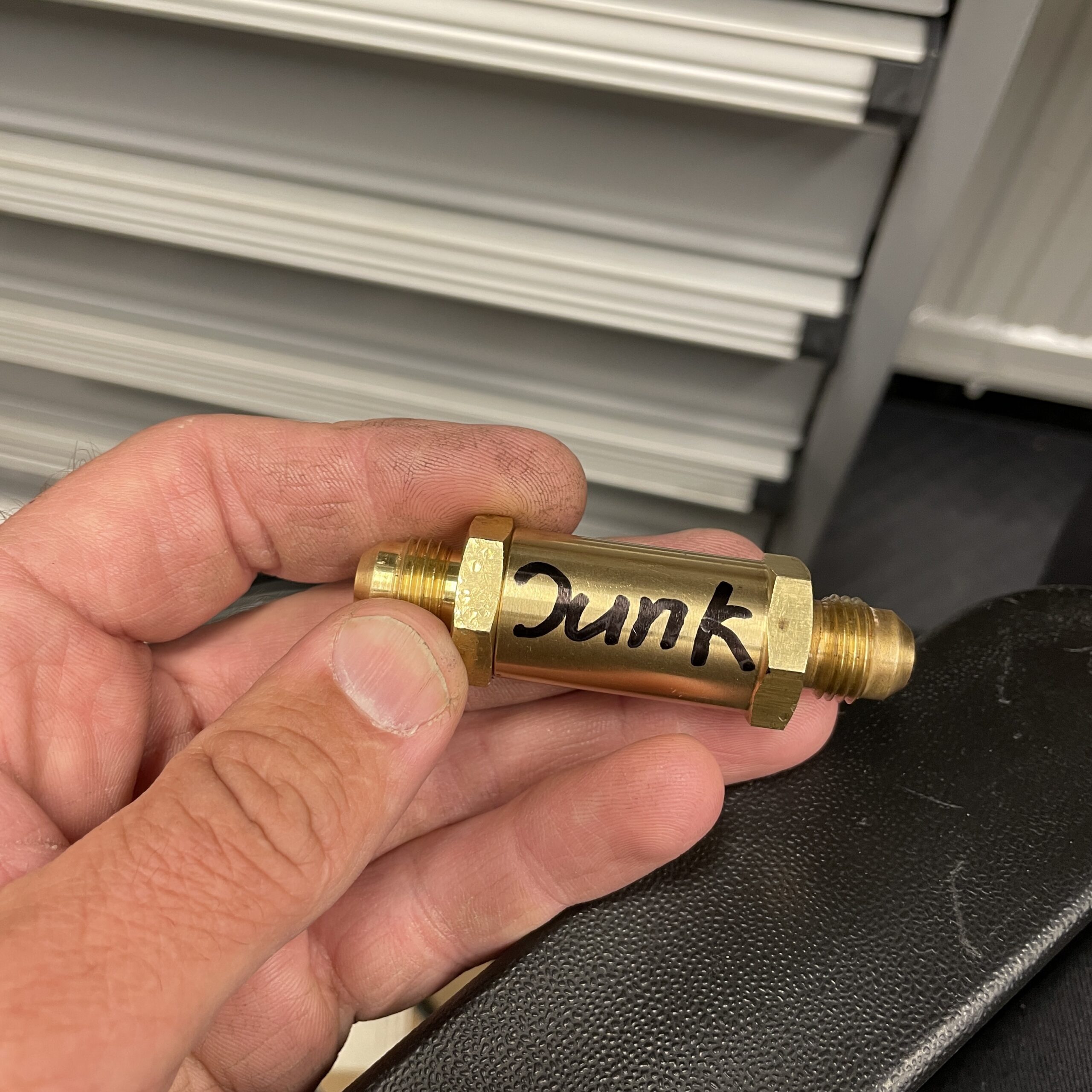 After that we got some awesome BBQ dinner presented from our great friend and partner Kaare and ICA Gärdet! 😊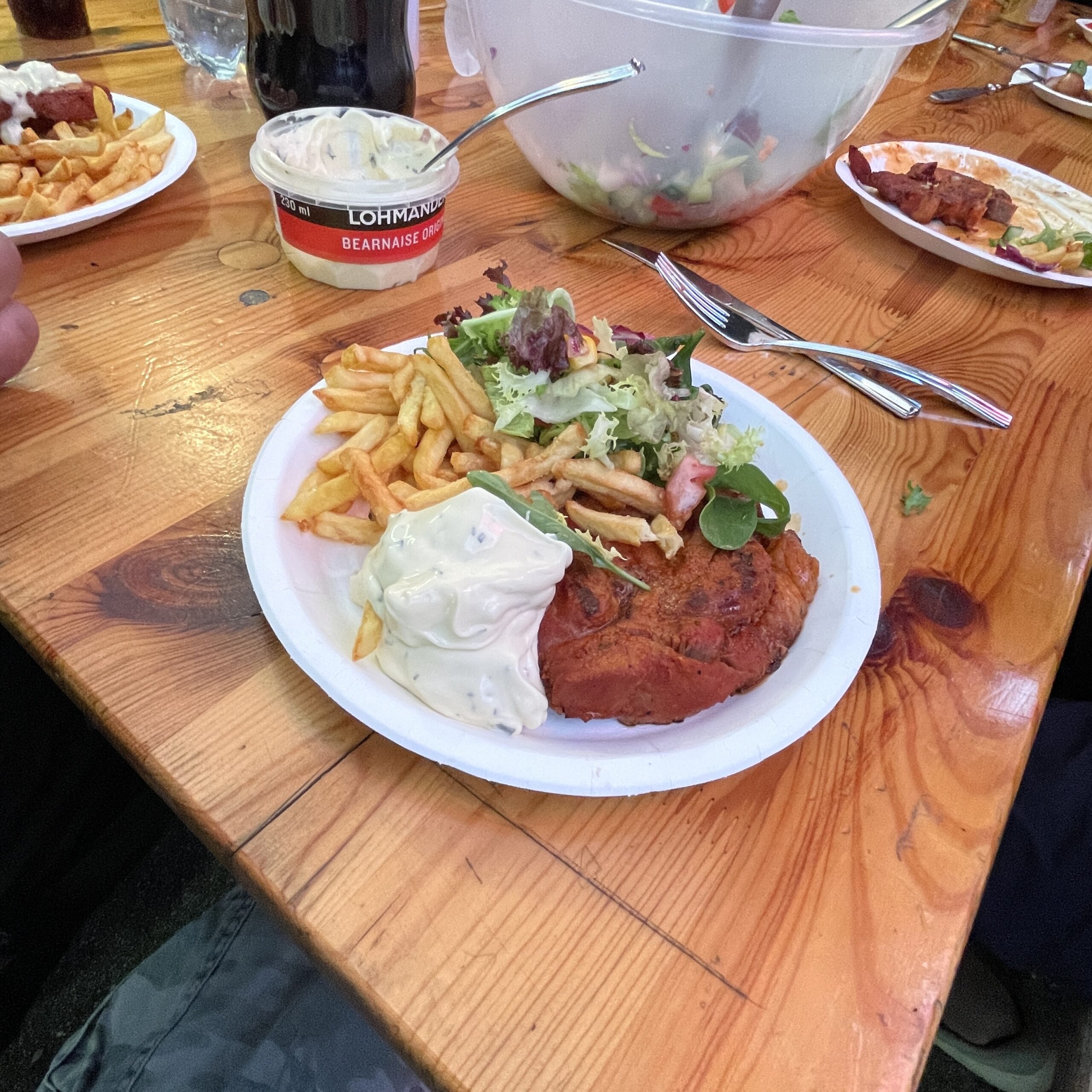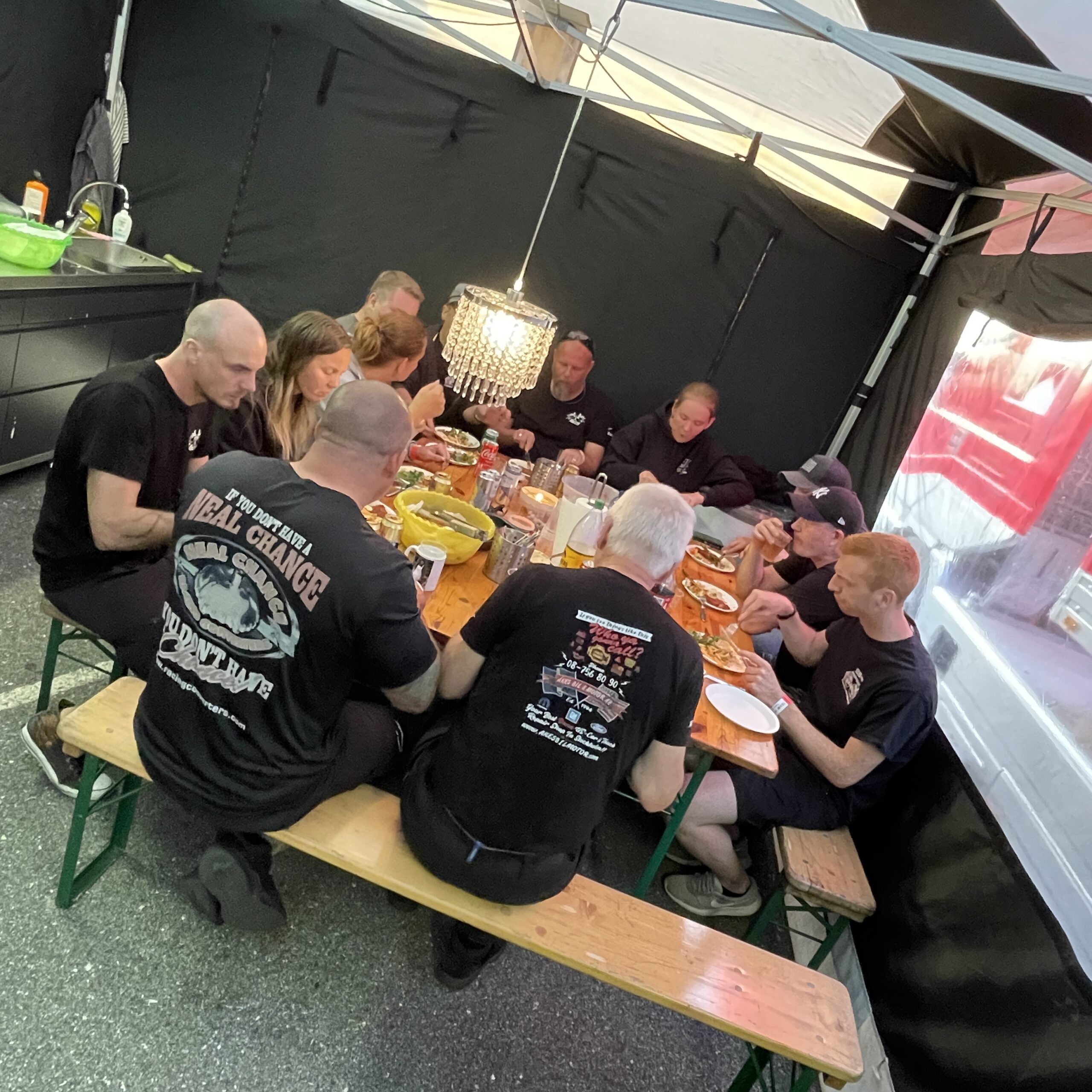 Then on Saturday the plan was to start making real rounds after the data I got on Friday, we fired up the motor to make it ready for the first round on Saturday! Now the idle was better with less rolling after all the messing around with the blower on Friday evening!
All felt awesome and then the motor just went silent!…
We all got a bit confused for a while and after some quick trouble shooting we found out that we did not have spark or oil pressure when cranking the motor…. We took off the distributor cap and the rotor did not turn as I assumed to be the problem, why I did is because I have had this problem earlier! Pulled the mag and the distributor gear on the cam was gone!… I have seen this 5 years ago…. Of the same batch where this cam comes from!…. More about this in a new post.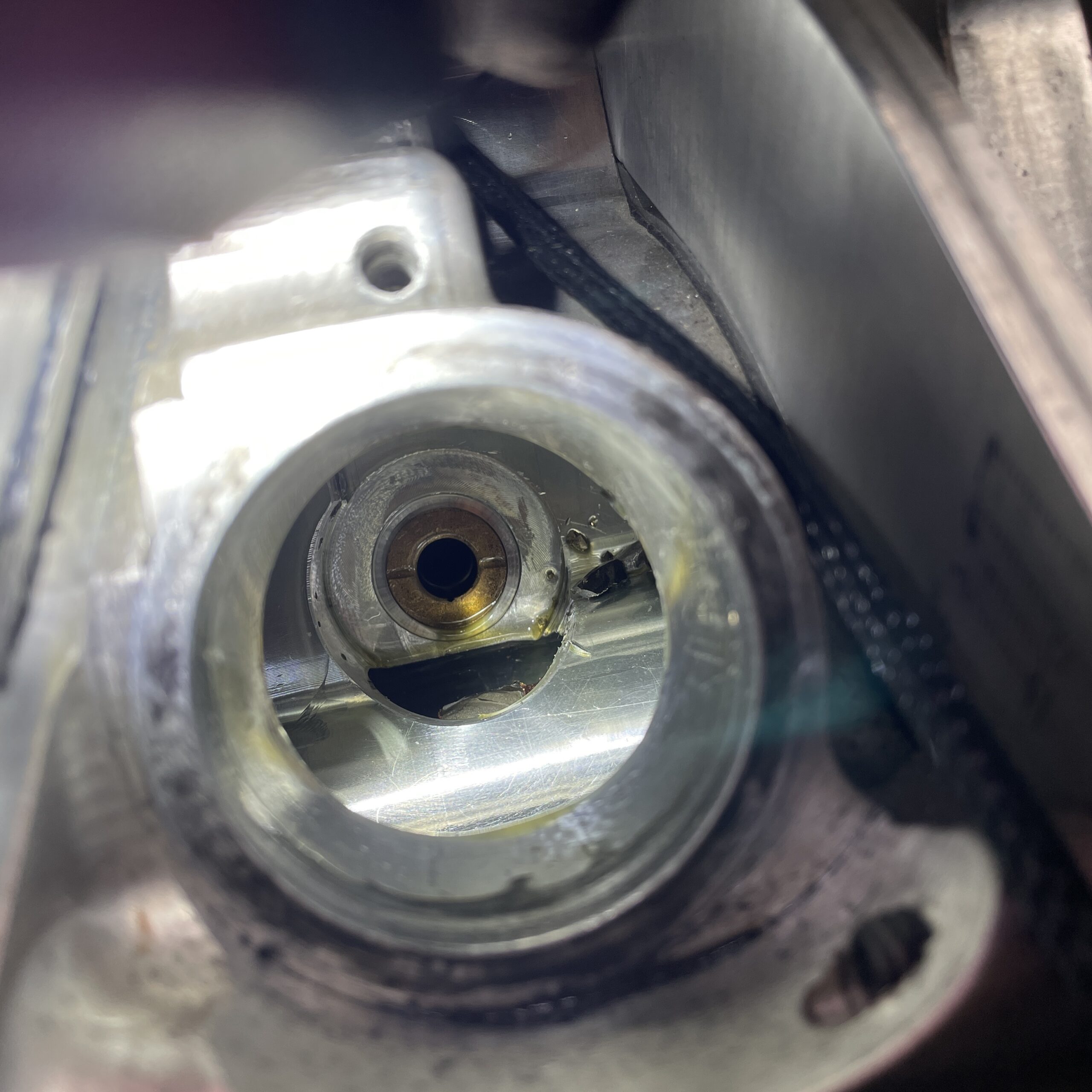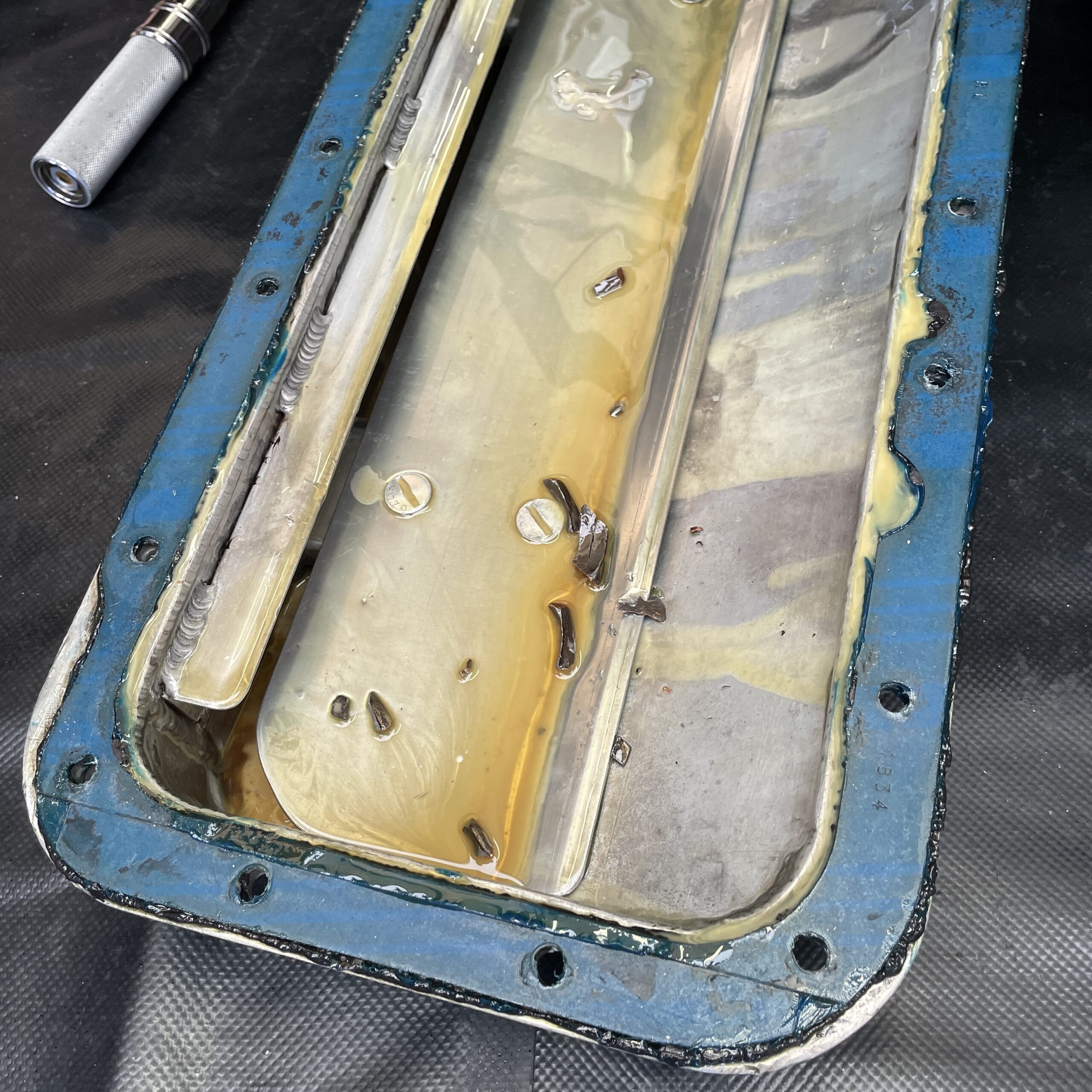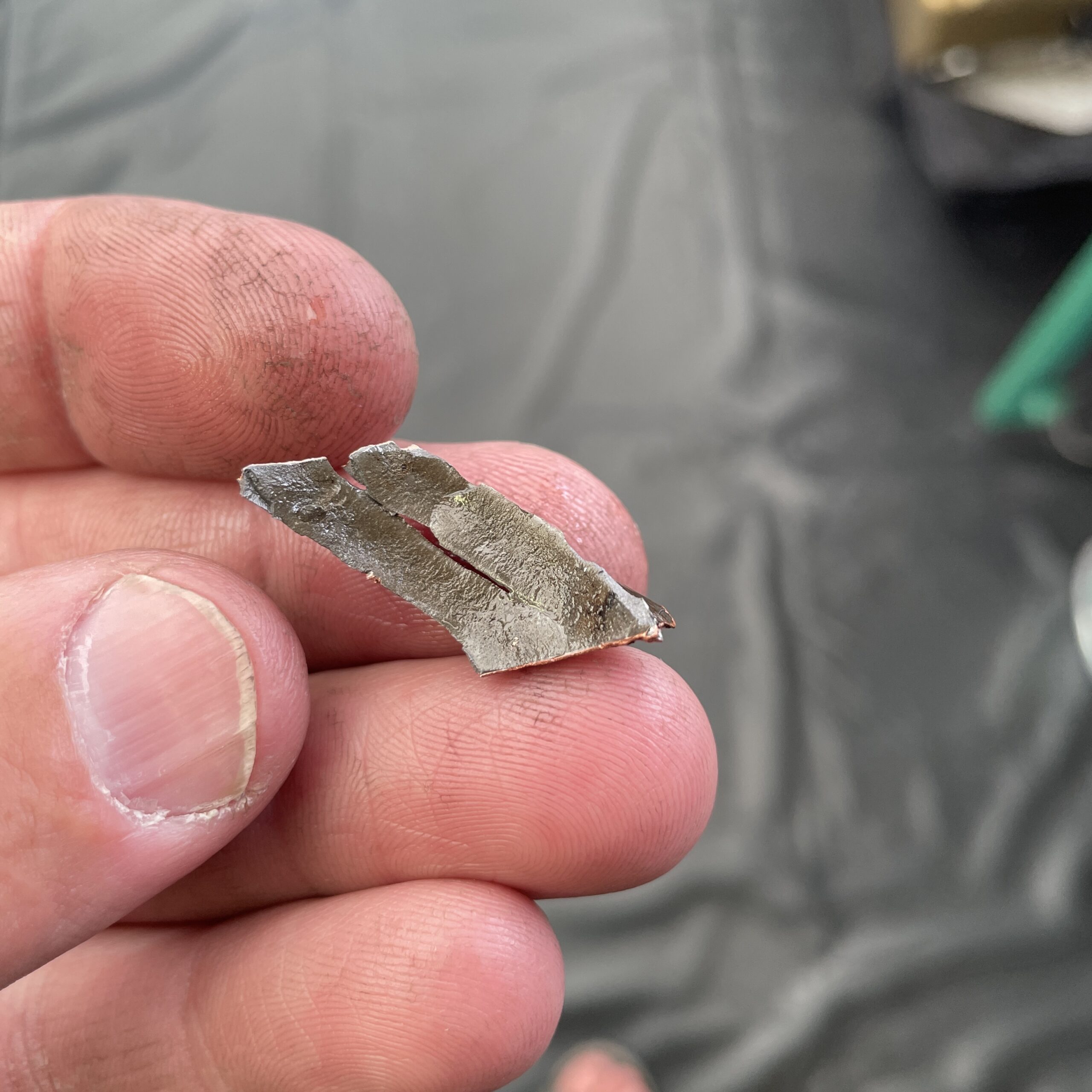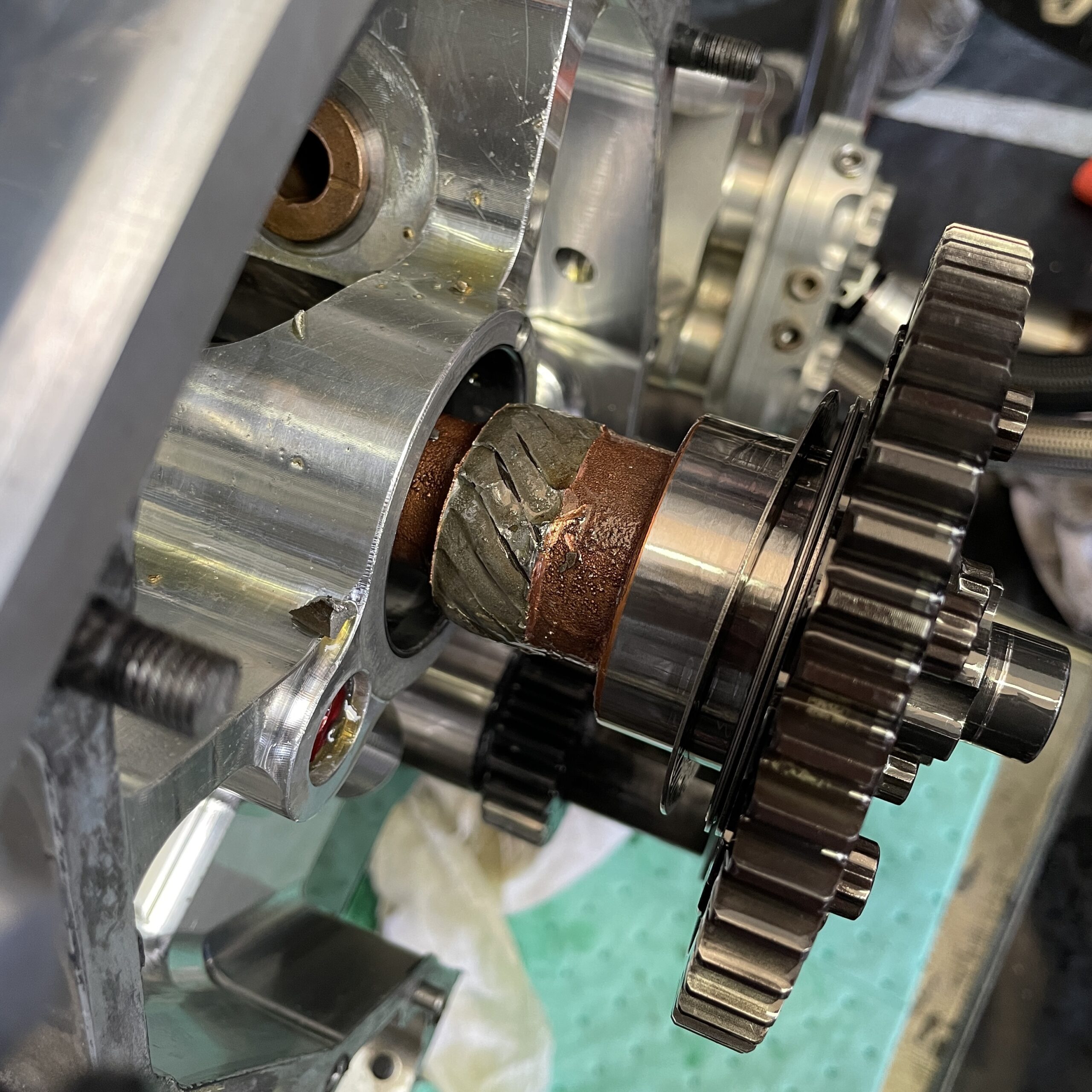 Anyway, me, Jörgen and the whole team were happy with the weekend anyway, chassis works and respond great to my set up, motor started to get happy after all the mess with the blower and fuel system and then the cam broke!….
I want to say thanks to all involved this weekend, Jörgen first of all that trust me and gives me the opportunity to drive his brand new Pro Modified car! Dad (Ake), Sofi, Max, Krille, John The Sneaky Snake, Marcus, Dennis, Benkt, Katrin, Ludde, Moa and Robert that was the team for the weekend! It was a lot of emotions and feelings during the weekend at Tierp Arena due to getting Jörgens Corvette out for the first time and also the loss of Jörgens great friend Rolf Simonsson that passed away in May this year.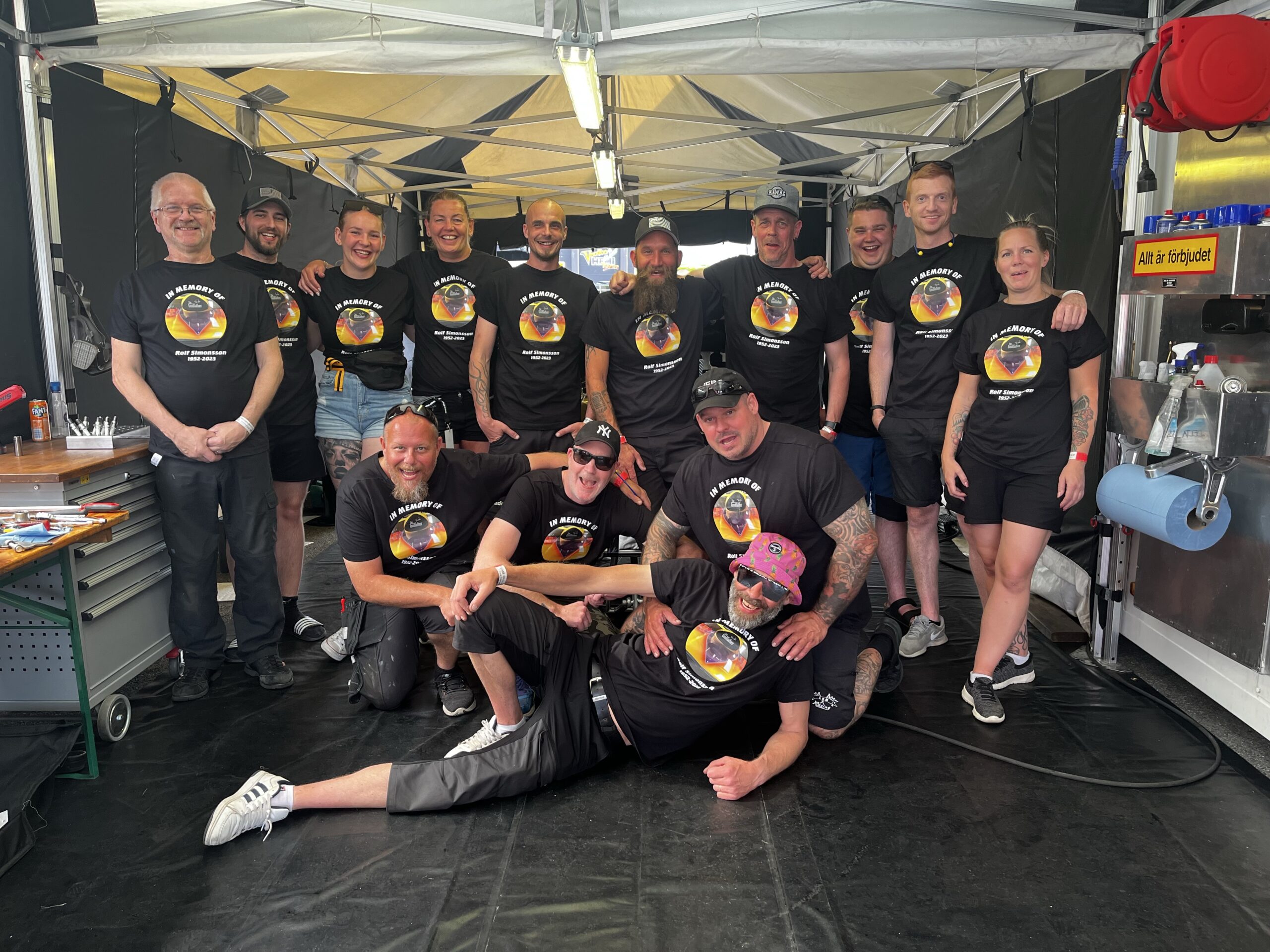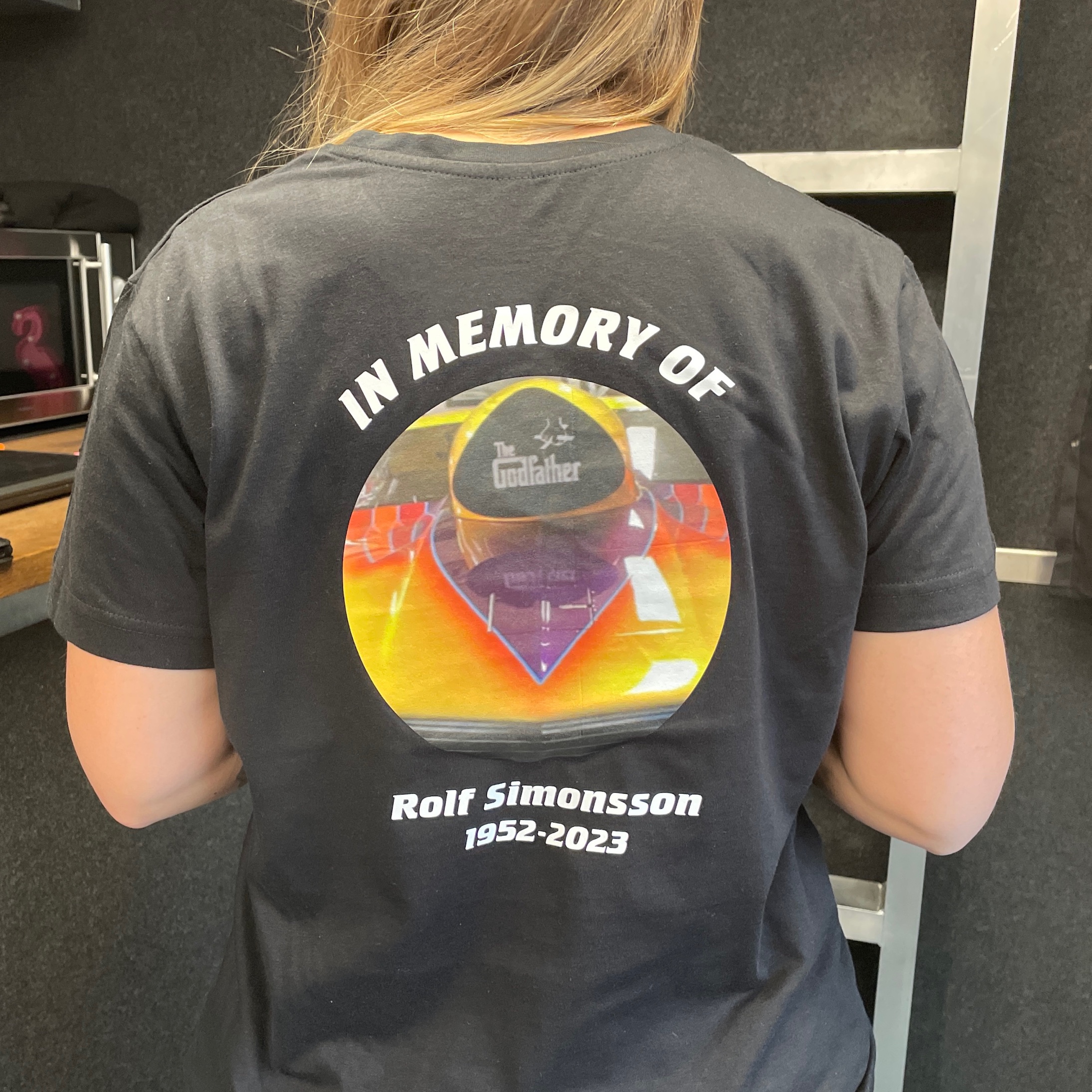 Then I want to say a special thanks to my partners that supports this test year in the class Pro Modified, our own shop of course Åkes Bil & Motor, Peter and Patrik at Rörmekano, Tobbe at T.Grundström Plåtslageri, Christer at Alwerco Svets & Smide, Kaare at ICA Gärdet, Micke at Clearwrap East Coast, Nicke at Nicclast and Leif at Catch With Care! All of you helping out makes this possible for us to do and I can not thank you enough!
Directly at Tierp after the camshaft broke we started to talk about where we can go and test the Vette before the next Tierp event in August! The event in June was just for testing and August is for racing so we cannot go there with only 2 test passes I the car…. I did know about some tracks that might an option, but the some are not good enough for what I want to do, some of them is tracks I don't want to visit due to different reasons…. Then we talked about to take the Corvette to Kauhava in Finland instead of the Chevelle that was planned! But a work situation did destroy that plan so instead we are going to Norway and Gardermoen Raceway 4-6 of August, best thing with going to Norway is that they are running the EDRS Pro classes so Pro Modified is a class at the event and we will get more 1/4 mile passes in the car before Tierp and that is better for me to find a good tune up in the car!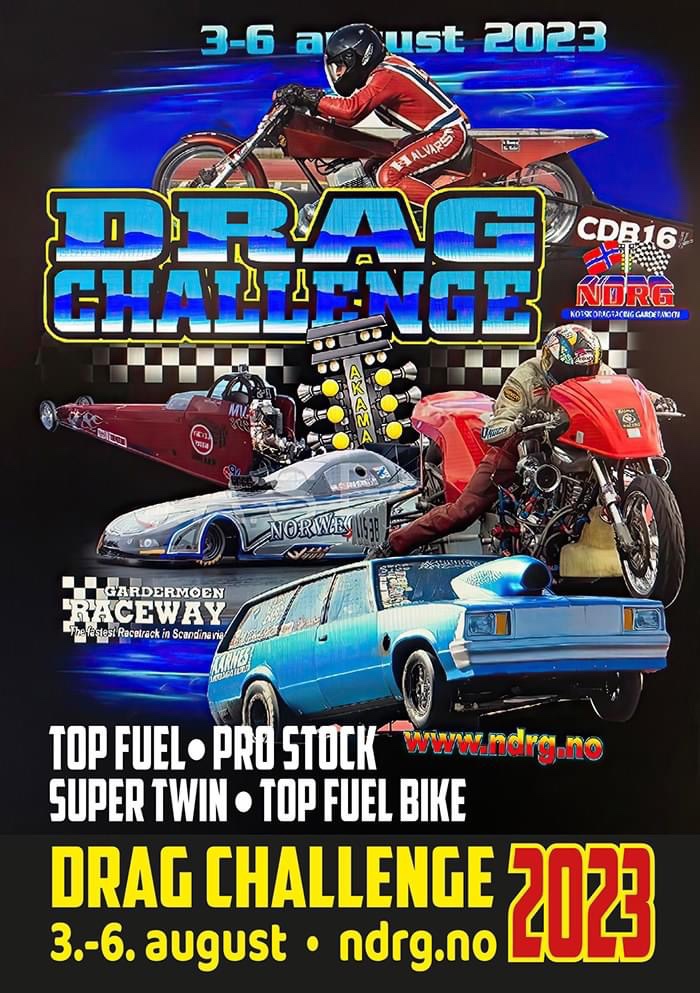 I hope to see you all at Gardermoen Raceway in August!