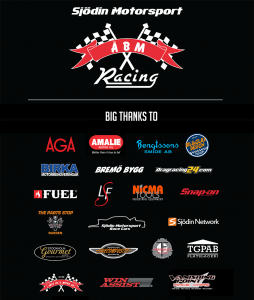 Well, now the dragracing year 2014 is over for real!
It is about three weeks since we got home from the finals in the Top Doorslammer Series at Malmö Raceway, unfortunately even this weekend was a rainy one…
We ended the year with the last and only qualifying run in Malmö with a 4.27s and 283km/h so at least i made a decent last run and did drive the car one last time this year before it's time to hide it away for the winter!
Some fun consumption info from the season…
I have released the clutch and made 50 starts this year with the car, we have consumed 2800 liters of diesel on 7500 kilometers in the bus, 4 rear tires, 16 connecting rods, 220 liters of engine oil, 6 blower belts, about 30 rod bearings , one third member, a couple of exhaust valves, some rocker arms, a bunch of pushrods, a bunch of floaters and clutch discs, about 750 meals with food, a couple of hundred liters of water and Coca-Cola, etc., etc., 55 days in only travel to / from and be on the race tracks to consume 1200 liters of methanol at about 100 kilometers and 3 minutes efficient driving with the Chevelle! =) At last we have been away 9 times and there have been a little rain at all of them, 6 of them were races in the Top Doorslammer Series and 4 of them were never completed due to rain outs…
We finished fifth in the series of a total of 30 participating cars through this season, for sure we were aiming higher but then the weather have destroyed so much, we have not really gotten the chance to do better, it is not more than 48 points from our fifth place up the first place so I must say that I still feel pretty happy with it, we have always qualified and got into the ladder and we have made almost everyone of the runs we had the chance to do, and that is because we have the car under control and make the service on it in the right time! '
I must say that I am not happy with what we have succeeded down the track this year, our best run ended up with a 4.1095s which is 0.0045s slower than last year so it was not even a little a smile on anyone in the team when we did it..
Anyway, we managed to go over 300km/h for the first time with the car this year 300.84km/h and that was in a round with misfires and 4.13s at the finish line … I know and feel that the power is in the car to go really fast but we fail to get the clutch to work as it should do without pedaling, tire shakes or slipping the clutch like crazy…
I would like to say a big thanks my team! My dad Åke Sjödin, my cousin Marcus Sjödin, Simon Arvidsson, Max Hamrin, Jocke Månsson and John "The Snake" Johansen.
And another big thanks to our sponsors who in 2014 have supported and believed in Sjödin Motorsport / ÅBM Racing! First, our own that we in the team operates, Åkes Bil & Motor, Birka Motorrenoveringar, Sjödin Motorsport, Sjödin Network, Dragracing24 and Fuel Clothing Sweden.
Then Emil / AGA, Kaare / Stockholm Gourmet, Ulf and Janne / Winassis System, Johan / LSF Custom Paint, Lasse and Erik / Bengtssons Smide, Dolle / Nicma Tools, Thorbjörn / T. Grundström Plåtslageri, Jim / VP Race Cars, Tommy / AFT Clutches, PG / Bil & Glasdesign, Johan / Amalie Motor Oil, Roffe / The Parts Stop Sweden, Peter / Snap On, Kenneth / Swecomposite, Anders / Bremö Bygg.
I can't describe how much it means to me, it's thanks to you that we have been so successful the first year we are making a full season in the Top Doorslammer series!
Also a big thanks to Daniel "Dojjan" Karlsson, who works with the Top Doorslammer driver's association and all around it! It would never works as good as it does when we are on the track without you Dojjan and also Martin Westerlund, who helped and took care of us this year and did an awesome job with the race in Piteå and all around it, the start up at Coop, picking me up at the airport etc! =) While we are up north, I would like to thank Rolf and Niklas Berglund for those crazy nice days at "Gubbis", fucking priceless!! =)
I would also like to say thanks to all the organizers we been to this year, Kjula Dragway, Sundsvall Raceway, Gardermoen Raceway, Tierp Arena, Pite Dragway and Malmö Raceway and all our friends and teams that always is around to help when its needed, to many to mention but I must say that Mats Brag was a true hero in Norway when he helped us weld together our trailer that was about to go in two pieces…! And last but not least the whole LL Racing team for a crazy fun summer and good neighbors in the pit!! : D: D
Now it's time to welcome the winter, the car will be put away and forgotten for a while, I have already begun to sell off parts of Chevelle for future updates on it! 😉 Our bus (Olga) will be sold, The borrowed trailer will be returned and will not be borrowed again, the work on the bus we once started to building that have been standing still for about two and a half years now to be taken up again, so right now it looks like season 2015 will not be spent so much out on the track for Sjödin Motorsport / ÅBM Racing. Sad but true, but sometimes you have to look a little to the realities in life too!…
I really hope that you have enjoyed following along with us during this year, our updates from the race weekends, race reports after the weekends and that Simon's movies are appreciated!?
I really hope that we all will have race future together!
Thanks again to all of you for season 2014!
/Andreas Sjödin.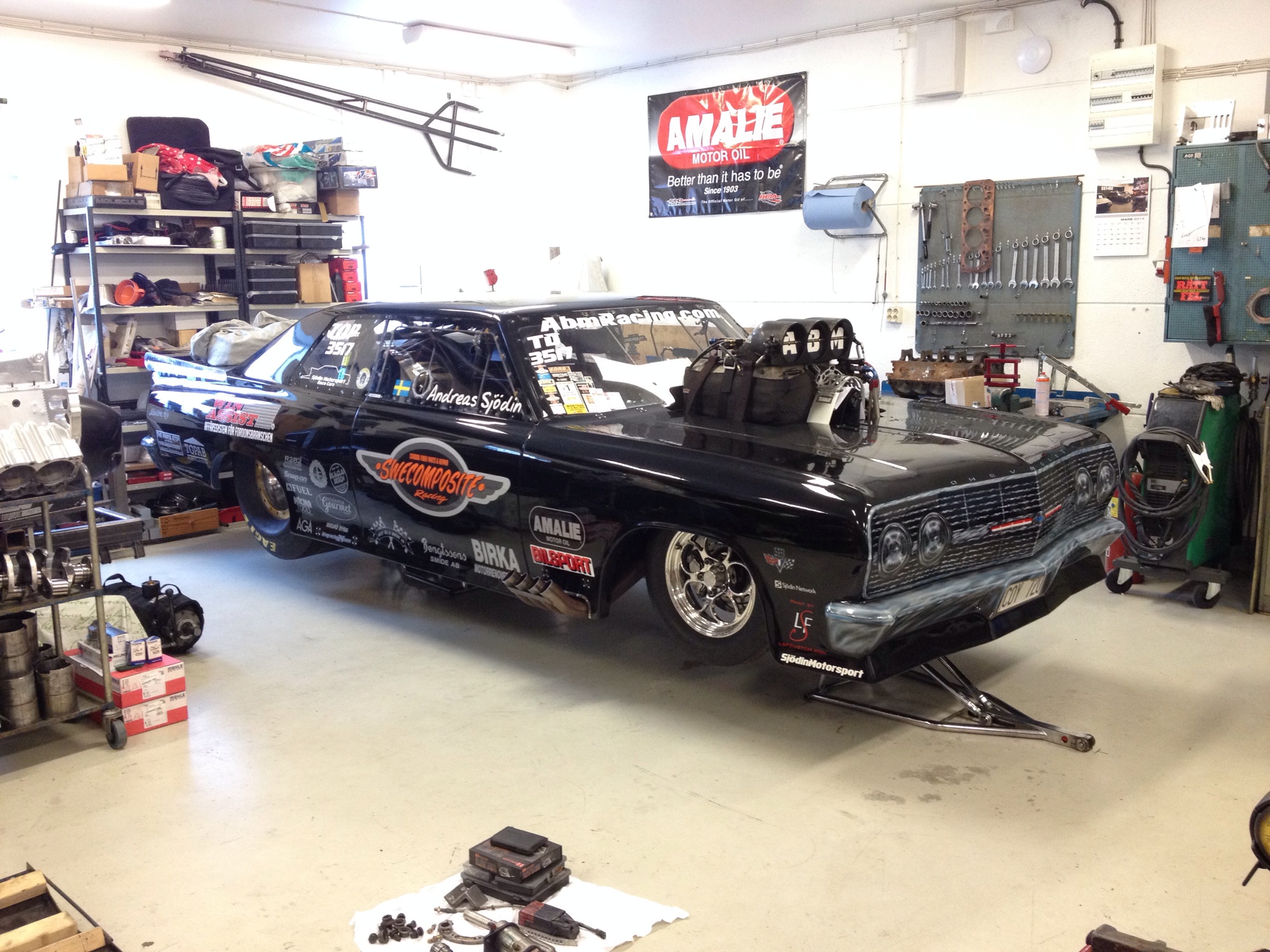 Back at the winter spot in the shop! 🙂