For sale!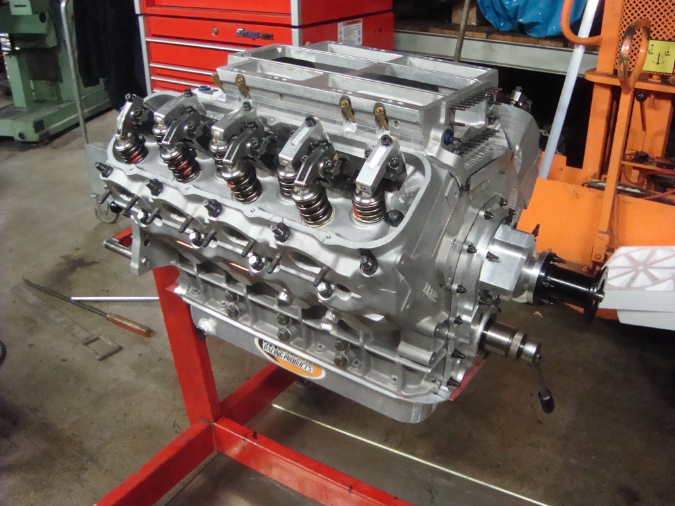 Chevy Big Block 527 cui, Alcohol / blower engine.
Just good stuff! Not cheap junk!
Intake to pan. No blower, fuel system or ignition system.
Weiand intake.
Dart 360 heads, solid with custom chambers.
O-rings between heads and intake, NO gaskets.
Copper head gaskets.
Aluminium valve covers.
Manley valves.
Manley springs, retainers, etc.
T&D shaft roller rocker arms.
Manton push rods.
Arias aluminum block, no windows, main saddle mounted on number 2 and 3.
Daimond coated custom pistons.
Akerly and childs extreme piston rings.
GRP connecting rods 1.094 pin. 6 runs or more launches on the ones in the engine right now.
Sonny Bryant custom crank, Hemi big journal and flange for the clutch.
Clevite race bearings.
Comp cams custom solid roller cam 4/7 swap.
Jesel key way lifters.
RCD gear drive and pump extension.
RCD magneto drive.
RCD crank hub with degree ring and trigger brackets.
RCD crank support.
8mm crank pulley.
Peterson external dry sump oil pump.
Dan Olson oil pan.
Spark plug wires.
Spare parts! Bearings, sleeves, pistons, rods, pushrods, valves, springs, gaskets, lifters, etc.
It will be sold newly served and I will put it together, if you want you can come by and inspect the parts when it is in pieces. You can also buy it in pieces but the price will still be the same as assembled.
Have done 4.23 on 1/8 mile and I was off the throttle after 3.6s with a Top Doorslammer set up, screw blower with 50 psi of boost! Put on a roots blower and use less overdrive and use the engine forever!
I have done about 35 easy runs with the engine, and everything except, engine block, heads, oil pan, valve covers, and gear drive was brand new when I started.
Got pictures on the whole building of the engine and a bag with receipts! A lot of money in this one!
Only contact me if you really are interested!! And then you will get some more info and prices.
Of course you can get the blower, fuel system and ignition system, just add more money! =)
Look at the  construction of our Chevelle for more pictures.
Over 30,000USD+ in this one! About 22,000USD without Valve covers, heads, block, oil pan…
And that's without taxes, freights etc. to Sweden.
Asking 160,000:-SEK
+4670 419 54 54
/ Andreas