A little summary of our test season 2015.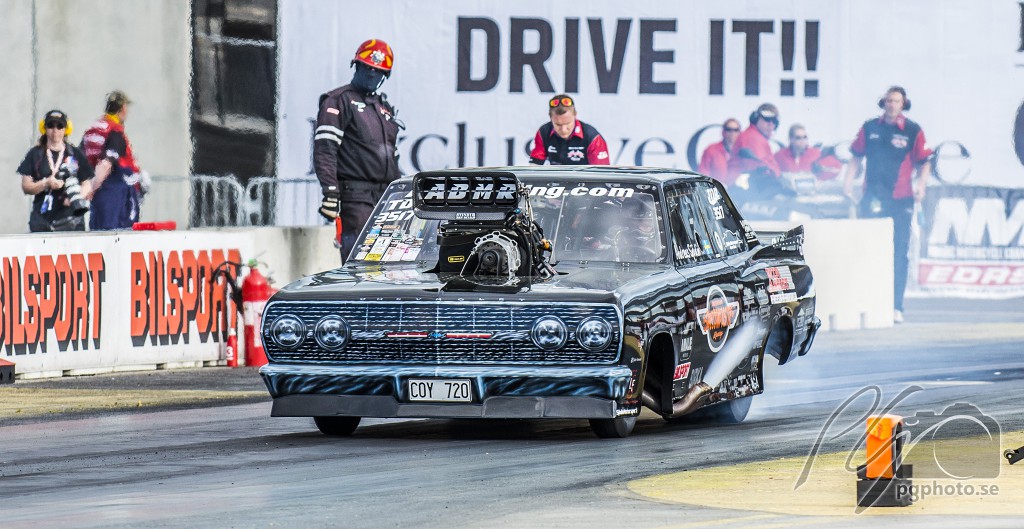 Cool picture from Tierp Arena! Photo by Patrik PG Gineman www.pgphoto.se
Already last year when we were on our way back home from the Top Doorslammer finals at Malmö Raceway we decided that we will throw out the clutch and put in a converter instead, and also that we will only do three maybe four test races and not the whole Top Doorslammer Series during season 2015!
The reasons to that were too many races last year and I did already know that the updates I will do on the car during the winter will be pretty expensive! =) And after the test season the plan was to start work on something better to transport the car and ourselves in instead of borrowing, rent, change trailers and busses all the time, we must fix something that works for us and will make everything easier! (you get pretty tired of loading the bus for about a day before every race and also unload it after every race…!
Anyway, I am disappointed on this test year!…. So the last two weeks I have been thinking, thinking and thinking A LOT…. I know we said 3-4 test races in 2015!
BUT!!.. I am really disappointed with what we succeeded with during the test at Tierp in May with no track at all…. Just spun the tires!
The Race at Tierp in June was pretty good, I was really satisfied, we made some good rounds and did repeat between 4.10 to 4.29 and I wish we would stopped there….
The race at Sundsvall in July was not what I did hope for, a really tricky track, missing people in the team, and a lot of stupid problems with the car…
And because of all this I wanted to go to Norway and Gardermoen Raceway for the fifth race in our series to do some more test rounds just to see if we could get back in the window that we had when we were at Tierp Arena in June, and it was really close that we did go..!
But I did decide today that we will unfortunately not go!… Too much to do in the shop and all our employs are on vacation next week and someone needs to be on the floor making money!
Sorry to say that but after a lot of more thinking I decided that it is better to start working on season 2016 instead! The white bus Olga is already sold, the blue bus that I fought would be the coolest bus on the planet (if things would turned out in another way) is pretty much sold and will soon leave us and some new energy will make my dream come true! That makes me happy! =)
I have already bought something new to transport the Chevelle in so I think it's better to spend the money on that (and of course some more updates on the Chevelle! 😉 ) instead and be ready for season 2016 in May when we are back and we will do the whole Top Doorslammer Series again (6 races) plus two test races before the season starts, just to be ready to fight for real on the first round in the series, YEAH BABY!!!! =)
I will of course keep you updated at www.abmracing.com
And remember to follow us on our social medias below
Facebook https://www.facebook.com/sjodinmotorsport
Instagram https://instagram.com/sjodinmotorsport/
Youtube https://www.youtube.com/user/SjodinMotorsport
A huge thanks to my team Åke, Marcus, Jocke, Max, Simon and John!
Thanks to my friends, family and fans that supports us and make this possible for us to do!
And of course our AWESOME sponsors that believes in us and helps us out in every single way! THANK YOU!! Please do all you can and help me support them!! =)
Åkes Bil & Motor
Birka Motorrenoveringar
Sjödin Motorsport Race Cars
Swecomposite
LSF Custom Lackering
Swelube Amalie Motor Oil
Sjödin Network
AGA
Winassist System
Anders Bremö Byggnads
Vanishing Point Race Cars
Fuel Clothing Sverige
Bengtssons Smide
The Parts Stop Sweden
Nicma Tools
T. Grundström Plåtslageri
Pro Tools Peter Hult
Stockholm Gourmet
Dragracing24.com
Rörmekano i Vallentuna
Eltric
Pesz Power Performance
Composite Specialties
Berga Lås & Larm AB
See you all on the tracks next year!
/Andreas.