Sjödin Motorsport is now your R2B2 Race Cars dealer in Sweden,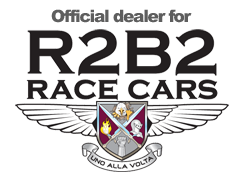 R2B2 Race Cars a new company opened April 1, 2011 and also a part of the R2B2 Racing and R2B2 Motors organization owned by Roger Burgess.
Located in Lawrenceville, Georgia, USA, the staff at R2B2 Race Cars has over 25 years of experience in building all kinds of racecars and will begin selling their drag racing vehicles worldwide.
New ventures include blower & turbo-specific chassis and lightweight titanium parts & components. Watch for their new catalog and product listing on www.r2b2racecars.com.
We have some small parts like welding tabs, dzus fasteners, rod ends and tube
adapters in stock, and we can help you order anything you want.
The parts we order are delivered within 2-7 days to us depending on choosen shipping method (And as long as the parts are available in the U.S.).
To order parts or if you got any questions about parts or work on you car, contact us at andreas@sjodinmotorsport.com or call 0046 70 419 54 54.