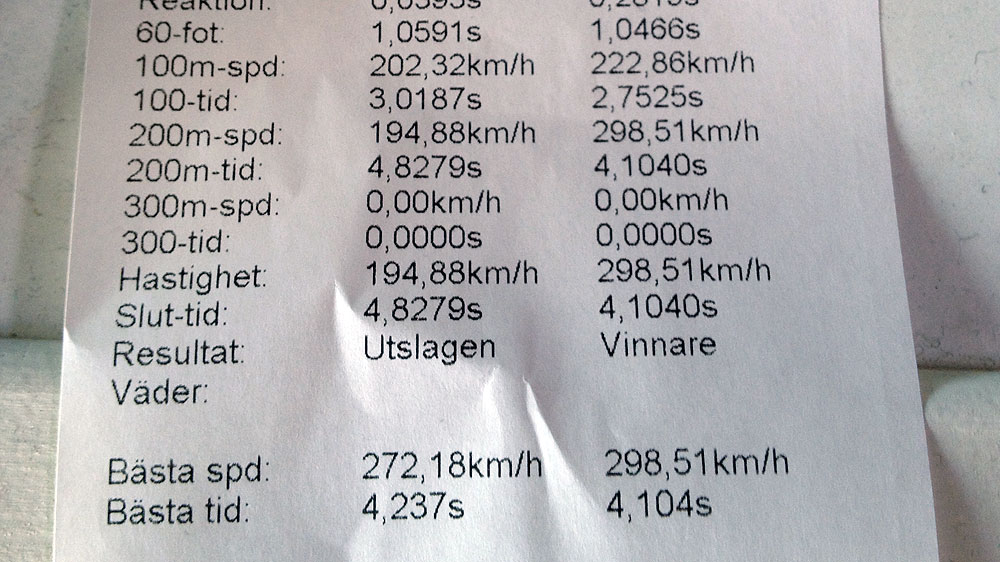 The first race in the scandinavian Top Doorslammer series is closing in and that calls for a best ET contest!
Guess our best time in the upcoming race on Sundsvall Raceway 27-29/6 and THREE of you will have a chance to win some cool prices from Sjödin Motorsport and our sponsor Fuelclothing.se
This is how you do it:
1. Go to the Sjödin Motorsport / ÅBM Racing Facebook page, on the top of the page you will find the "Best Et Contest" for the next race. (our own page is the only place we look at to find our winners, you will not be a part of the contest if you write it on some page were this is shared)
2. Click the LIKE button (if you not already have done that) on the Sjödin Motorsport /ÅBM Racing Facebook page.
3. Write your guess on what you think will be our best ET and speed in km/h from the weekend here. Notice: 4 DIGITS! (exampel our best run so far is 4,105s @ 298.51 km/h)
4. Keep your fingers crossed and enjoy some badass Doorslammer racing!
Deadline: THURSDAY 26/6 11:59 PM (23:59)
The 3 winners who guessed the closest will win some sweet prices from Sjödin Motorsport and Fuel Clothing Sverige. The winners will be announced on Monday 30/6 at our Facebook page.
So, what's your guess? Join the contest here!