Ok, the 2013 season is now over for real, only a couple of days left until it is 2014.
So it's time to say something about this year. It started pretty good for us with A LOT of new parts to the Chevelle just to make it as a real 1/8 mile car instead of something that will work on both 1/8 and 1/4 mile tracks. New third member, transmission parts, clutch parts, ignition system, fuel system, new cylinder heads and intake and we did cut of the chassis in the front to lose some weight but of course we started little to late with the car…
With only two weeks to the first race at Tierp Arena we got all the parts in the shop for the car, and it was way much more work to get the engine together that what I thought, BUT we made it! We started the car late on Thursday and on Friday we were on our way to Tierp Arena!
First outing was a mess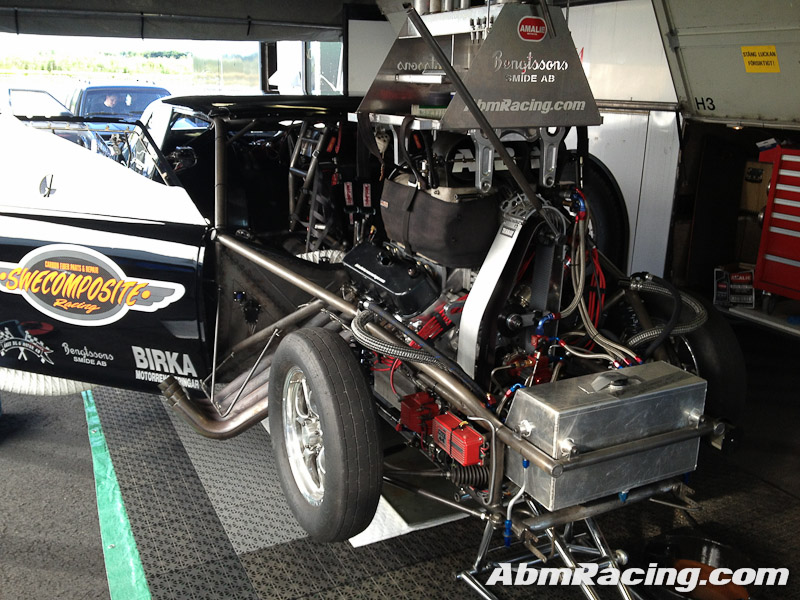 When we were ready on Saturday morning and started the car we found some problem with the ignition system. The engine did not sound like it should at all. A lot of searching and work with computers and other stuff we finally got the engine to sound like it should do! 🙂 So it was time to make a real warm up procedure, then when I was going to test the 2-step start rpm the rev limiter did not work so we overrev the engine and broke the blower belt. I was pretty angry at the moment so we packed everything together and went home.
The week after we started to look what really happened when the rev limiter didn't work and found that our new ignition box from MSD was wrong wired up in one connector, and this was a known problem when we talked to MSD, thanks for that… Well anyway we took the whole engine apart and we could not find anything that was hurt in it! We were lucky this time. =) But this made me really tired of trying again so we did leave the car for about 6 weeks or so before I felt for doing something on it again…
First real race 2013
Time to go to the track again, once again to Tierp Arena and Speed Week Festival but this time everything worked like it should! Or did it really….!? Well it worked back home at the shop but when we got to the track the gremlins was back again. But this time we took everything a little slower and after a couple of hours of looking with friends here in Sweden and Jocke made a call to MSD we learned how to set up the new ignition box with our computer, we had one last chance to make a test down the track on Friday and we took it, we made a 4.38 and 240 km/h something and it felt so damn good after 11 months in the shop!!  =) And with that we were really satisfied with that day of course!
First run out on Saturday we made a new personal best for both me and the Chevelle, 4.14 and 282km/h @ 1/8! First time ever I kept the throttle down all the way! It felt SO CRAZY GOOD!! Finally a decent run, and we are far away from running the engine on kill, we got it really safe so one thing is sure, we got POWER in it!!! 🙂
Second and the last outing 2013 for us.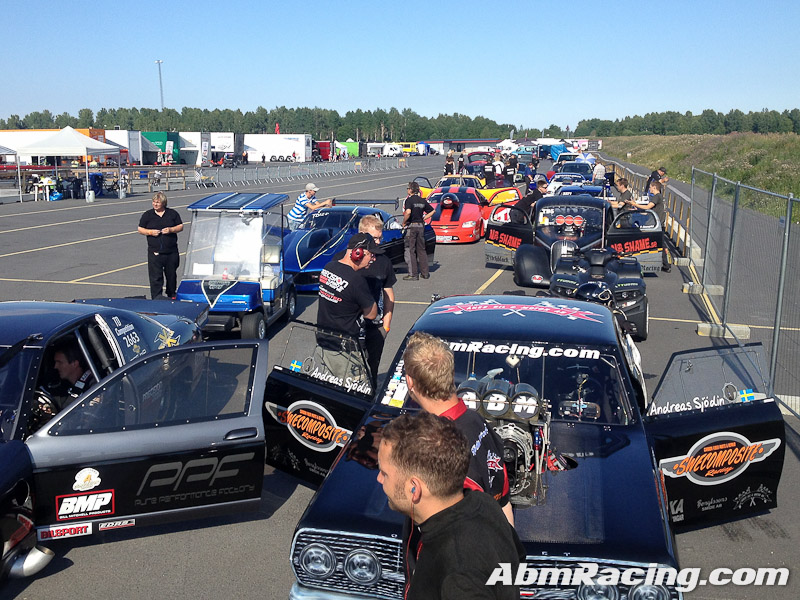 Well this weekend at Tierp Arena and Summer National 2013 became a real success for us! We learned a lot about the car and made a couple of decent runs this weekend but best of all a new personal best again. First elimination round out on Sunday was against Jan Egil Kvalvik in the Nitrous Vette, left the line really good did shake some, was of the throttle for a while and saw Kvalvik on my side and did think win or lose now, so back with the pedal to the metal and the car just flew down the track! Felt really well, I could really feel the power from the engine. I did win the race and made a new personal best again. 4.105 sec and 298.51km/h. The speed tells us that we got a lot of power in the engine! =)
Serviced the car and was ready to meet Micke Nord in the second round. Left good but we did miss one thing before the run, the weather changed so we did lose power in the engine and did not follow with the clutch… Hit a shake, was off and on the throttle a couple of times, spun again, shake again got the shift light in my eyes rev the engine to fast so we broke the blower belt… I can say that it feels pretty strange when it happens. Felt like I was about to fall out through the windshield. Well of course we did lose that one.
Thank you all!
I would like to say a BIG thank you to all involved this this year, Åke, Marcus, Simon, Max, Jocke, Yvonne, Svante, Carin, Frida, Emilie and Adam, you all made it work. I have said it before and I will say it many times more! Without help, you are nothing!
Would also like to say thanks to our sponsors and other partners that helped us during 2013. We only got 11 hits in the car this year but I am more than happy and really satisfied with how it works with all the new stuff in it and that we start to figure out what it wants for a tune up from us, and we know it will be really fast when we get there all the way with the tune up!
Now I really hope that we will be able to do the whole Top Doorslammer series in 2014 and of course win it! 🙂 We are working a lot right now with new sponsors for 2014 and the future looks really promising for us, that's the least I can say. Are you interested in sponsoring us? Contact us and we will come up with something fun together!
Will keep you updated until we will see each other on the track next year.
Take care, and I would like to wish you all a Merry Christmas and a Happy New Year!
/Andreas with team!