Sundsvall Raceway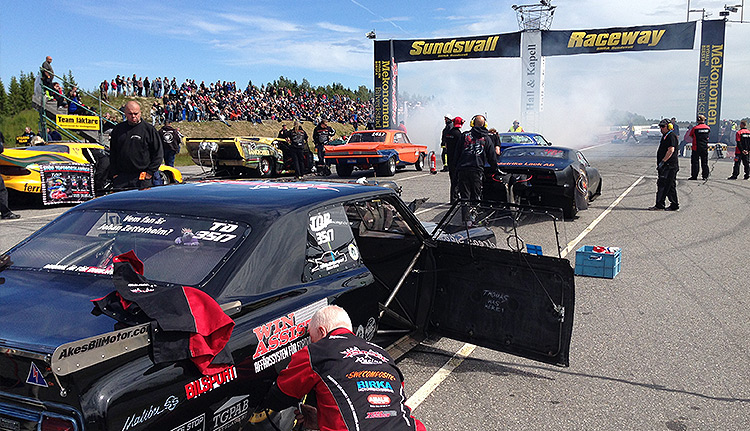 Sundsvall Raceway – Top Doorslammer Round #1
Well after the weekend in Norway we did have a lot to repair and fix on the Chevelle.. One of the things that we needed to fix was the third member, and I got the part for it Monday the same week that it was time to go to Sundsvall.
And of course some problems.. I was told that the spool from my old housing will fit in the new one but it did not, so just like always it was time for some last minute work and fabricating of parts to get the car ready, and I made it! On Thursday morning we started to load the car and the rest of the stuff and we started our ride to Sundsvall Raceway around 13:00 in the afternoon.
When we arrived to the track we did build our camp and made everything ready for Fridays qualifications just like always.
But on Friday morning we got some problems.. We did miss some of the guys in our team and I really did not know what to do about some computer stuff in the car so I needed to cancel the first round… To second round I started to figure out what to do with all the electrical junk in the car so it was time to warm up the car for Q2, when I got in to the seat I felt that something was wrong with the clutch but I did think guess I am the problem =) So we did start the car and just like I felt, something was wrong I could not get the trans into forward gear so I just turned off the engine and cancelled next round also..
But you learn as long as you live! To Q3 everything did work just like it should!! Made a nice burnout and got up on launch rpm and then the blower belt broke… So just like you see, we did NOT have a great first day in Sundsvall.. =(
Saturday.
First round out we just spun the tires directly off the starting line.. Second 4.37 with some pedaling and about the same in the third round on Saturday.
With this we ended up as number 8 in the qualifying list.
Sunday.
We were out as the first couple against Micke Joneskog, we were just about to start up the car and the rain started, and during the day it started and stopped a couple of times so we started to pack everything and after that we started our ride to Piteå for the second race in the Scandinavian Top Doorslammer series, a HUGE thanks to Niklas Berglund that was behind the steering wheel of Olga during this trip! =)
/Andreas.
Video
Photo Gallery
[nggallery id=36]
Event blog posts
Top Doorslammer Round #1 coming up…
Still building race car…
This is good!! 🙂
Soon time to hit the road! 🙂
And we are finally on our way!!
And the boys are back once again at Sundsvall Raceway! 🙂
Our camp is all done here at Sundsvall Raceway!
Good morning from a sunny Sundsvall Raceway!! 😀
Canceling first qualification round….
More problem…
Some pictures from Q1
Learning by doing! We are ready to go!
Fuck up day and a fuck up run! 😉
Some more pictures from today
Just started up the car again!
The sun is here today again! 😀
Ready to go!
No traction….
Qualifying list after round 4.
On an off and 4.37 at the end!
30 minutes.
Qualifying list and the Ladder for tomorrow.
Elimination round 1 around 10:00.
Rain….
It still rains some…
Leaving Sundsvall Raceway
More pictures from Sundsvall