Malmö Raceway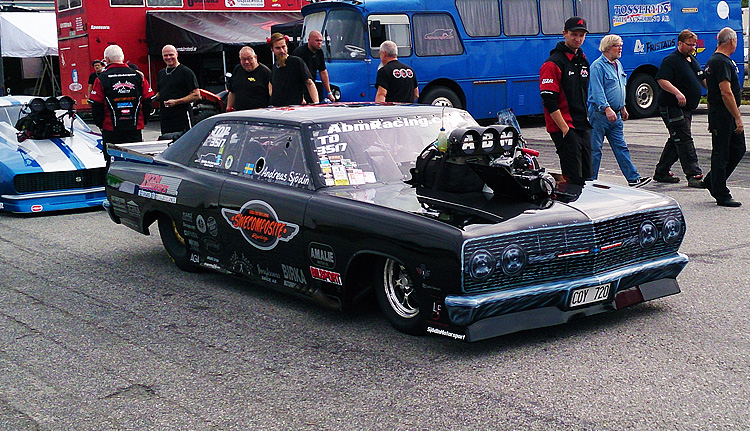 Round #6 – Winter Nationals @ Malmö Raceway
Ok, already time for the finals in the Top Doorslammer Series!
Everything went just fine on the way down south to Malmö from Stockholm, we arrived to the track around 16:00 in the afternoon the sun was shining and it was pretty warm! =)
The weather forecast for the whole weekend did look really bad from the begining so we started to talk about trying to make the eliminations already on Saturday because we really wanted to finish this race and not cancel it because of rain…
Friday morning started with really good weather! The qualification times for the day were 18:00 and 20:00 but if we wanted we could pay little money and make some test passes between 11:00 and 15:00 =) We did roll up to make our first test round, but the second car out did hit the guard rail so we rolled back and waited for the crew to repair some damage on the guard rail.
When they were done with it we made 3 test passes with good reactions on the car after a really big change to the clutch after the last race in Sundsvall, we did lower the 60 foot time for every round and ended up with a new personal best on the 60 foot for the car, awesome!!
Finally the car worked better than earlier before of the starting line! =) After last round we did go back to the pit an serviced the car for first qualification round. But around 17:00 it started to rain and it never stopped so they did cancel the race for the day…
Saturday started really cold and cloudy… Because of the forecast we decided on Friday evening in an extra drivers meeting that we wanted to go out for the first round earlier and also only do two qualification round and after that eliminations so we maybe could finish the race already on Saturday.
But of course some problem… It did take more time to get the track ready than what they calculated on and after that a clean up after the third pair out, and when that was done rain… We did roll back after a while and waited in the pits for the rain to stop and it did around 16:00, and we were back in the pairing lines around 17:00 and made our first pass for the day, 4.27s @ 283km/h with some shake and pedaling… But it felt good anyway, finally we did make a pretty decent pass! After that round we made the car ready for Q2. We rolled up again and of course first a clean up and after that rain a little again… And after that it started to RAIN like crazy… =( After a while they cancelled the race for the day, this starts to be really boring…
After that we did take a look at the weather forecast for Sunday and i did look really, really bad, so after some dinner and when the rain stopped we decided to load everything but have the car ready to race if the weather would change, we were around 23:00 and after that did go to bed.
I did wake up around 04:00 and it rained so much so it was like a flood in the whole pit, and it did continue to rain like hell for a couple of hours so we decided to make everything ready to leave the track around 11:00 about 30 minutes after we did leave the crew decided to cancel the race because the weather got even worse….
A really sad way to end the finals after a whole season… This was race number 4 of total 6 that was cancelled due to rain.
Well we ended up as number 5 in the Top Doorslammer Series 2014, I think that's pretty good anyway after our first real race season with the car =)
Now it's time to rest some and then start to think about what to do for next year! 😉
Stay tuned! 😀
/Andreas
Video
Photo Gallery
[nggallery id=41]
Event Blog Posts
Thanks to the team and our sponsors for season 2014!
The race is cancelled!
Leaving Malmö Rainway..!!…
CRAZY RAIN!!!!
Everything is loaded again!
Rain.!….
Clean up…
Q2 now!!
4.27 @ 283km/h in Q1!!
Warmed up!
The rain have stopped!!! 🙂
Still raining..!
Back in the pit again….
Strapped in again and now rain…
Delay delay and clean up…
Q1 Chevelle 65 against Cuda 70! 🙂
Saturday morning!
Some changes for tomorrow!
Today's qualifying cancelled!
Ok, I did guess this would happen…! 😉
Yeah baby, test pass 3!
Even better 60 foot!!
Best 60 foot this year!!
Car in the guard rail so we are back in the pits..
Warmed up and ready!
Checking the track!
Good morning from Malmö Raceway!
Nice evening here at the track! 🙂
Done, burger time and some tuning of the car! 🙂
Glenn and Glenn at Malmö Raceway!
At the track!!
Next stop: Malmö Raceway
Getting there!
Mantorp Park!
On the road again!!! 😀
Everything is ready, just waiting now!
Getting ready for take off!