Sundsvall Raceway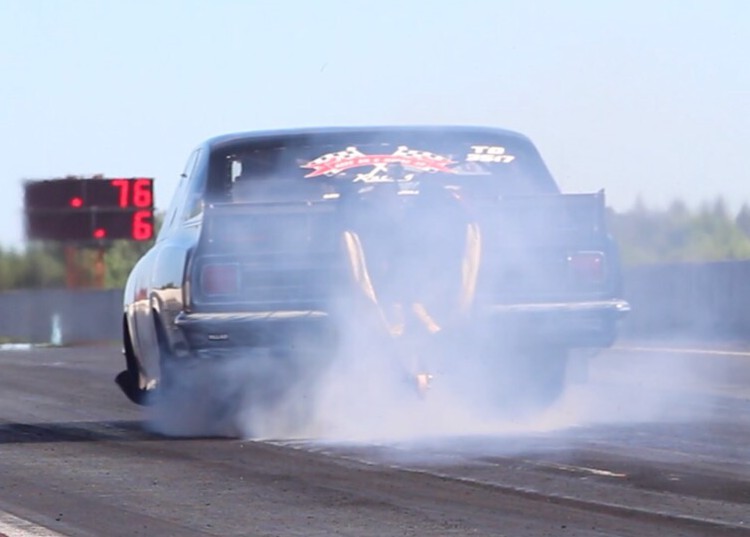 Round #3 – Sundsvall Raceway.
We did leave the shop in Täby around 9:30 on Thursday morning, it was crazy good weather around 30-35 degrees Celsius the whole way up to Sundsvall Raceway, and when we were in place on the track I had not changed, really warm! I think I never been at Sundsvall Raceway with this good weather before! 😀 Just as always we did set our camp and made the car ready for the first qualifying round on Friday morning.
Friday,
Weather still really good, warm, sunny and blue sky. Only bad thing for us when the weather is like this the air gets bad (when it comes to tune the car) We did have around 3000 foot of air in the first round on Friday plus I did have an all new fuel set up for the engine so I did run it really rich just to make sure that I won't hurt anything.
Went pretty good, the car felt really lame but good and did go down the track about 2 seconds out before I did go into a tire shake off the throttle and made a 4.49 to the finish line.
Q2 was pretty much the same again, started to tune some fuel and the car did like it, in Q3 I did have too much wheel speed directly of the line and did go into a shake about 1.2 seconds out but felt that I needed to get into the ladder so I did pedal it and went down the track with a 4.34@268km/h…. After the first round I found something strange with the oil pressure in the Bruno unit that caused some problem and a lot of extra work during the day but later same night when I talked to Raymond Blixt from Thunderrace I did find out that it was not a problem, this is just like a converter does he said, thanks for some expert advice Raymond! =)
Saturday,
The morning started pretty good, warm and sunny again! Kind of strange… 😉 We were just about to warm up the car when I found that the foot that holds the distributor was cracked…. We started to fix it directly, did borrow a tig welder from Fossum and team FVM Racing, a huge thanks for that! =)
Anyway we did miss the first round on Saturday when we fixed the car…
To second on Saturday we were ready but we did just go up in smoke pretty much directly of the starting line… We did have way too much power and the track could not handle it..!
The last qualifying round was just a mess…. Made a really long nice smoky burn out (everyone that drives a car like this knows how it feel, crazy good!! ) and when I stopped I did not have any oil pressure… I did wait, wait and wait…. But it never came back so I did kill the engine and did go out of the car. The sad thing was that I made a crazy big change to the car to this round just to see how it would react to it, I did know we were in the ladder so it did not matter if it will work or not but I never got the chance to test it…
Sunday and elimination day,
we were out in E1 against Åke Eliasson, I did put back a safer tune up in the car but it did not work… Spun the tires pretty much directly…. So we lost that one.!…
This was also the last planned outing for Sjödin Motorsport / ÅBM Racing in 2015, so I must say that I feel really disappointed…. But what a hell, it will be a new year next year right! =)
Reflections,
Too much wheel speed all weekend at Sundsvall Raceway….! The track was really tricky and it was warm and bad air..! I know that there is no bad tracks just bad tuners but we were not the only team having trouble figure out the track and get the car go down it…
Well, we haven't got enough rounds in the car this year with our new converter set up and that puts us in some problem…. The first rounds on Friday i did run the car really rich on fuel and the air was really bad, that combo made the car go about 1.8-2 seconds out before i spun the tires, when i tried to put on some more power together with better weather i got totally lost, and we missed two rounds on Saturday also… I don't blame the track prep crew Lee and the other guys for anything about your work on the track, (i think that you are doing what you can with it, anything else would just be stupid…!) the track at Sundsvall Raceway is always tricky and will always be until they make a whole new track with new surface the whole way down…! Yes, with the right tuning you will get down the track and make pretty good times but we messed up this weekend like 97% of the rest of the other Top Doorslammer teams…. Adam Flamholc is always going really fast, but at Sundsvall he did not go as fast like he always does so the really shows the track quality if you ask me!
If you compare with the Tierp race when everybody did figure out the track and went down it on pretty good times, like i said something is wrong with the Sundsvall track that's for sure! And i am not afraid to say it, i am disappointed… And i can tell you that the first thing that i will buy for next year is a Track Meter so i can check the friction the whole way down myself for real and not just looking and walking down the track…. The track at Sundsvall looks good but it's really fishy……
/Andreas.
Video
Photo Gallery
[nggallery id=49]
Event Blog Posts
Last round for 2015.
Sunday, elimination day!
Lost oil pressure after the burn out in Q6…. 🙁
Fucking disaster!
Hit me baby one more time!
Nope… Spun the tires this time!
Rolling down really soon!
Missed first round…!
Saturday, one more sunny day here at Sundsvall Raceway! 🙂
Just checking some stuff..!
Q3 went better 4.34, but!
Pretty much the same again!…
Clean up delayed…..
Clean up right now!
4.49 @ 221km/h in Q1!
Good morning from a sunny Sundsvall Raceway!! 🙂
Good night from Sundsvall Raceway!
Getting done here at the track! Right now life is good!! 🙂
At Sundsvall Raceway!!
Lunch and diesel @ Gävlebro!
Sundsvall Raceway next! 🙂
And we are once again loaded and ready!! 🙂
Ready to rock n roll again!!! 🙂