Tierp Arena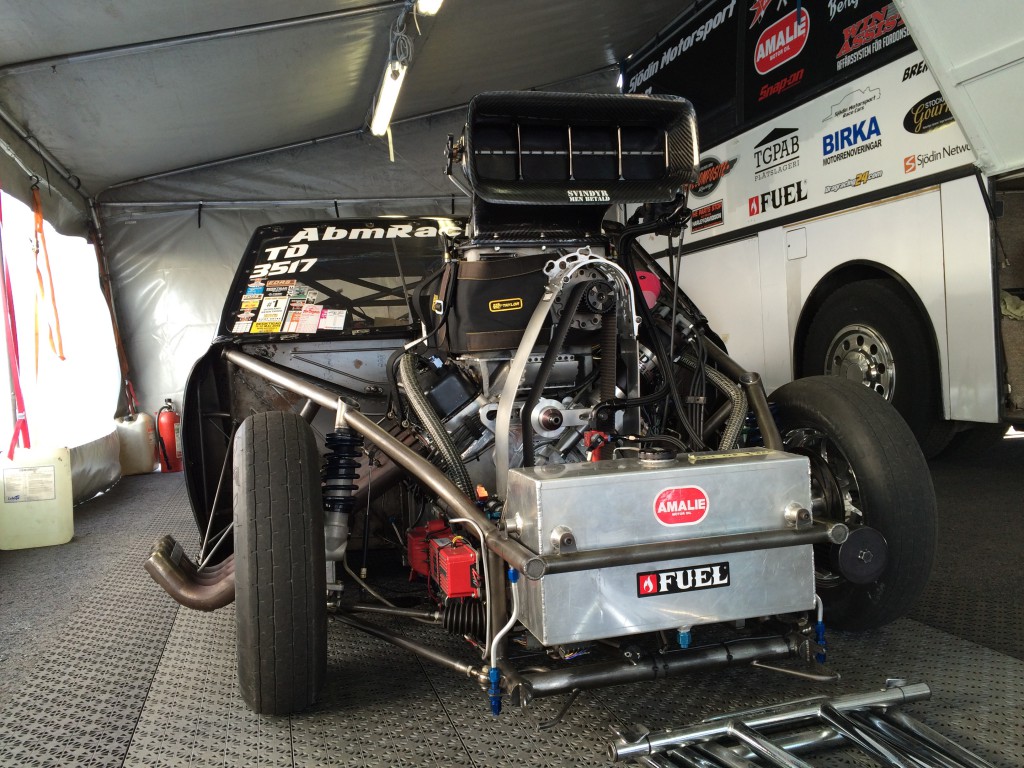 Pro´s Test n Tune @ Tierp Arena
Ok, finally time for the first outing and test for Sjödin Motorsport / ÅBM Racing in 2015! 😀
After a couple of really hard weeks in the shop working on the Chevelle updating it with some new stuff, making old stuff better and some standard service we were ready on Friday around lunch to hit the road to Tierp Arena!
When we got there it was pretty cold and during the time we did put up our tent it started to RAIN… (of course)….
So the season started with rain again, does not feel so funny… But we cant do anything about it! We did have a pretty good evening at the track eating some dinner from Stockholm Gourmet and made some small adjustments on the
Chevelle and did go to bed.
Saturday morning was really nice, blue sky, sunny but a bit cold! We did total three test hits with the Chevelle,
did adjust some and did take away some power, but the track was pretty much dead due to the cold weather and the
rain the day before did not help us at all… Got to much wheel speed pretty much directly of the line and spun the tires about 0.20-0.25 seconds into all three runs, and almost everyone did have problem to get traction…
So no numbers at all this weekend. But it does not matter so much, i am really satisfied anyway! 😀
I start to learn driving the car with a converter (but i am still looking for the clutch pedal…) 😉 We are starting to get a tune up to get the car off the starting line! I have looked at some graphs from last year and compared with the hits we did now and i can see that we got A LOT more power in the engine with the updates! 😀 More boost and much more acceleration G! When we find the window for this we will go really fast!!
But the only thing i can think of right now is the next outing for us at Tierp Arena 4-7 of June, warmer outside,
better track and a lot of really fast rounds!
See you all there!!
/Andreas
Video
Photo Gallery
[nggallery id=43]
Photos below taken by Tierp Idag, Lena Perés and Ulf Hellerström.
[nggallery id=44]
Event Blog Posts
Bye bye Tierp Arena for this time!
Time to go home!
Sunday at Tierp and the weather forecast was right…
The sun is shining and test day one is over!
We are learning this converter deal!!
Good morning from Tierp Arena!
At Tierp Arena and pretty much ready for tomorrows testing
Done and we are heading to Tierp Arena and the first test in 2015
Last preparations are made!
And we are all done!!! Heading for Tierp Arena around lunch on Friday! 🙂