Sundsvall Raceway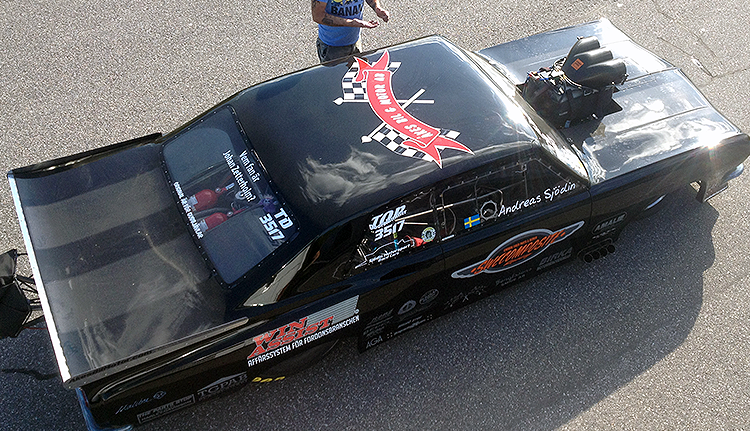 Test and tune at Sundsvall Raceway.
The days before Sundsvall was spent in the shop servicing the Chevelle and getting the new oil pump from Auto Verdi in place.
I also spent a whole day looking trough the spare parts and trying to pack and organize the trailer so it will be easier to load / unload and work in it when we are on the track.
The trip started really good on Thursday morning, really nice weather all the way to Sundsvall and really nice the rest of the evening when we set our camp.
On Friday we started the day with rain…. And it did rain all day!! And it did also rain all Saturday… =( But we did get some other stuff done instead! =)
Fabricated new spark plug wires, got all the sponsor decals on the bus, looked trough some more spare parts in the trailer so now I hope that everything is under control! 😉
Late on Saturday evening the sun came back to us! =) And it did stay all Sunday, we did wake up to a really sunny day and it was pretty warm also! =)
Finally time for some testing! First run was pretty good, nice and straight launch, did go of the throttle after some shake and 4.66 to the finish line!
Looked through the Racepak after the round and made some changes to the car but it did not want it like we did… Spun the tires after about 1.3 sec and made a pretty hard left and almost crossed the center line…. Third pass was almost the same as the run before… Spun the tires and did shake some, and after that run the day was over so it was time to start packing the bus and trailer again. But first some nice dinner and cake because John did turn 39 years old on Saturday and Marcus did turn 26 years young on Sunday! =)
In the bus on the way home we did find some things in the Racepak logs…. Hopefully this will solve our problem that we have and we will get the car to work better next weekend at our last pre-season test at Gardermoen Raceway in Norway!
Later,
/Andreas.
Video
Photo Gallery
[nggallery id=33]
Event blog posts
Some dinner and cake before we did leave Sundsvall! 😀
It will not work for us.
Shake and scared the Sundsvall crew!! 😉
First test pass.
Hello sunshine!!!! 😀 😀
Good night! Zzzz Zzzzz
The forecast said that the sun will get here around 8 this evening!
We did just eat some awesome dinner from our sponsor Stockholm Gourmet!! 😀
Testing some stuff.
Today's work!
After a nice brunch it's time to sit and wait again…!
Guess what! Good morning from a rainy Sundsvall Raceway!!!
No playing with the boys today!….
Due to to rain they cancelled this day..
Miss Sjödin Motorsport 2014!? 😀
Rain stopped, and started again.
Race day and of course some rain!
Last check for today from the 660 Mark!
Starts to get ready here!
And the boys are back in town! 😀
On our way!! 🙂
We are loaded and ready!!! 🙂
Loading and stuff….!
Morning shopping at ICA Gärdet! 🙂
Shop work!