Pite Dragway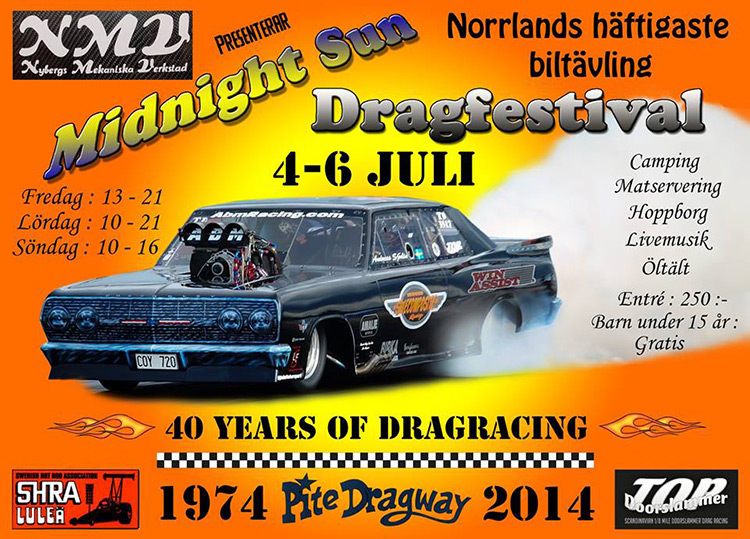 Pite Dragway – Top Doorslammer Round #2
First of all I would like to say a huge thanks to Rolf and Niklas Berglund for helping us get the bus from Sundsvall to Piteå and the days we spent at "Gubbdagis" was the best thing we did this year! =)
Awesome, can't be better to spend a whole week with the same kind of idiots like we are! 😉 Also a huge thanks to Martin Westerlund for picking me up at the airport and also fixing a lot of things during the week.
Wednesday,
This day we were outside Coop in Piteå to show the Chevelle together with some other cars and also do a warm up! =)
Except for the rain that made us leave earlier everything went just fine and everybody was happy after we did make some noise! =)
Around lunch at Thursday we did leave Gubbdagis and did heading for the track, finally for the first time we are here with the Chevelle, and also the first time for me to take a car down this track!! =)
When we got there we did have some rain and some rain and some RAIN… But we did set our camp between the rain showers so we were ready to rock n roll on Friday! =)
Friday,
The day started really good, warm and sunny and a blue sky! =) But after a while we did get some rain.. And sun, rain, sun, rain and the rest of the day looked like that until around 17:00, the track started to get dry and we were told that hopefully we can make our first qualifying round around 18:00, finally! So when it was time for the first round everything felt really good!! Made the burn out, was rolling into pre-stage and I did hear that the engine rpm did go down ant the car started to move forward, I tried to hold it but it did not work so I did turn off the engine…. Well, what happened was that the throw out bearing broke and made a mess of the fingers in the clutch… Not so fun but we did have spare parts so we could fix it and be ready for Q2 on Saturday instead! =)
Saturday,
On Saturday we made 4 rounds between 4.3 to 4.5 sec, some shaky, some pedaling, the track was crazy good here!! I am not satisfied at all with the rounds we made but we are still learning and we are getting the car to work better and better for every pass we make! =) This weekend we did have our sponsor Winassist System with us in the pits, they did invite some of their customers to this race and I think we all was really satisfied with it! 😀
Sunday,
Elimination day! First round out was against Benny Strand, we did win that one! =) After that round we did some really big changes to the car, in second we did meet Viktor Jansson, the car did answer just like we wanted to our clutch changes but we did lose the round, Viktor made a 4.29 and we made a 4.39… But we were pretty happy anyway, the car worked better after our changes!! =)
After that round we did ask the crew at Pite Dragway if we could make a test pass after the finals and of course it was no problem! We made the car ready and just about when I released the clutch the blower belt broke, again…. Sad but true….. Well..
Soon it's time to take the Chevelle down the track at Tierp Arena, hope to see you all there!! =)
/Andreas.
Video
Photo Gallery
[nggallery id=37]
Event blog posts
Are we there yet? 😉
Just arrived in Piteå
Displaying the Chevelle at Coop in Piteå!
Pite Dragway next!
And here we are for the first time with the Chevelle!! 😀
The camp is set!
Good night from Pite Dragway!
Friday morning at Pite Dragway!
First round changed to 18:00.
Some sun, some rain… Checking out the track!
Warmed up and soon ready!
Never ending story…. Needed to kill the engine on the starting line!
We are soon done again!
Over and out from Pite Dragway..
Good morning, the sun is shining!!! 😀
Warmed up and ready to go!
A pretty good run!! 🙂
Back from Q4 with a 4.34 @ 274km/h
Shake….
Good morning!
Did win first round!!!
Lost second, BUT!!!
One more!
Broke the blower belt 0,003 out in the run…
We are right now leaving a sunny Pite Dragway!
On the road!
We are moving again! 🙂
And we are back home in a sunny Stockholm!!