Kjula Dragway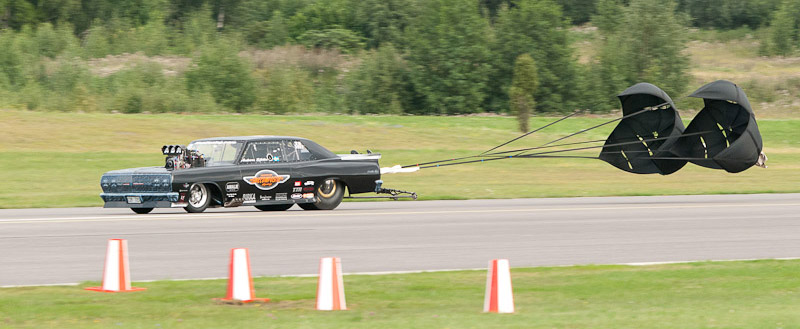 The trip to Kjula Draway started really good, the sun was shining and everything felt just fine. We had some things left to do on the car so we did leave Täby pretty early to go to Kjula and start work on the car.
Saturday started really good with nice wether, first round out Andreas did a 9.14s @ 261km/h with tire shakes about 1 sec into the run. Second we tested launch the car with 2-step for the first time, it worked really well.
"i will never drive the car without it again" Andreas said. It is soo much easier to drive the car with it! 8.13s @ 265km/h with tire shake about 1.5 sec into the run.
Really good wether on sunday also, first round out Andreas did a personal best both for himself and the Chevelle, 7.54s @ 309km/h, with the clutch slipping all the way down the track "i could not feel when i put in second or third gear" Andreas said after the run. Next run out we did put on some more clutch and hit a tire shake about 2 sec in too the run resulted in a 9.37s @ 196km/h. Last run for the day resulted with 7.73s @ 283km/h with some pedaling and a slipping clutch again….
Well it was a really good weekend for us, we as a team have learned a lot more and we did get a lot of important data on the car from the runs, next time if the track is just as good as it was now we will go under 7 seconds! 🙂
Post event movie
Live blog posts from the event
Home again after a successful weekend at Kjula Dragway!
Good morning
First run completed. Second try coming up…
Drivers meeting
Working late
Arrived at Kjula Dragway once again
Next stop Kjula Dragway!
Loaded in the bus and ready for some test runs this weekend!
Photo gallery
[nggallery id=7]
[nggallery id=9]