Tierp Arena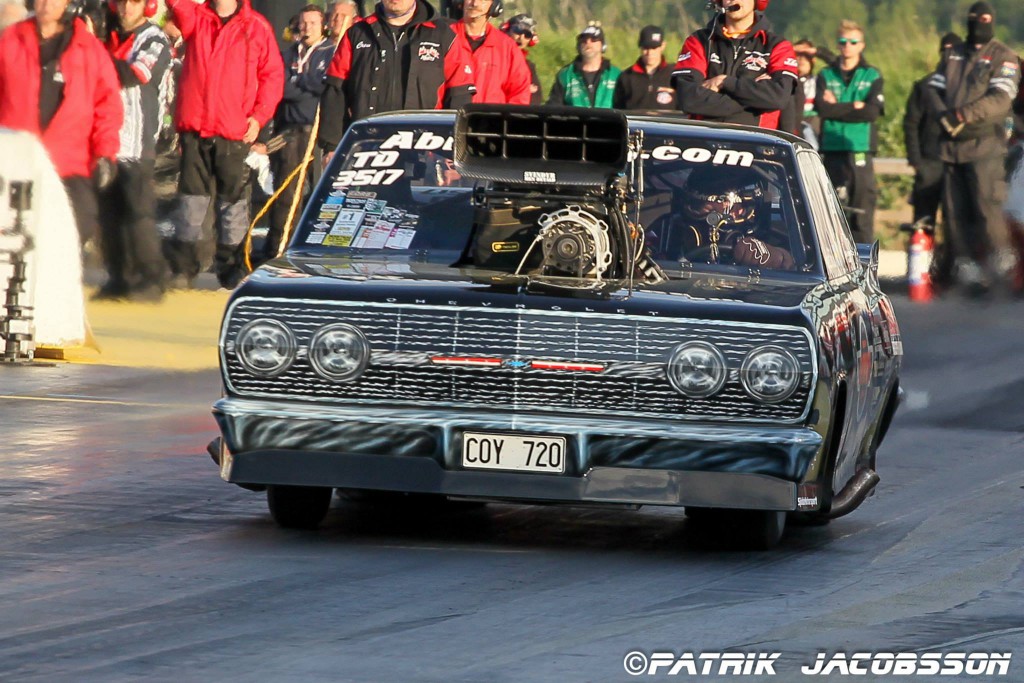 Round #2 – Tierp Internationals @ Tierp Arena
We were ready pretty early with everything and did leave the shop around lunch on Wednesday, when we got to the track and started to unload and build our pit space of course we got some RAIN,
I guess that you aren't so surprised about that…. 😉
On this event we started to qualify on Thursday already, first round out I just spun the tires pretty much directly when I released the transbrake button, the track was really "fresh", this was the first race after the winter in Sweden at Tierp Arena… But I decided to do something pretty big just to see how the car would react to it so we removed the converter, took it apart and made some changes to it and that was the right thing to do! Next round out we made a 4.33@285km/h with some shake and pedaling, it was a really messy round…. I was in and out the car a couple of times due to some rain, made one burn out and then rain once again, BORING….. But it felt really good anyway after I calmed down! A decent pass finally and some graphs to look at in the Racepak! =)
On Friday first round out we made a 4.10@296km/h I shiftet to second gear way too early… About 2000rpm too early…. The sad thing is that this could been our first 4.0 something but instead I only made a personal best with 0.0001s…. A personal best but I felt like fuck it…. 😉
Then in Q4 we made a 4.13@293km/h pretty good 60ft on 0.99 (personal best on the 60ft) a round with a crazy shake and some pedaling but at least we did repeat the round before and took the car down the track!
On Friday we also got some sponsors visiting us, Jari from Eltric did help us out with some BBQ and all the guys from Rörmekano did visit us for a chat and some burgers, always nice to have our sponsors with us at the track! 🙂
Time for eliminations, Saturday was a really long boring day, we was told that we should be out for our first round at 9:30 in the morning but a lot of rain made the clock to be 8:00 in the evening before we could make our round… I lost E1 with a 4.21@280km/h against Stefan Holmbergs 4.29@282km/h because i was sleeping on the tree and it was a bit slippery out there for me, but i did some driving job and pedaling and got to the finish line…..
I start to learn driving the car with a converter in it now, the clutch foot is dead and don't mess with my head anymore.. 😉 Now i just need to learn be quick on the tree using the transbrake button, but it will come i am sure about that! 😀
This weekend during Saturday and Sunday we had our sponsor Winassist visiting us with some customers, only sad thing was that the weather were really bad so it was not so many that showed up… Hope it will be better next year!
I must say HELL YEAH what a weekend we all had at Tierp Arena​!! And what a success for all of us in the Top Doorslammer​ class, all of us made an awesome job all weekend, all the drivers, everyone in all the teams, our class host Jonathan Pettersson, our "TD Daddy" Martin Westerlund​, Tierp Arena was more that satisfied with our job, no mess, no oil down, we did run our field really fast every round without problems, and this is really good for our class like me and Benny Strand​ talked about! And when we talk about fast, it did go crazy fast down the track for a lot of teams!! Adam Flamholc​, what a crazy speed 339km/h!!! Rimbert Vahlström​, The Lindahl Twins, Jonas Malmqvist​ and something i think is really cool, Victor Jansson​ and Benny Strands nitrous cars that starts to go REALLY fast!!! Top Doorslammer is now a class where you really must have some power and know what you are doing if you want to be a part of the ladder and the eliminations! 😉
I would like to say a extra huge thanks to all of our sponsors, family and friends that makes it possible for us to do this!! 🙂
And all of you that was a part of the weekend! My dad Åke Sjödin, Max Hamrin, Sara Sjödin​, Marcus Sjödin​, John Johansen, Jocke Månsson​, Simon Arvidsson​, Patrik PG Gineman​ at PGphoto.se​, Johan Zetterholm​, Tony Lagerberg​, Danne Lundgren​, Patrik Iggy Liljekvist​, Jari Pärnänen​, Ulf Schill​, Dolle Mijatovic​, Kaare Naess​, all the guys from Rörmekano.
Anyway, i am more than satisfied with the weekend, i have only made 4 real passes this year with the car so it feels good that it works this good already! 😀 We now have a baseline set up for the car to get it of the starting line and down the track and that feels really good!! I am really satisfied with the Bruno / converter deal, after only four decent rounds we have a tuning window that is way much better than what we did get after 55 rounds last year with a clutch in it!! This thing will be fast when we start to tune more to get more power down the track!
Now i really hope that it will be much less rain on our next event, it was a bit too much of it the weekend at Tierp Arena if you ask me…. 😉
Hope to see you all at Sundsvall Raceway! 😀
/Andreas.
Video
Photo Gallery
[nggallery id=48]
Photos below taken by Patrik PG Gineman @ PGphoto.se that spent the weekend together with us at Tierp Arena as our own "photo guy" he made an awesome job and we worked really good together so i hope that our new friend will come with us some times even in the future! 😀
Photo Gallery below is just about Sjödin Motorsport / ÅBM Racing.
[nggallery id=46]
Photo Gallery below is just pictures of Top Doorslammer teams.
[nggallery id=47]
Event Blog Posts
Back home in sunny Stockholm!
Going home!
A bit of a driver fuck up but I am satisfied anyway!
Warmed up again and ready to roll down!
Finally!!
We got some sunshine!! 🙂
Close but no…!
Still nothing…
And now rain!
Saturday morning at Tierp Arena!
Crazy shake but did repeat with a 4.13s @ 293km/h!! 🙂
A decent run! 4.10s @ 296km/h!
Friday and soon time for Q3 here at Tierp Arena!!
A messy round but at least a round!
Almost done again and will go out in about one hour!
Got the thinking hats on!
Warmed up and ready to go!
Good morning from Tierp Arena!! 🙂
Our pit is all set here at Tierp Arena!
2015/06/and-we-are-at-tierp-arena/
And we are rolling!! 😀
Yeah baby, finally Wednesday!!! 🙂